Overview
The Full-Stack Web Development (FSWD) Diploma program features an interdisciplinary learning environment to prepare you for a career as a web developer. FSWD focuses on the technical tools to build web applications and provides core competencies such as teamwork and communication. You'll be supported by a coach to prepare you for life after FSWD.
This two-year full-time program offers hands-on experience, equipping you with the skills needed to work on all layers of web technology and preparing you for the many opportunities in this fast-growing and high-demand field.
Project experience with designers in a separate program enables FSWD graduates to bring a unique perspective and ability that industry requires and needs: the capacity to work effectively within a collaborative, interdisciplinary team environment.
About the Program
The FSWD Diploma is offered at the Downtown Campus and features industry-driven project-based learning, working with a real client, small classes, and new state-of-the-art flexible learning spaces.
The program includes the following topics: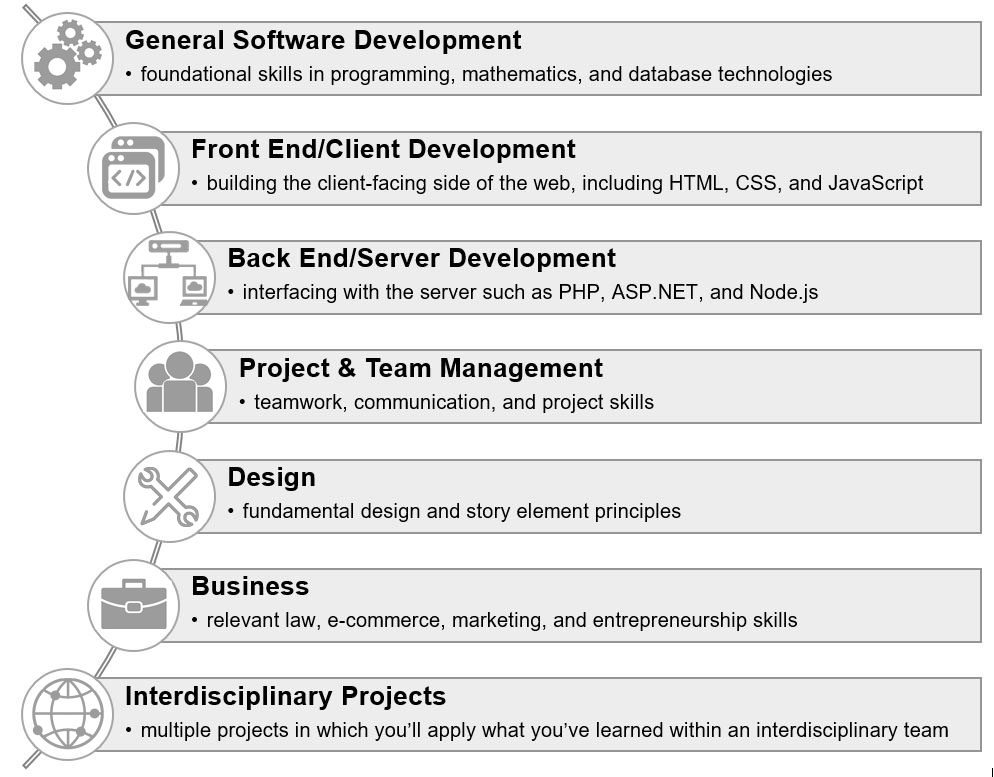 See the Program Details to learn more about what you can expect from FSWD, and how you can prepare for a career as a web developer.
Who should complete the FSWD Diploma?
This program might be for you if you:
Love a great website and want to be a part of making the web even better
Enjoy working with people and in teams
Have a knack for troubleshooting and problem-solving
Thrive in a multifaceted context that includes programming, user experience, and design
Want a stable professional career with strong opportunities for growth
If any of these sound like you, please check the Entrance Requirements to ensure you can apply and start your new web development career!
What Full-Stack Web Development grads can do
By earning your FSWD Diploma, you'll be honing your web development skills and gaining knowledge of various industry-recognized technologies, preparing you for positions in multiple industries and locations.
Web designers and developers are in a fast-growing job category, with continued projected high growth nationally. They're listed in the "high demand" category for BC, with over 2300 openings predicted over the next ten years, according to BC's Labour Market Outlook.
You also have the option to continue your education with BCIT's Bachelor of Technology in Technology Management. Other laddering options might also exist but could require bridge courses.
Learn more about the opportunities awaiting you on the Graduating and Jobs page.
Program Details
This Diploma covers the knowledge and skills needed by full-stack web developers to create, modify, and maintain full web applications, including server configuration, front-end development, back-end development, data management, and web architecture design. The FSWD Diploma also provides valuable interdisciplinary training in a unique cross-program format.
Program Structure by Term
Program Goals
Upon successful completion of the FSWD Diploma, students will be able to:
Build front-end web applications using tools such as HTML, CSS, JavaScript, and modern frameworks
Build web applications using formats such as the Model-View-Controller (MVC) pattern
Build back-end RESTful applications using modern scripting and programming languages and frameworks
Install, configure, run, and manage web servers and resources through command-line interfaces
Build, administer, and use modern database management systems, and incorporate the data within web applications
Develop software in accordance with best practice for design, implementation, and testing and deployment
Apply modern, best-practice front-end UX, UI, and design techniques
Build prototypes and full-stack full web applications in teams, including front-end and back-end development based on user requirements and needs
Communicate effectively in written and oral English and use presentation tools effectively in a business, sales or technical setting
Create web applications that follow legal, ethical, and security best practices
Prepare to market and sell web applications according to best current practice
Manage and collaborate on team projects using popular technical tools such as version control and communication tools and modern methodologies such as Agile and Scrum
Graduating & Jobs
Employment
Web development is a fast-growing employment category, with continued projected high growth and demand in BC and beyond. Web developers are employed across multiple industries throughout the private and public sectors. They may also be self-employed.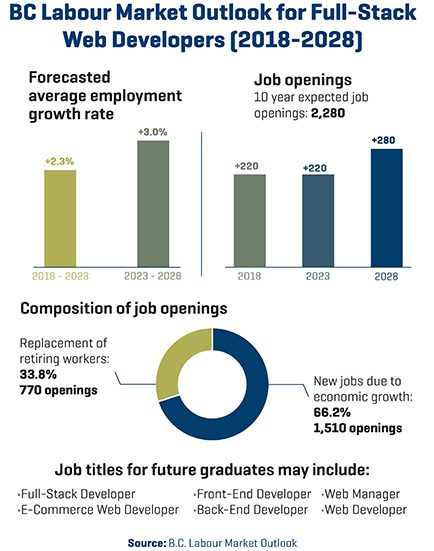 Furthering Education
Graduates of this diploma program may apply for acceptance into BCIT's Bachelor of Technology Degree in Technology Management. With bridging, laddering to other BCIT degrees, such as the Bachelor of Science in Applied Computer Science, and BTech in Forensic Investigation (Digital Forensics and Cybersecurity option), may also be possible.
Faculty, Advisors & Staff
Advisory committee
BCIT is well-respected by employers for its ties to the industry. In Computing, this connection is formalized through a Program Advisory Committee (PAC) comprised of experts in a range of roles from a cross-section of companies. The department consults regularly to ensure program currency and relevance.
Contact Us
Questions or comments?
Subscribe
Sign up to receive updates, invitations to events, and information about BCIT and your program.
We promise not to spam you, we won't share your personal information, and you can unsubscribe at any time.
Programs and courses are subject to change without notice.