Required: Co-op work terms are mandatory as per the program schedule illustrated below.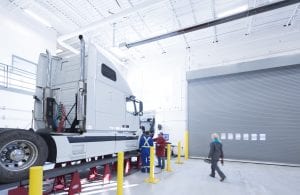 The Heavy Duty Truck Technology program prepares students for apprenticeship with the latest heavy duty truck technologies.
They learn about, and work with, the future of transportation while gaining manufacturer level certifications.
By the end of the program, in depth diagnostic skills are achieved with students completing courses including: electric vehicle propulsion, fuel cells, power generation, A/C motor control and mobile refrigeration.
With four technical training terms in addition to their co-op work term, students spend more time on each topic than apprentices in a traditional heavy duty truck apprenticeship program.
This innovative program also includes management course, to ensure students are ready for many high-demand positions and advancement opportunities.
For more information on the program, including an overview of the curriculum, please visit: Heavy Duty Truck Technology Diploma.
Program Schedule
Students in the Heavy Duty Truck Technology program are available for a 15 week co-op work term between their third and fourth terms of the program. The next co-op work term dates are September – December 2022.
| | |
| --- | --- |
| Technical Term 1 | 15 Weeks |
| Technical Term 2 | 15 Weeks |
| Technical Term 3 | 15 Weeks |
| Co-op | 15 Weeks |
| Technical Term 4 | 15 Weeks |
Student profile & capabilities
By the time students enter their co-op term they have already completed three technical training terms, and have learned occupational skills and safety training. They also have the ability to service, repair and diagnose:
air systems and brakes
steering and suspension systems
hydraulic systems
HVAC systems on mobile vehicles
engines and support systems
electrical systems
drivetrain systems
vehicle cabs
trailer systems