You have an option to apply to join the co-op program, which is a competitive process. Information on the application process to co-op will be provided during the first year of your program.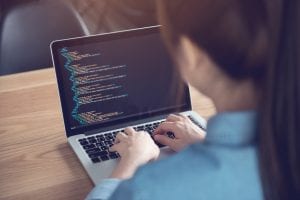 Computer Systems Technology is a two-year diploma that focuses specifically on systems and software development. In their first year, students learn practical skills in web development, systems analysis, relational databases and programming. This program provides students hands on opportunities to apply their skills in group projects solving industry problems, from concept to development.
Co-op students are ready to support your team's software development needs.
For more information on the programs, including an overview of the curriculum, please visit Computer Systems Technology Diploma Programs.
Program schedule
Students in the Computer Systems Technology Co-op program are available for four or eight month work placements commencing in either January or May.
| | | | |
| --- | --- | --- | --- |
| Intake | Fall | Winter | Spring/Summer |
| September | Academic Term 1 | Academic Term 2 | Co-op 1 |
| | Co-op 2 | Academic Term 3 | Break |
| | Academic Term 4 | | |
| January | | Academic Term 1 | Break |
| | Academic Term 2 | Co-op 1 | Co-op 2 |
| | Academic Term 3 | Academic Term 4 | |
Employers may submit job postings year round. However, the co-op office normally solicits job descriptions in August for the January placement period and in January for the May placement period. Students from both the Computer Systems Technology and Computer Information Technology programs can apply for computing related roles
Student profile & capabilities
All students enrolled in the Computer Systems Technology (CST) Co-op programs must meet high academic qualification criteria, complete two successful academic terms, as well as pre-employment training before their first work term.
CST students are able to meet the basic development needs of organizations from different industries including software development, finance and banking, telecommunication, entertainment, health care, government agencies, and small businesses.
Students are introduced into industry after completing the first half of their diploma program and have the following capabilities:
Programming (Procedural and Object Oriented)
Web Development
Database systems (modeling and SQL programming)
Software development processes
Communication (oral, writing, and documentation skills)
Co-op job title examples
Web Developer Co-op
Front-End Developer Co-op
Software Developer Co-op
QA Engineer Co-op
DevOps Co-op
Student testimonial
"As a BCIT co-op student, I now have the confidence to solve any software application problems I am faced with."
SHANE VANDER MEER
Employer testimonial
"The students get real life experience in the business world and learn the soft skills one cannot learn in the classroom. The students hit the ground running – ready to go when the employer gets them."
PAM CUNNINGHAM, TECK COMINCO LIMITED