You have an option to apply to join the co-op program, which is a competitive process. Information on the application process to co-op will be provided during the first year of your program.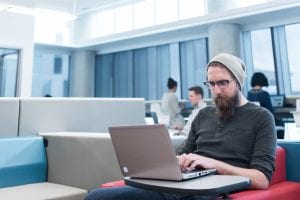 The Computer Information Technology Program is a two-year program and is intended to equip students with the practical skill set to plan and integrate different computing technologies. From day one, students practice emerging tools and technologies in group environments, culminating in an industry sponsored student project in their 3rd term.
Co-op students are ready to contribute to your organization's IT challenges.
For more information on the programs, including an overview of the curriculum, please visit Computer Information Technology.
Program schedule
Students in the Computer Information Technology Co-op program are available for four or eight month work placements commencing in either January or May.
Computer Information Technology Schedule
| | | | |
| --- | --- | --- | --- |
| Intake | Fall | Winter | Spring/Summer |
| September | Academic Term 1 | Academic Term 2 | Break |
| | Academic Term 3 | Co-op 1 | Co-op 2 |
| | Academic Term 4 | | |
| January | | Academic Term 1 | Break |
| | Academic Term 2 | Academic Term 3 | Co-op 1 |
| | Co-op 2 | Academic Term 4 | |
Employers may submit job postings year round. However, the co-op office normally solicits job descriptions in August for the January placement period and in January for a May placement period. Students from both the Computer Systems Technology and Computer Information Technology programs can apply for computing related roles.
Student profile & capabilities
All students enrolled in the Computer Information Technology Co-op programs must meet high academic qualification criteria; complete at least three successful academic terms, as well as pre-employment training before their first work term.
CIT students are able to meet the basic IT needs of organizations from different industries including software development, finance and banking, telecommunication, entertainment, health care, government agencies, and small businesses.
Students are introduced into industry after completing the majority of their diploma program and have the following capabilities:
Web Development
Systems Administration
Networking
Programming (object oriented)
Cloud computing
Database administration
Software development processes
Communication (oral, writing, and documentation skills)
Co-op job title examples
Technical Support Analyst Co-op
Systems Analyst Co-op
Network Administrator Co-op
DevOps Co-op
Software Developer Co-op
Web Developer Co-op
Cybersecurity Co-op
Student testomonial
"In school, it's a very different environment than doing work in an actual job; and it's possible it's not what you expected. So it's a good way to try out the field you are studying in."
ANDREA LEE
Employer testimonial
"The students get real life experience in the business world and learn the soft skills one cannot learn in the classroom. The students hit the ground running – ready to go when the employer gets them."
PAM CUNNINGHAM, TECK COMINCO LIMITED