Required: Co-op work terms are mandatory as per the program schedule illustrated below.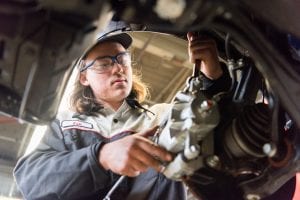 This specialized training program produces skilled technicians who diagnose and repair the complex systems available in today's motor vehicles.
The program also provides business training to enable students to become well-rounded employees and assume a variety of related positions including management.
For more information on the program, including an overview of the curriculum, please visit the following link: Automotive Service Technician and Operations
Program schedule
The Automotive Service Technician and Operations program start dates are January and June.
There are two mandatory 22-week co-op work terms, integrated with four technical terms as follows:
Technical Term 1
13 Weeks
Co-op Work Term 1
22 Weeks

Technical Term 2

Technical Term 3

12 Weeks

12 Weeks

Co-op Work Term 3
22 Weeks
Technical Term 4
12 Weeks
Students must have successfully completed all of the academic courses from the term immediately prior to their work experience (co-op) placement with the necessary grade requirements to be eligible for placement.
Student profile & capabilities
BCIT attracts a variety of students who wish to pursue a career in the automotive field. Students must meet admission criteria before being accepted into the program and pay tuition to complete the 93-week ASTO diploma program.
Course content exceeds apprenticeship technical training requirements as students complete a total of 49 weeks of training at BCIT.
After completing a co-op work term, students are looking to work for an automotive shop offering a greater skill and knowledge level in automotive repair.
Co-op job title examples
Automotive Service Technician
Mechanic Shop Helper
Junior Mechanic
On completion of the program
The student will graduate from the program, ready to complete their Apprenticeship. Graduates will receive credit for all four levels of Apprenticeship schooling and continue with their Apprenticeship having accumulated up to two years credit in time.
Student testimonial
"Since the time I joined the Co-op course I have learned much more than my expectations. Everything is all coming together and making more sense. I am glad I took advantage of this program and it has truly inspired me to become an automotive technician."
AUBTIN YAZDGARDIAN
Student testimonial
"Hands-on experience, otherwise not afforded in a strictly scholastic environment."
JAMES ARIAL
Student testimonial
"My education has changed the way I look at life in general. BCIT training is hands-on and I feel more capable. Add to that, a complete working automotive knowledge base, a start at a career and workplace training and this is probably the best decision I have ever made."
ROBIN MOORE