Required: Co-op work terms are mandatory as per the program schedule illustrated below.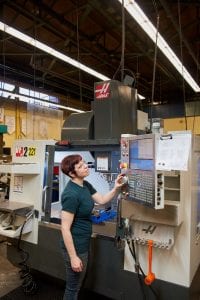 The CNC Machinist Co-op Diploma Program provides training in basic machining skills as well as CNC machining skills. The program consists of three terms: machinist core, a co-op work term, and an in-school session in CNC machining.
Training is designed for high school graduates and other trades persons who wish to upgrade their skills in the operation, IG coding, conventional and CAD/CAM programming of CNC equipment. Graduates receive a Diploma in Trades Training.
For more information on the program, including an overview of the curriculum, please visit CNC Machinist Technician full-time diploma training.
Program schedule
The CNC Machinist Technician Program has 2 classes of intake or start dates of students each year. Students from the program are available for 8 month (33 week) Co-op placements in May and September.
| | |
| --- | --- |
| Technical Term 1 | 33 Weeks |
| Co-op 1 | 33 Weeks |
| Technical Term 2 | 33 Weeks |
Student profile & capabilities
BCIT attracts a variety of mature and talented students who wish to gain new skills or enhance their existing work knowledge. Many students have industrial, technical and commercial experience and a wide range of work skills. Students must meet admission criteria before being accepted into the program.
After the first 33-week academic term of machinist core training, students will be able to:
Apply safe working practices,
Read and interpret shop drawings,
Perform layout, use measuring and testing tools,
Use support machines, lathes, milling machines, and precision grinders,
Apply basic metallurgy,
Select lubricants,
Apply the fundamentals of CNC,
Complete machine shop projects,
Fit bearings and seals,
Challenge Apprenticeship year I exam.
Co-op job title examples
CNC Operator
Machinist
Machine Shop Helper
Student testimonial
"I've gained a wide range of experiences with various materials and machining processes. I've also taken part in the design phase of various projects and parts.  I now feel comfortable machining and designing components from design to the finished product, including material selection."
TOBIN HENDERSON
Student testimonial
"Extremely valuable experience that prepares you for the real world that's outside of the BCIT CNC shop. The Co-op experience teaches you to become a proper machinist, challenges your mind and tests your motor skills to the limit.  I wouldn't trade this experience for anything else!"
PERCY LAU
Employer testimonial
"BCIT Co-op students are equipped with the right skills for industry. They are trained with standardized industry methods that BCIT has developed. There is no greater way to obtain employees with eagerness to learn and attention to detail than Co-op students.  I would recommend Co-op students to any company that wants to develop good quality people."
TIM THOMPSON, PACBRAKE MFG