Language Support & Assessment Project
Young Newcomers and International Students in Diploma Programs: Building Language Confidence
BCIT's student population is young and diverse, and some EAL students have spent a short time in Canada before entering diploma programs in pursuit of their professional careers. Because of the time-intensive nature of diploma programs, English language development can sometimes be left by the wayside, causing students to struggle. Other EAL students persevere through their studies, only to be met by barriers during their first job applications and interviews. Our project seeks to reduce some of these barriers through language skill and confidence building learning options.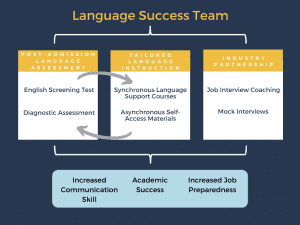 The projects goals are to offer EAL students:
innovative, confidence-building English language learning materials
fair, post-admission evaluations of English language skills
opportunities to work with industry partners to gain more confidence in job application and job interviewing skills
a safe environment to build confidence in English during their studies, which can be used later in the workplace.
Our long-term vision is to establish a centre for language learning success, which acts as a positive hub for BCIT students, faculty, and staff to seek support in all things related to English communication skills in diploma programs.
Young Newcomers and International Students in Diploma Programs: Shock-Proofing Through Language Confidence is funded by the Government of Canada under the Future Skills program