Faculty and staff mobility adds a valuable dimension to BCIT's high quality applied academic programs. The School of Business + Media has partnerships with a number of international universities, providing BCIT faculty with opportunities to guest lecture, teach for a semester, or engage in PD activities focused on international education. At the same time, the School of Business + Media internationalizes the academic curriculum by inviting international instructors to deliver guest lectures or teach for a semester at BCIT.
Faculty and Staff Exchange
The placement and duration of School of Business + Media faculty and staff must be determined in agreement with the host university from the list of international partners. Adequate notice must be given prior to the start of the visit, which must coincide with the period in which teaching or staff activities are due to take place. If you are interested in participating in a faculty or staff exchange with one of our international partners contact Mark Nakamura, International Programs Coordinator.
Global Connect Program
Build your global network through the global connect program at BCIT! Faculty and staff will be paired with international counterparts at our partner institutions spread across 15 countries, for activities that foster international collaboration and connection. Participating in this program will give you numerous opportunities to discuss best practices and to find innovative solutions for the different challenges  in your field. The program runs between September and May.
Registrations are now open for the 2023-2024 academic year. Fill out the registration form to participate in the program.
International faculty and staff weeks
International PD opportunities for faculty and staff
Mobility funding resources
Faculty & staff testimonials
Joe Freeburn – International Week in The Netherlands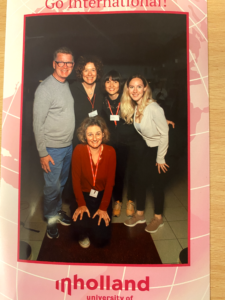 In today's post-secondary environment having an opportunity for an international experience for both students and staff is fundamental to remaining relevant and competitive.  I was fortunate to participate in the 2022 International week at InHolland, one of our partner schools.
This week was packed with lectures that I gave as well as attended and included a wide range of seminars that touched on sustainability, internationalization as well as cross-cultural learning.  Many of the sessions were led by staff and students adding to the value of the learning.  Besides the formal programs, there was a lot of time to mix and mingle with colleagues from Europe and North America where we shared our own experiences and took home many new ideas.
Ron Kessler – International Projects in Europe and Asia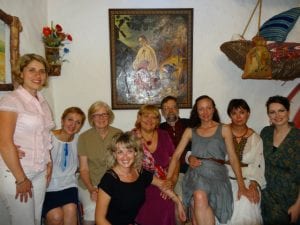 The School of Business + Media has been very supportive of my professional development as faculty involved in international education. I've had the opportunity to meet faculty from Germany, Ukraine, the Netherlands and now India over the past few years. Those opportunities have directly led to the development of new programs and new opportunities for students and other faculty. The expansion of the abilities of faculty to teach about international business, and not just local business practices, means our students are better prepared for their careers, and opens the world for everyone.