The Broadcast and Online Journalism program at BCIT gave me the skills I need to write effectively in broadcast format, along with the technical skills to shoot and edit my reports with broadcast-grade cameras and software.
I like that the program taught us the fundamentals of broadcast journalism (writing, effective interviewing, finding and pitching stories, what makes something newsworthy), but also focused on where the industry is heading in terms of technology and workflow. It prepared me for what the future of broadcast journalism would be, before many of the local stations even made those changes. Now that news stations are slowly moving towards an "online first" approach, and using less traditional cameras and editing methods, there isn't much of a learning curve for me at all.
The standout moments for me would be at the end of each week in our second year, when the students would take a live-to-tape broadcast of a 30 minute newscast to air. It showed that we had the skills to create news content and broadcast our very own TV news program. It was a big confidence booster, and a perfect way for us to get accustomed to the industry we were trying to enter.
BCIT differs from studying at a university in the sense that it is hands-on from the very start. You're not sitting in two-hour lectures debating the theory of a given discipline. You are given the tools you'll need to succeed in your respective industry, and on top of that, real-world experience through internships.
The faculty supported us in many ways. They were always available to take our questions or give us additional feedback. Their input meant a lot, because all of them had industry experience. They would send us journalism-related job postings they thought would be suitable for us, and some of us landed our first jobs that way. They even submitted some of our work for awards, which looks great on a beginner journalist's resume. (I was fortunate enough to win two awards for a radio documentary a classmate and I created. We didn't even know our instructor submitted it for consideration!)
The best thing about the relationships I've made at BCIT is that they've continued into the real world. Many of my classmates have become coworkers. From a professional standpoint, having those connections is invaluable, because it could lead to your next job.
Talking to people in the journalism industry, it became clear that BCIT grads are seen as the ideal candidates for employment. I applied to BCIT because I thought it would give me the best shot at landing a job straight out of school, and it did.
Upcoming students should choose the BCIT School of Business because of its proven track record. Simply put, grads get jobs. At BCIT, I gained real world insights from an industry professional. I learned hands-on how to deliver the news in an efficient, engaging, and modern way. So, when I started my job – I knew what to do.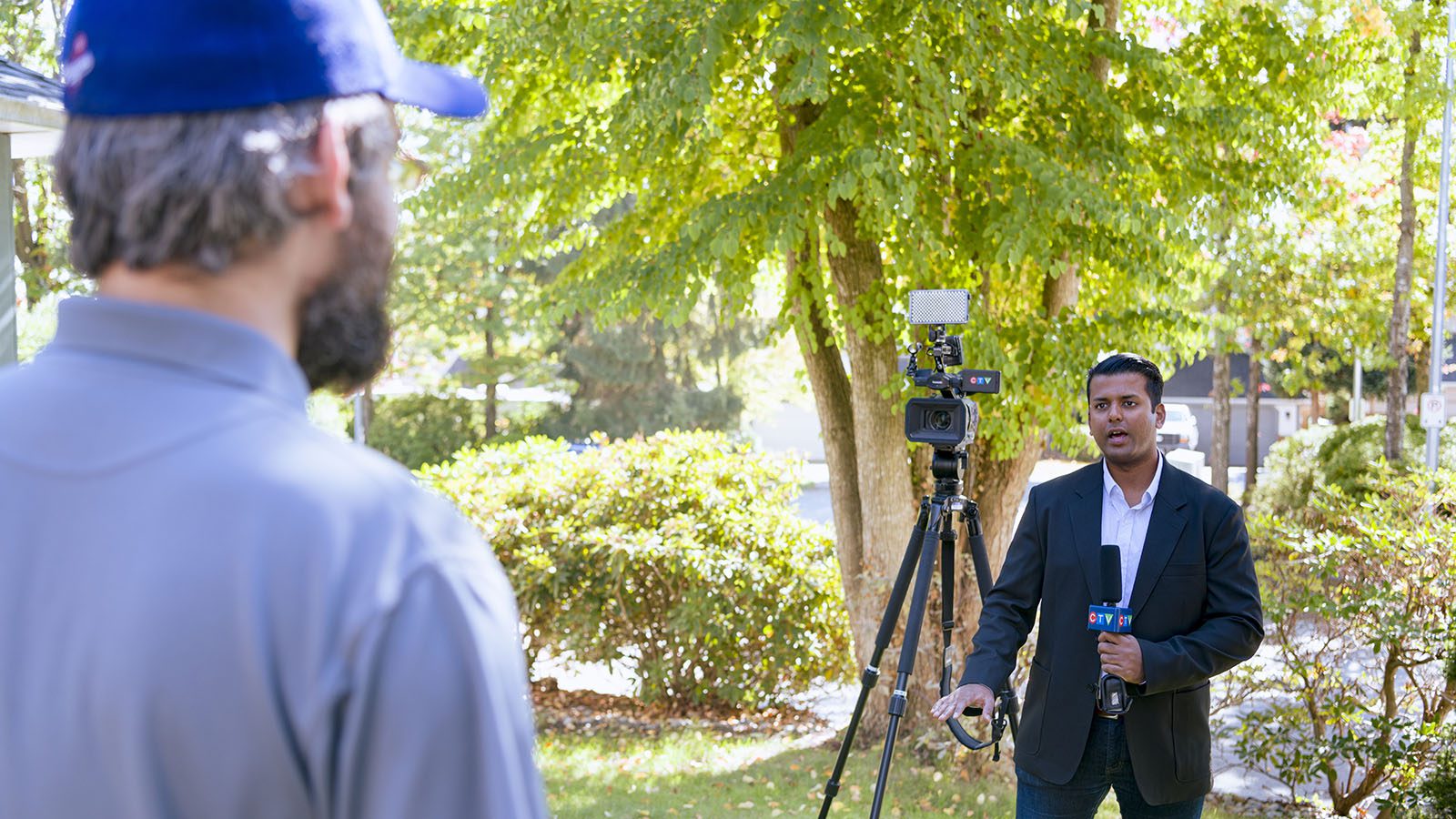 About Travis' job at CTV News Vancouver
On a typical day, I pitch a story idea or get assigned to a story first thing in the morning. I then make phone calls to arrange interviews with people connected to the story, go out and shoot those stories, write a script, then edit the story in time for broadcast on our nightly newscasts. While I'm doing all of that, I also make time to write a web article about the story that can be posted on our station's website.
What I love about my job is how it allows me to inform the people of our province on events and issues that affect their lives. At the end of each day, I feel like I've contributed to something bigger than me, and hope my reporting benefits our viewers/readers.