Italy: Sustainability through collaboration
Program overview
The objective of the BCIT Business Executive Field School is to offer applied learning, rich interactive site visits, and immersion in the cooperative and Italian culture.
Program details
Regions to be visited: Bologna, Emilia-Romagna
When: June 9 to June 16, 2024
Key experiences:
Exposure to the Italian Cooperative Model
Reinforce the importance of the principles of cooperation for mutual benefit
Observe how government policies can promote cooperative relations among firms
Learn to develop sector-specific strategies that aid the growth of cooperative firms
Discern the impact of a member based shared services model
Apply the cooperative model by working on a project with your cohort
Network with Italian Cooperative Executives and explore collaboration between countries
Site visits include (subject to change):

UNIBO, Alma Mater Studiorum
Legacoop Bologna
The Chamber of Commerce of Bologna
Banca Di Bologna Credito Cooperativo Societa Centro
Commerc. Art.Fossolo 2
Il Raccolto Soc.Coop. Agricola
FICO eatly
C.A.D.I.A.I. Cooperativa Sociale
UNIPOL GRUPPO
Fees:
Program cost: $6,595 *
Applicants are accepted in the order that they are received.
Program cost includes:
Programming and curriculum
Guest lectures
Site visits
Certificate of Completion
Curriculum related transportation
Accommodation and Breakfast
Seats are limited. Fees do not cover airfare, transportation to and from Bologna or personal expenses. Accommodation will be at a four-star hotel located in the centre of town.
How to apply:
Interested in applying to the Executive Field School program? Email us.
*GST amount not included
My experience here in Italy has been far greater than I ever imagined. What I really walked away with is the culture of cooperation. I am more proud to be a part of a credit union and part of the co-operative movement and understanding the value that we play.

CEO, First West Credit Union, 2017 Executive Field School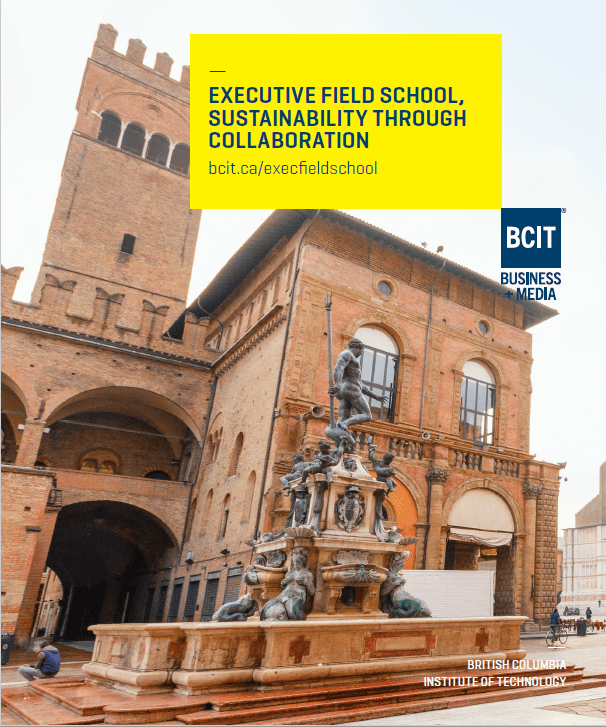 Join us on the 2024 BCIT Executive Field School in Italy to learn more about the Italian cooperative business model. Learn more about the program by downloading the brochure.