What is Flexible Language Support?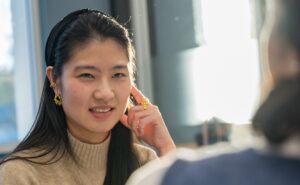 Flexible Language Support includes weekly in person and/or online hours that are offered throughout the term by a COMM faculty instructor with English as an Additional Language (EAL) training. The instructor knows the writing expectations at BCIT and can recognize language strengths and challenges. The Flexible Language Support schedule and booking link will be posted at the start of each term.
Who can use this service?
Anyone who feels they need support with their English or course content
What help can you get?
The language advisor can…
offer advice, give feedback, and suggest resources.
provide English language support.
review course materials.
brainstorm options for topic or content ideas.
work together with you to identify and revise grammar and writing
These sessions are not for non-course related writing or commenting on grades.
How do you book a session?
Click in the calendar to choose a day
Click on the green 'Book Office Hours' button
Select a time slot that works for you
Follow the instructions and confirm the appointment
Book Your Spot Today
Flexible Language Support begins on January 19.