The BCIT School of Health Sciences promotes interprofessional education, which leads to students who are better prepared for collaborative practice in the workplace and "better prepared to respond to local health needs." WHO 2010 [PDF]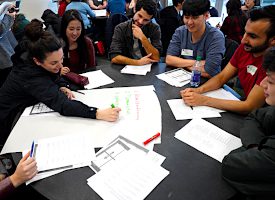 The School of Health Sciences is strategically integrating IPE using a four pillar framework [PDF]: curriculum, faculty development, practice education and culture. See more in Sharespace (employee login required).
Click the Events tab to see upcoming and previous events.
Vision: We educate and inspire learners to be leaders in interprofessional collaboration for health care transformation.
Mission: Promote IPE concepts and experiences across the SoHS programs by integrating evidence-informed teaching and learning strategies consistent with national competency framework and accreditation standards. Support success in interprofessional collaboration consistent with BCIT's vision, mission, and mandate.
What is Interprofessional Collaboration (IPC)?
A partnership between a team of health providers and a client in a participatory, collaborative and coordinated approach to shared decision-making around health and social issues. (CIHC 2010).
Interprofessional Education is based on the Canadian Interprofessional Health Collaborative (CIHC) Competency Framework [PDF] and highlights six (6) competency domains.
What is Interprofessional Education (IPE)?
Occurs when students from two or more professions learn about, from, and with each other to enable effective collaboration and improve health outcomes for patients (CAIPE, 2002: WHO, 2010).
Watch the award-winning video below on teamwork created by Med Lab student Maryam Baghalha.
For more information, please contact ipe@bcit.ca.