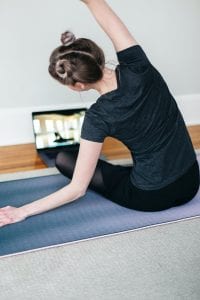 The Recreation Services team is excited to announce our Winter 2021 Fitness Class schedule! Stay active with us by registering for one of our 12-week virtual fitness classes.
Please note that all participants must register online.
Class schedule & descriptions
Group Fitness
MONDAY
TUESDAY
WEDNESDAY
THURSDAY
FRIDAY
Strength Class
with Tye

11:45 a.m.-
12:30 p.m.

Weight/Cardio
with Kathy

11:45 a.m.-
12:30 p.m.

Stretch Class
with Carol

12:45 p.m.-
1:30 p.m.

Zumba
with Kathy

11:45 a.m.-
12:30 p.m.
Premium classes
MONDAY
TUESDAY
WEDNESDAY
THURSDAY
FRIDAY
Pilates
with Joanna

12:45 p.m.-
1:30 p.m.

Power Yoga
with Tye

12:45 p.m.-
1:30 p.m.

Total Body
Conditioning
with Candace

12:45 p.m.-
1:30 p.m.

Ballet Fit
with Denisse

12:45 p.m.-
1:30 p.m.
Register for a class
Each class is a 12 week program beginning the week of January 18. Once you have registered for classes, you will receive the class Zoom invitation the morning of each class and will only be allowed in to the Zoom session if your name/A0# is on the list. If the name on your Zoom account does not match the name on our registration list, you will not be granted access to the class.
Registration fees
Group Fitness classes are free for all registered BCIT participants.
Premium classes are paid classes. For course fee information, please review the class descriptions. These classes will be prorated at the time of registration.
HR Sponsored class: BCIT employees can receive one premium class sponsored by Human Resources. Registration for this offer is limited so you must register between January 13-29, 2021 to be eligible to receive your HR Sponsored Class. Don't miss out! Email BCIT_recreation@bcit.ca with your A00 number and what class you would like to register into.
How to Register
Registration for our virtual fitness classes is completing using our online registration system. Please review the step-by-step registration details below.