Overview
Part of the Electrical and Computing Engineering Technology program, the two-year diploma in Automation and Instrumentation, offers students the option to complete paid co-operative education terms. Students may apply to continue studying to complete the BCIT Bachelor of Engineering in Electrical Engineering and other advanced credentials.
About the program
Students undertake a comprehensive study of control strategies, measurement techniques, communications systems, and electronic and computer systems used in the automatic control of commercial and industrial equipment/machines. A strong component of the program involves the student developing relevant, practical skills by working with modern industrial equipment in well-equipped labs. Students will graduate with a solid foundation in automatic measurement and control systems.
Who it's for
Automation and Instrumentation might be for you if you're interested in designing and maintaining systems that measure and control across a wide variety of industries.
To learn more, meet Pulkit Jain, a process-driven technologist and BCIT graduate who enjoys combining his passion for engineering and design to help his clients solve real world problems:
What grads can do
Graduates are employed in the design, analysis, application, construction and installation of measurement and control systems. You might work in engineering consulting firms, manufacturing companies, energy management firms, food-and-beverage processing plants, technical sales and service, the natural resources, or the mining industry. You might work in an environment preparing engineering designs, commissioning or providing technical service, technical sales involving the application of measurement and control equipment or researching technical problems, or in a fast-paced environment where you are involved in many of the above facets, either alone or as part of a team.
Employers for the graduate of this program include commercial companies, government agencies and educational institutes. Please see the graduating and jobs link for a list of employers.
Graduates of this option may obtain a dual diploma in another ECET option by completing all the additional required courses for that option. Entry to this second option is competitive and priority is given to students completing their first option.
Entrance Requirements
Spend-A-Day with us
Want to learn more about our program before you apply? Come spend-a-day with us. You'll meet students and instructors, and get a hands-on feel for what the program is about.
If you have questions regarding the entrance requirements or the application process, read Common First Year [PDF] and then visit Admission & Registration.
If you want to discuss the program content in more detail, contact the Program Head, Remya Sreenath or call 604-412-7576.
Costs & Supplies
The information below will help you determine the cost of taking the program and assist you in developing a budget for your two years of study.
Program Details
How will I learn?
In all of our technology diploma programs you will spend an average of 30 hours per week in lectures and labs, split approximately 50/50. This balanced approach gives you time to apply the theory in a practical lab environment. In addition, you should expect an additional 30 hours per week preparing for labs, completing assignments and studying. If you need to work while going to school, the majority of our courses are offered in both the September and January terms so that you can tailor your school workload to your other commitments.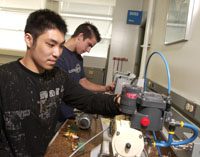 We have 21 well equipped labs to support the practical aspect of your education. In almost every lab each student has their own individual work station.
In this program, your focus will be to learn to design and maintain systems that measure and control – systems that are widely used in areas as diverse as industrial manufacturing, material handling processes, domestic heating and cooling operations and even the Space Shuttle.
Graduating & Jobs
An edge in the job market
A BCIT diploma shows potential employers that you are accomplished, focused, and serious about your chosen career path. Our programs and courses provide both fundamental theoretical knowledge and hands-on practical skills to help you "hit the ground running" in a new job. Graduates say that BCIT helped them fully prepare for employment.
Job opportunities
Automation and Instrumentation offers challenging and fulfilling careers for engineering technologists in design, research and development, technical support and technical sales.
Graduates of this program work in industries such as consulting engineering; automation equipment sales and support; resource industries such as petrochemical, pulp and paper, wood processing and mining; building automation; food processing; and materials handing and manufacturing. They are involved in the design, application and support of electronic and computer-based automation systems. These specialists use multi-disciplinary skills to interface and network computers and electronic equipment to pneumatic, hydraulic, mechanical and process systems. Companies that have hired graduates of our program are:
Professional associations
Students are encouraged to join the International Society of Automation (ISA) to further their connection to the instrumentation community.
Faculty, Advisors & Staff
The Automation and Instrumentation program is supported by a team of committed educators, staff and industry advisors who work hard for students' success.

Mentoring students to explore, discover and innovate
David's fascinating career includes eight years of service to the Canadian Security Intelligence Service. In September 2007, David travelled to Russia to present a research paper on a mathematical model used to predict the time it will take a hacker to compromise a process control network.
Faculty
Remya Sreenath, BTech, PEng
Program Head, Automation and Instrumentation
Tel: 604-412-7576
Email: rsreenath@bcit.ca
Kam Kaur Dhaliwal, PhD
Tel: 604-454-2291
Email: Kam_Dhaliwal@bcit.ca
Gurminder Grewal, MEng
Tel: 604-412-7579
Email: ggrewal45@bcit.ca
Ali A Hafez, MEng
Tel: 604-432-8374
Email: Ali_Ahafez@bcit.ca
Craig Hennessey, PhD, PEng
Tel: 604-412-7586
Email: chennessey1@bcit.ca
Dejan Kihas, MSc, PEng
Tel: 604-451-7145
Email: Dejan_Kihas@bcit.ca
Joselito Laguio, MEng, PEng
Tel: 604-453-4046
Email: Joselito_Laguio@bcit.ca
Maurice LeNoble, PhD, PEng
Program Head, First Year
Email: Maurice_Lenoble@bcit.ca
David Leversage, BEng, PEng
Tel: 604-412-7593
Email: David_Leversage@bcit.ca
William (Bill) Maki, BEng, PEng
Tel: 604-412-7590
Email: Bill_Maki@bcit.ca
Rosamund Russell, BASc, PEng
Tel: 604-412-7578
Email: Rosamund_Russell@bcit.ca
Chris Siu, MSEE, PEng (on leave)
Robert Trost, MEng, PEng
Tel: 604-432-8662
Email: Robert_Trost@bcit.ca
Reza Vahidnia, PhD, PEng (on leave)
Jodie Vigar, BTech, PEng
Tel: 604-412-7667
Email: jvigar@bcit.ca
Assistant instructors

Chris Goetz, DipIT
Tel: 604-456-1173
Email: Chris_Goetz@bcit.ca
William Han, BEng
Tel: 604-432-8251
Email: whan16@bcit.ca
Todd Jelstad, DiplT (on leave)
Steven A. McClain, BTech, SMIEEE
Tel: 604-412-7591
Email: smcclain@bcit.ca
Andrew Mokrzycki, MSc, AScT
Tel: 604-412-7584
Email: Andrew_Mokrzycki@bcit.ca
Behrouz Sattari, MEng
Tel: 604-412-7588
Email: bsattari@bcit.ca
Ron Stewart, DipIT, MEng
Tel: 604-432-8933
Email: rstewart67@bcit.ca
Jessica Wilson, BA
Tel: 604-412-7692
Email: Jessica_Wilson@bcit.ca
Technical staff
Bhupinder Thind
Tech Staff II
Tel: 604-456-8104
Email: Bhupinder_Thind@bcit.ca
Staff
Matthew Pedley, BASc, PEng
Associate Dean
Tel: 604-432-8976
Email: Matthew_Pedley@bcit.ca
Rosmin Gilani
Administrative Assistant
Tel: 604-432-8369
Email: rgilani@bcit.ca
Gundi Minato
Program Administrator
Tel: 604-451-6892
Email: Gundi_Minato@bcit.ca
Advisory committee
Steve Egglestone
ESC Automation
Alden Hagerty
Spartan Controls
Harjog Mattu
PE Tech Ltd.
Richard Miller
Kierton Inc.
Koji Otomo
Metro Vancouver
Gregory Shrimpton
Township of Langley
Paul Wessel
Centrix Control Solutions
Donnelly Williams
Altec Integrated Solutions
Jessica Wilson
Freelance
Contact Us
Spend-A-Day with us
Want to learn more about our program before you apply? Come spend-a-day with us. You'll meet students and instructors, and get a hands-on feel for what the program is about.
If you have questions regarding the entrance requirements or the application process, read Common First Year [PDF] and then visit Admission & Registration.
If you want to discuss the program content in more detail, contact the Program Head, Rosamund Russell or call 604-412-7578.
Questions or comments?
Subscribe
Sign up to receive updates, invitations to events, and information about BCIT and your program.
We promise not to spam you, we won't share your personal information, and you can unsubscribe at any time.
Programs and courses are subject to change without notice.