Overview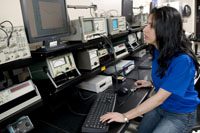 The Bachelor of Engineering in Electrical Engineering (BEng Electrical) is a four year program that prepares students for a professional career as an Electrical Engineer. The BEng Electrical is recognized as a baccalaureate degree in British Columbia by the BC Ministry of Advanced Education and is nationally accredited by the Canadian Engineering Accreditation Board (CEAB). The program is designed to provide a pathway to registration as a Professional Engineer in BC.
Program delivery mode: in person
This program will be delivered in person for the coming semester.
We have put measures in place for your safety and well-being, ensuring that all safety protocols are addressed. Please see the BCIT COVID-19 page for details on the procedures that have been implemented.
Your education is our priority and we will continue to deliver the applied instruction, collaborative experience, and industry connections that you expect from BCIT.
The program
The BEng Electrical program shares first year with the Diploma of Electrical and Computer Engineering Technology (ECET) to provide you with options for your engineering education. After successful completion of the first year, you choose to continue in either an engineering degree or a technology diploma path. The engineering degree path requires an additional three years of study, however, you can choose to transfer to the diploma path and within one additional year you can graduate with an ECET diploma.
The program encompasses a wide range of subjects designed to advance both your technical knowledge and your skills in communications, management and professional practice. A four month workplace education experience allows you to apply your developing skills prior to graduation. (See program details page for more information). In a capstone project that spans the final year, you will apply your knowledge to a complex "real world" engineering design challenge, often an industry-sponsored project.
For a comparison of the two degree programs offered by the Electrical and Computer Engineering department, please read our FAQs [PDF].
Why take engineering at BCIT
You will learn practical applications of electrical engineering with a strong theoretical foundation from instructors with many years of industry experience. Our well equipped laboratories support your development of hands-on practical skills.
The faculty in our program are motivated teachers. They are focused on providing applied education and helping you to succeed. You have ample opportunity to interact with our instructors in both lectures and labs.
You will gain from BCIT's strong reputation in industry. BCIT grads find relevant jobs quickly, and have a reputation of being productive from day one. The B.Eng Electrical degree is built to achieve similar success.
Check out Alexander Jappy, a third year student in the Electrical Engineering Degree program:
Entrance Requirements
Spend-A-Day with us
Want to learn more about our program before you apply? Come spend-a-day with us. You'll meet students and instructors, and get a hands-on feel for what the program is about.
If you want to discuss the program in more detail, please contact the Program Head,
David Romalo
or call 604-412-7577.
Costs & Supplies
The information below will help you determine the cost of taking the program and assist you in developing a budget for your two years of study. If you have concerns about being able to afford the program, please visit Financial Aid to learn how you may benefit from financial assistance.
Courses
What is the workload like?
Our engineering program contains significant workload and contact hours with your instructors. There is an average of 30 hours per week of class time in first year and 25 hours per week in the remaining three years. You should expect to spend an additional 25 – 30 hours per week on your own, completing assignments, preparing for labs, working on projects and studying.


In the final year you will be required to complete, with guidance from a faculty member, a significant year-long engineering project. This is intended to bring together a number of subject areas and acquaint you with "real world" engineering problems. In preceding years some of your courses will contain "course-based" projects to prepare you for your final endeavour.
Below you will find a term by term listing of the courses. Click on the title for a quick "drop-down" course description or on the link for a more complete course outline.
Program Details
Your learning environment will be a blend of lectures, labs and tutorials. Our labs are well equipped to support your learning needs. For example, one recent industry donation helped us to build a state of the art process measurement and control lab. In almost every lab facility each student has their own individual work station.
Workplace education
A Workplace Education work term is a part of the BEng Electrical program. This paid work experience would normally occur in the summer after either year two or year three. The experience gained in the work term gives students an added advantage in securing employment after graduation.
The Centre for Workplace Education (CWE) maintains an online data base called CWE Bridge that allows students to view and apply to work terms. This platform is a tool to help BEng students satisfy the workplace education component of the program. BEng student access to the CWE Bridge is assessed in September and monitored on a continual basis. Most students in the BEng have access to the CWE Bridge except (i) students who have already completed the work placement requirement of the program and (ii) students who are in their final year of the program and who have a viable path to complete all of their courses by June of that year. These students will need to undertake an independent job search to meet their work term requirement for graduation.
Graduating & Jobs
Job opportunities
Engineers serve to protect the safety, health and welfare of the public. This includes protection of the environment. They provide expertise to facilitate the efficient and sustainable use of technology. They also frequently work within multi-disciplinary teams to tackle large multi-faceted engineering initiatives.
Electrical engineers are employed by electrical utilities, communications companies, manufacturers of electrical and electronic equipment, computer manufacturers, government, consulting firms and a wide range of manufacturing, processing and transportation industries. They may work as employees, consultants or entrepreneurs.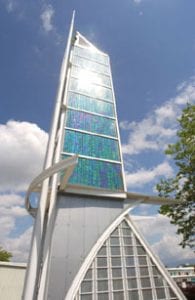 Electrical engineers are involved in research, design, evaluation and commissioning of electrical and electronic equipment and systems. This includes electrical generation and distribution networks, electrical machinery and equipment, communications systems and networks, instrumentation and control systems.
They prepare design specifications, project reports, cost estimates and maintenance or operating standards. They also supervise and inspect the installation, modification, testing and operation of systems and equipment and investigate failures. Further, they may develop specialized applications and system software, prepare contract documents and evaluate tenders for construction or maintenance. They may also supervise technicians, technologists, programmers, analysts and other engineers.
Faculty, Advisors & Staff
The BEng, Electrical Engineering program is supported by a team of committed educators, staff and industry advisors who work hard for students' success.
Faculty
David Romalo, MASc, PEng
Program Head, BEng, Electrical Engineering
Tel: 604-412-7577
Email: David_Romalo@bcit.ca
Yousry Abdelhamid, PhD
Tel: 604-432-8870
Email: yabdelhamid@bcit.ca
Pejman Alibeigi, MSc
Tel: 604-412-7580
Email: Pejman_Alibeigi@bcit.ca
Jeff Bloemink, PhD, PEng (on leave)
Ed Casas, PhD, PEng
Program Head, Telecommunications and Networks
Tel: 604-432-8936
Email: Eduardo_Casas@bcit.ca
John Dian, PhD, PEng
Tel: 604-432-8219
Email: John_Dian@bcit.ca
Bob Gill, MEng, PEng
Tel: 604-412-7582
Email: Bob_Gill@bcit.ca
Gurminder Grewal, MEng
Tel: 604-412-7579
Email: ggrewal45@bcit.ca
Craig Hennessey, PhD, PEng
Tel: 604-412-7588
Email: chennessey1@bcit.ca
Mahda Jahromi, PhD, PEng (on leave)
Joselito Laguio, MEng, PEng
Tel: 604-453-4046
Email: Joselito_Laguio@bcit.ca
Maurice LeNoble, PhD, PEng
Program Head, First Year
Tel: 604-432-8785
Email: Maurice_Lenoble@bcit.ca
William (Bill) Maki, BEng, PEng
Tel: 604-412-7590
Email: Bill_Maki@bcit.ca
Ali Palizban, PhD, PEng
Tel: 604-451-6924
Email: Ali_Palizban@bcit.ca
Hassan Saberi, MSc, PEng
Tel: 412-8388
Email: hsaberi@bcit.ca
Chris Siu, MSEE, PEng
Tel: 604-456-8013
Email: Christopher_Siu@bcit.ca
Robert Trost, MEng, PEng
Tel: 604-432-8933
Email: Robert_Trost@bcit.ca
Reza Vahidnia, PhD, PEng
Tel: 604-432-8263
Email: rvahidnia@bcit.ca
Jodie Vigar, BTech, PEng
Tel: 604-412-7667
Email: jvigar@bcit.ca
Assistant instructors
Chris Goetz, DipIT
Tel: 604-456-1173
Email: Chris_Goetz@bcit.ca
William Han, BEng
Tel: 604-432-8251
Email: whan16@bcit.ca
Todd Jelstad, DiplT
Tel: 604-412-7583
Email: Todd_Jelstad@bcit.ca
Steven A. McClain, BTech, SMIEEE
Tel: 604-412-7591
Email: smcclain@bcit.ca
Andrew Mokrzycki, MSc, AScT
Tel: 604-412-7584
Email: Andrew_Mokrzycki@bcit.ca
Kia Nemati, PhD
Tel: 778-331-1380
Email: Kia_Nemati@bcit.ca
Ron Stewart, DipIT, MEng
Tel: 604-432-8933
Email: rstewart67@bcit.ca
William Zhang, BSEE
Tel: 604-412-7581
Email: wzhang79@bcit.ca
Technical staff
Behrouz Sattari, MEng
Tech Staff III
Tel: 604-412-7588
Email: bsattari@bcit.ca
Staff
Amir Yousefi, PhD, PEng
Associate Dean
Tel: 604-432-8976
Email: Amir_Yousefi@bcit.ca
Rosmin Gilani
Administrative Assistant
Tel: 604-432-8369
Email: rgilani@bcit.ca
Gundi Minato
Program Administrator
Tel: 604-451-6892
Email: Gundi_Minato@bcit.ca
Advisory committee
Earl Friesen
Supervisor, Canadian Coast Guard
Paul Fuoco
VP Engineering, Lex Engineering Ltd.
Daniel Geheran
Regional VP, Business Operations, Ledcor Technical Services
Victor Goncalves
Chief Operating Officer, Alpha Technologies Ltd.
Chris Orosz
Manager of Technical Operations, Nav Canada
Parm Sandhu
Director, Network Services, Telus Mobility
Contact Us
Spend-A-Day with us
Want to learn more about our program before you apply? Come spend-a-day with us. You'll meet students and instructors, and get a hands-on feel for what the program is about.
If you want to discuss the program in more detail, please contact the Program Head,
David Romalo
or call 604-412-7577.
Questions or comments?
Subscribe
Sign up to receive updates, invitations to events, and information about BCIT and your program.
We promise not to spam you, we won't share your personal information, and you can unsubscribe at any time.
Programs and courses are subject to change without notice.