The BCIT community is made up of individuals from every ability, background, experience and identity, each contributing uniquely to the richness and diversity of the BCIT community as a whole.
Our programs are designed to promote a culture of workplace diversity and inclusiveness. Below is a brief description of just a few of our programs. Further initiatives are included in the relevant sections further down.
Be More than a Bystander program
Respectful Workplace Education program
Respect, Diversity and Inclusion Office
Indigenous 101 education program
Diversity and Inclusivity Committee
Gender inclusive washrooms
BCIT Pride committee
Indigenous Services department
Three religious observance rooms
Indigenous Sweat Lodge and Gathering Place
Diversity Circles
Other Initiatives
Facilitating Access to Skilled Trades in BC
The Facilitating Access to Skilled Trades in BC (FAST BC) provides support for new immigrants with skills and experience in three key areas—carpentry, automotive services and power engineering. FAST BC offers online assessment of skills and knowledge, along with gap training to skilled immigrant workers prior to their arrival in BC so that they have the knowledge and skills needed for the Canadian workplace. Skilled immigrants registered for the program will also be matched with mentors to help build their professional networks in BC. Employers will be able to access their skills and competencies profile through an online talent portal.
BCIT Trades Access
BCIT offers an introduction to the trades for women, though women can also enter the general Trades Discovery program, if they wish. In both 16-week programs, students explore 15 different disciplines, allowing them to identify their desired field of study before investing in training and apprenticeship. Women have been benefiting from BCIT Trades Discovery programs for 15 years, thanks in large part to Program Head Tamara Pongracz and donors like Concert Properties CEO David Podmore.
Women in Trades Program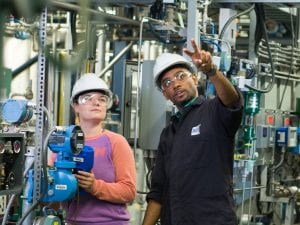 BCIT has the longest-running Women in Trades program in Canada. It is designed to provide skills training for unemployed or disadvantaged women and provide a support network for women in the trades. The program is coordinated by a Chief Instructor from the School of Construction and the Environment; this talented individual is a woman of Aboriginal descent and as a fully qualified tradesperson, she is able to draw on a range of experiences to help students in the program. The program started in 1978 and is fully sponsored by BCIT. Thirty-two women enrol in the program annually and obtain fulfilling careers in carpentry, welding, automotive, electrical or piping. Women are welcome to participate in a two-week Trades discovery program prior to enrolling.