Overview
The Bachelor of Science in Nursing (BSN) is a three-year full-time Program, that is delivered in three terms per year. The program is based on a concept, competency-based approach. Students are exposed to the latest technology, innovative practice-based experiences, and provide with a range of resources. The BCIT BSN is committed to preparing excellent nurses who are practice ready to meet the complex care needs in today's health care environment.
About the program
Accelerated, three-year, full-time Bachelor of Science in Nursing program
Three intakes per year: January, April and September
Simulation labs at BCIT provide students with a safe learning environment
Clinical experiences in a variety of acute care settings and community agencies
Two specialty nursing courses are included in the degree
Visit Program Details to learn more about our BSN program.
Who it's for
This program is for individuals who:
Are able to care for the physical and emotional well-being of a variety of patients
Have the emotional stability to effectively manage the needs of patients, and to cope in stressful situations
Are fluent in written and oral English
Are team players, able to work independently, and take initiative while maintaining ethical standards and values
Have a strong work ethic and are committed to a heavy course load
Are able to work day, night, and weekend shifts in a physically demanding, fast-paced environment
Are Canadian residents
Thrive in an innovative, technical, and caring environment
Are interested in developing problem-solving and critical thinking skills
Have good manual dexterity to work with sensitive material and equipment
This BSN program is guided by the British Columbia College of Nurses and Midwives (BCCNM) standards. In order to work as an RN, graduates must meet the required competencies and standards set by the College. You can find out more on these sites:
Visit Entrance Requirements to learn more about program entry requirements and registration.
What grads can do
Registered nurses work in hospitals and community healthcare settings around the world. Visit Graduating and Jobs to discover opportunities.
The BCIT Bachelor of Science in Nursing program is committed towards decolonizing nursing education. In doing so, we are demonstrating an awareness of and commitment towards the cultural safety needs of Indigenous students, colleagues and clients with whom we work. To this end,

we recognize and honour the territorial lands upon which BCIT campuses are situated: the unceded traditional territories of the Coast Salish Nations of Sḵwx̱wú7mesh (Squamish), səlilwətaɁɬ (Tsleil-Waututh), and xwməθkwəy̓əm (Musqueam)

. These are the lands that bring us together in a reciprocal relationship of teaching and learning to bring about an equitable Canada for all.
Entrance Requirements
Note: In alignment with public health orders, this program requires that students be vaccinated for a number of communicable diseases – including COVID-19.
Acuity Insights
All applicants must complete the Acuity Insights Casper test [PDF].
Go to Acuity Insights to reserve a test date. Last minute bookings are not recommended. Register at least three days prior to your preferred test date. Please go to the Acuity Insights website for all information or questions regarding the test.
Casper test scores are only valid for a single testing cycle – September to August.
The Casper exam scheduled on November 2, 2023 is acceptable for the January 2024 intake.
Note: The SnapShot video interview is no longer an entrance requirement.
British Columbia College of Nurses and Midwives  (BCCNM) Registration Requirements
Once you graduate from the Bachelor of Science in Nursing program, you must apply for registration as a Registered Nurse with the BCCNM to be eligible for employment. To register you must meet the BCCNM Competencies and Standards for Entry-Level Registered Nurse Practice in British Columbia.
It is important that you are aware of these prior to applying for admission to the Nursing program.
These requirements are described on the BCCNM's Website at the following links:
If you have concerns about whether or not you have the required skills and abilities for admission to or progression through the Nursing program, contact BCIT's Accessibility Services.
Program Details
Student guidelines, policies and procedures:
The program:
The program prepares highly skilled, practice-ready graduates eligible for nurse registration. Upon completion of the program, graduates are eligible to write the National Council Licensure Examination (NCLEX).
The Bachelor of Science in Nursing program is committed to educating and equipping learners to graduate and launch successful careers in nursing. To support this aim, the BSN program emphasizes the development of professionalism, communication, professional growth, reasoning and reflection, creative leadership, facilitation skills, and technical skills.
Courses are offered in a variety of formats including lecture, laboratory, small group work, online, and clinical experiences. Learning opportunities in hospitals include clinical practice with acutely ill seniors, adults, children, and families. Learning opportunities in community health include clinical practice in public health, home care and other community health agencies. The clinical practice experience can be during the day, evening or night shift, including weekends and holidays.
The program uses self-directed learning, small group learning, and a scrambled classroom teaching learning strategy, to help students develop the skills required in the health-care system.
Self-directed learning is a method that encourages students to take charge of their learning by identifying learning needs, implementing strategies to meet these learning needs, and evaluating progress toward learning. These skills prepare students for lifelong learning and professional growth.
Small group learning is an approach in which students work in groups of four to twelve people to learn material and discuss course issues. This approach also develops communication and facilitation skills.
A scrambled classroom is a combination of short bursts of lecture interspersed with active learning strategies. The effectiveness of this teaching learning strategy is dependent on students completing readings and pre-class work. Active learning contextualizes knowledge and provides an opportunity for learners to build on and apply knowledge through active engagement with content, peers and the instructor, providing learners with the skills and competencies required for safe patient care within a complex health care system. One key nursing competency this teaching methodology promotes is collaboration and teamwork. Additionally, completing prep work is critical to the success of a practice profession.
Aboriginal applicants: Read about Indigenous student support available for the Nursing program.
International applicants: This program does not accept applications from international students. View programs that do
Graduating & Jobs
Our grads are ready
Recruiters know BCIT Nursing graduates succeed. Our students graduate with the expertise and capabilities to work in a multitude of healthcare settings across BC.
Apply for your RN designation
Grads are required to write the National Council Licensure Examinations for Registered Nurses (NCLEX-RN) to earn their Registered Nurse (RN) designation for licensure. The designation has yearly renewal fees and quality assurance guidelines. Visit the British Columbia College of Nurses and Midwives (BCCNM) for more information on registration and renewal, competencies, and standards. We recommend that you're aware of these standards prior to applying to the program.
Career opportunities
Registered nurses work in a variety of hospitals and community health settings. Careers usually start with casual positions in acute care agencies on a medical and surgical ward. Some graduates are hired to work in public health, pediatrics, obstetrics, and emergency nursing positions.
Learn more about the work we do. Visit the BC Nurses' Union for information on salary. Visit the Nurses and Nurse Practitioners of BC (NNPBC) for current news on the profession.
Keep learning
Students take two specialty nursing courses as part of their BSN degree. These two courses may be applied toward completing one of BCIT's specialty nursing advanced certificate programs after they graduate. Grads can also choose to complete a Master of Science in Nursing or PhD program through other institutions.
Simulation Lab
Watch a Nursing Simulation Lab Orientation video.
Watch a video of our Nursing Lab
The School of Health Sciences Nursing Simulation Lab is a place where students can experience authentic and complex clinical scenarios in a safe learner centred environment. Students have the opportunity to develop their roles as health care professionals through the use of scenarios that build on their learning in the classroom and the hospital. With instructor supervision and facilitation, students communicate, assess and provide interventions to human patient simulators.
Human Patient Simulators
Human Patient Simulators are computerized full sized anatomically correct mannequins. These state of the art simulators mimic "real patients" allowing students to complete full assessments along with interventions. The simulators are not simply mannequins – they have hearts that beat, lungs that breathe and they even bleed, cry and talk.
Benefits for students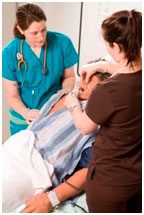 Simulation experiences help students develop nursing knowledge, skills, attitudes and judgements in real-time "clinical" simulations. Every student is given the opportunity to participate in a number of essential "clinical" scenarios throughout the course of the nursing program. Simulation supports students by:
Preparing learners for professional practice by:

Realistically integrating knowledge and practice
Incorporating reflection on practice in debriefing
Promoting interdisciplinary healthcare
Providing an environment where it is safe to make mistakes

Developing leadership in learners
Developing a student's application of skills, critical thinking, and decision making through 'acute' simulation scenarios
Using evidence-based research to advance 'best' practice
Simulation scenarios
Prepare – Prior to the actual simulation experiences, students are given the learning objectives and patient data for the simulation scenarios.
Apply – Scenarios run from 20 minutes to 1-hour giving students time to assess, determine patient problems, plan, implement interventions and evaluate their effectiveness.
Reflect – Structured debriefing occurs immediately after the scenario in order to help the students connect the experience with the theory they already have and make sense of what happened.
Simulation roles

Students
During simulation scenarios, students will work together. Teamwork is encouraged. Each student will be given a role at the beginning of the scenario:
Primary Nurse
Secondary Nurse/ Medication Nurse/ Procedure Nurse
Documenter
Patient
Family member
Doctor
Instructor
Faculty
Instructors partner with the students and act as facilitators and guides in the learning process.
Frequently Asked Questions
How do I determine if my general health is suitable for a nursing career?
Consider:
Nurses work either 8 or 12-hour shifts. This time is spent standing, walking, bending, and lifting, supporting, or transferring people or objects. Nurses must be able to move quickly and efficiently, often in tight spaces.
Nurses need to be able to support and turn patients without harming themselves or the patient.
Nurses must be physically fit in order to be active throughout the workday. Leg, back, or foot problems may interfere. Anyone who has limited muscle strength or physical endurance may also have difficulties.
Nurses perform skills requiring a high level of manual dexterity and coordination (for example, giving injections). Anyone with poor eye-hand coordination may have difficulties with these tasks.
Nurses give emotional support to others and work in stressful, anxiety-producing situations. This may be difficult for anyone who has emotional or psychiatric problems or difficulty dealing with their own stress and anxiety.
Nurses wash their hands frequently with antiseptic soaps and wear latex/rubber gloves. If you are latex-sensitive or have a latex allergy, you may not meet the health requirements, as the Nursing program and the practicum settings may not be able to accommodate your latex allergy/sensitivity.
Skin must be intact, since exposed lesions pose a problem to both students and patients. A skin condition resulting in chronic open lesions is likely to prevent you from meeting the health requirement.
How many days per week is a BCIT Nursing student in the hospital?
Students are in a practice course (hospital or community) up to 2 days per week, until the final term of the program. In the final term of the program, students are in the hospital or community up to five full days per week.
Clinical days are scheduled on a changing rotation with shifts varying from five to twelve hours in length. Shifts can include weekends and holidays.
What are the workload requirements of the program?
This is a very demanding full-time program, working during the terms is not recommended. The program schedule requires attending classes, labs or clinical approximately 30 hours each week. Several hours of homework, which includes class and clinical preparation, will be required each evening. You will also need to plan time for library research and group work.
What courses can be taken in advance to lighten the workload?
The following courses in the BSN can be taken prior to starting the program.
Who requires a criminal record check?
All accepted students are required to complete a criminal record check (CRC) in order to identify individuals convicted of physical, sexual, or chemical abuse. The CRC application process will be explained in your acceptance letter.. Only criminal record checks completed through BCIT will be accepted.
If you have questions regarding the criminal record check process for Nursing students, please contact criminalrecordscheck@bcit.ca
What skills are required in the nursing program?
Computer, academic writing, and research skills are some of the requirements to be successful in the nursing program.
What writing format is used in the nursing program?
Assignments must be formatted according to American Psychological Association (APA) style.
Why are communication skills important for nursing students?
Student must be fluent in written and oral English.
For safety reasons student nurses must be able to communicate and interact with a wide range of health care professionals, patients, and families in the hospital and community. It is essential that you understand verbal and written instructions, and be clearly understood when providing information to patients, families, doctors, nurses and your instructor.
Do I need a car in the program?
In Year 3 the community rotation experiences for students without access to a private vehicle may be limited.
Clinicals take place in a variety of hospitals and community agencies, and students are required to change sites several times during the program. Transportation and all cost associated are the responsibility of the student.
Indigenous Student Support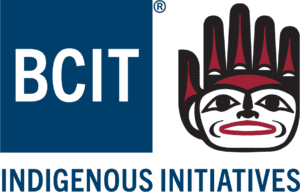 In partnership with the Indigenous Initiatives department, the BSN program has formed the BSN Indigenization Circle working group. The circle's vision is "Reconciliation in Action" and this team actively works to promote reconciliation activities for students and faculty. The goal is to indigenize the BSN program by welcoming and working with indigenous students. By improving how we recruit, support and successfully graduate indigenous students, as well as recruit and retain indigenous faculty and staff, we hope to strengthen our program​.
The BCIT BSN program is committed to the recruitment and retention of Indigenous applicants. To support applicants a dedicated Indigenous admissions process was established and 5 seats per intake are reserved for Indigenous students.
To be considered under this admission category applicants must:
Self-identify as an Indigenous person of Canada on the admission application.
Have successfully completed the program's entrance requirements.
For more information on the Indigenous admissions process email: nursing@bcit.ca
Our program also works closely with Indigenous services at BCIT to ensure students receive the best possible support and encouragement while in the program. Please visit Indigenous Initiatives for more information on available resources.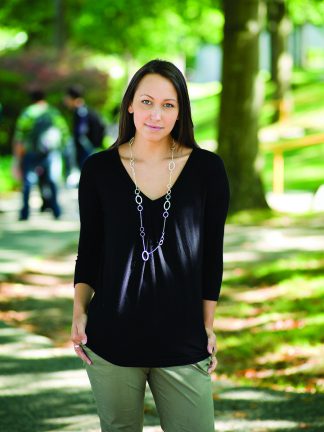 Gabrielle Guidolin
Bachelor of Science Degree in Nursing
Kelowna Metis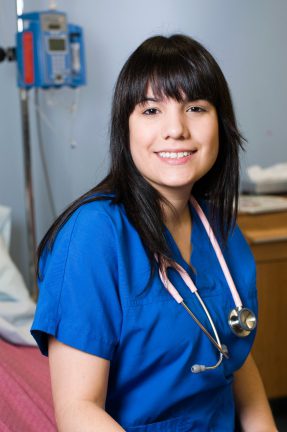 Tasia Lambert
Bachelor of Science Degree in Nursing
Pine Creek First Nation
Subscribe
Sign up to receive updates, invitations to events, and information about BCIT and your program.
We promise not to spam you, we won't share your personal information, and you can unsubscribe at any time.
Programs and courses are subject to change without notice.