Overview
A selection of CAD courses ranging from 2D AutoCAD to advanced 3D modeling using applications like Autodesk Inventor and SolidWorks. Some courses are available in-person and there are online options as well.
Program delivery mode: in person
This program will be delivered in person for the coming semester.
We have put measures in place for your safety and well-being, ensuring that all safety protocols are addressed. Please see the BCIT COVID-19 page for details on the procedures that have been implemented.
Your education is our priority and we will continue to deliver the applied instruction, collaborative experience, and industry connections that you expect from BCIT.
The program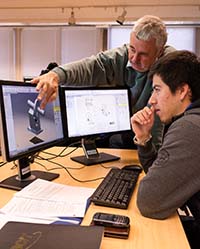 A selection of part-time studies courses will be offered that will lead to an Associate Certificate in Computer Aided Design Technology. Computer Aided Design (CAD) tools are being increasingly used in engineering and architectural fields. As well, CAD is finding applications in other areas such as facilities management and interior design.
The Associate Certificate program is intended for:
draftspersons, technicians or individuals who are skilled in a technical field who need to develop their CAD proficiency
individuals who require a formalization of their technical abilities in CAD
The associate certificate program courses are taught at a level that assumes students have completed senior secondary school math, science and English or equivalent.
To be awarded an Associate Certificate in Computer Aided Design Technology, the student must complete 6.0 credits of required courses and 12.0 credits of elective courses for a total of 18.0 credits.
Costs & Supplies
Part-time study courses are individually priced. Please check each individual course to see the applicable tuition fee.
Graduating & Jobs
Job opportunities
Job opportunities depend on the student's chosen electives, and previous level of education and applicable work experience. As a BCIT student and alumni, you have access to BCIT's Student Employment Services for work search support and resources, and also eJobs, an online job bank created specifically for BCIT graduates.
Faculty, Advisors & Staff
Subscribe
Sign up to receive updates, invitations to events, and information about BCIT and your program.
We promise not to spam you, we won't share your personal information, and you can unsubscribe at any time.
Programs and courses are subject to change without notice.