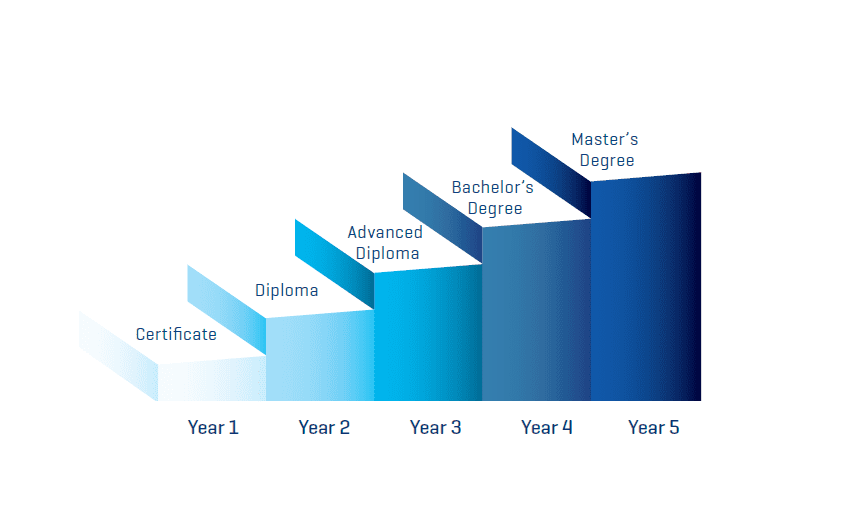 The BCIT credential laddering model allows students to complete a BCIT credential and then continue their education or seek employment. Students may also return to further their education at a later date.
Certificates
30 Credits at an average of $300 per credit
A specialized training program, combining the applied theory and practical skills to work in a particular field.
Ability to take one course (or more) at a time, over a period of months or years.
Graduate with an Associate Certificate or Certificate credential.
Diplomas
Intense, longer programs of study
91% Employment Rate
120 credits at an average of $300 per credit
Studies combine applied theory and practical skills.
Generally completed through full-time studies.
Advanced studies
Designed for the college, technical institute or university graduate
Recognized as a mark of excellence by business and industry
Highly specialized advanced training programs build on prior education and experience
Bachelor's degrees
98% employment rate
A recognized bachelor's credential and practical training for job readiness.
Focused on applied learning to ensure that students graduate not only with theoretical knowledge but also with the competencies to apply that knowledge to the workforce.
All BCIT degrees include academic specialty courses, management studies, and liberal studies.
Master's degrees
All BCIT master's degrees include coursework and a research component and resemble traditional models in their quality and rigour.
However, a distinct BCIT applied education is embedded into the degree structure.
Coursework includes both advanced studies in the particular area of study and study of professional practices such as intellectual property, product commercialization, and project management.
The applied research component consists of two research courses and an applied research thesis or project.