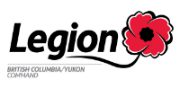 The Legion Military Skills Conversion Program is very grateful to the Royal Canadian Legion BC/Yukon Command for sponsoring this program.
As one of Canada's most respected and valued service organizations, The Royal Canadian Legion celebrates its 85th Anniversary this year and is charting a course for change and growth. With the heart of the Legion remaining firmly in the guardianship of Remembrance and honouring military personnel, the Legion also continues to evolve to meet the changing needs of the communities it serves.
The BC/Yukon Legion prides itself in being on the forefront of this change and growth. Innovation, action and a membership of talented people have enabled the BC/Yukon Legion to pioneer new approaches of community service with far reaching impact.
It's all about bridging generations, building partnerships and effectively mobilizing to seize opportunities which make a difference in the lives of all citizens. The BC/Yukon Legion does just that and more.
Did you know that the BC/Yukon Legion:
opens membership to anyone over the age of 18
contributes $6.9 Million annually for community health, education, and athletic programs
raises $21 Million through gaming to support academic and youth programs
organizes 600,000 volunteer hours every year for community service
traditionally supports over 400 youth groups
provides annual bursaries valued at $819,000
is the sole sponsor of the BC/Yukon Team participating at the annual National Track and Field Championships
contributes in excess of $400,000 for medical research and special medical equipment in health care facilities
is the largest non-profit provider of veteran/seniors housing with over 4,700 units in 70 facilities valued at $169 Million
endows the Chair of Family Practice at the University of British Columbia training new family doctors for rural and under-serviced areas