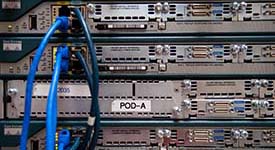 This webpage is provided to support Cisco Networking Academy Instructors. The Cisco Networking Academy Program is a comprehensive e‐learning program that encourages practical application of knowledge through hands‐on activities. Secondary and Post-Secondary institutions that participate in this program must have trained instructors who then are able to create classes for their students at their institute. Support for this community of instructors is provided through Academy Support Centers (ASCs) and Instructor Training Centers (ITCs).
BCIT has partnered with Cisco Networking Academy, and provides support to academies in our role as an Academy Support Centre (ASC):
Academies are all assigned to an ASC; please confirm with your Academy Lead the support centre you are working with.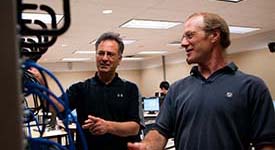 BCIT also provides Academy instructor training via our role as an Instructor Training Centre (ITC):
Instructors wishing to take training must be affiliated with an Academy, and have confirmation from their Academy as to their eligibility.
Instructor training is offered as blended training. Online material is supplemented with 2-days of in-person training at BCIT, Burnaby Campus in our well-equipped labs. Note: during the COVID-19 pandemic, lab sessions will take place online by appointment.