The School of Energy is the gateway to your technical industrial career. We offer a diverse range of courses, programs, and credentials, available either through full time and Flexible Learning (formerly Part-time Studies), which reflects the expansion of our offerings including part-time courses and programs, microcredentials, online learning, distance education courses, and industry services. Whether you're interested in being a tradesperson, technician, technologist, or engineer, we offer many options to meet your needs.
Diverse programs
You can choose from several different types of programs in trades, technical studies, and technology, in the following areas:
Electrical & Mechanical Engineering
Chemical & Environmental
Industrial Mechanical Trades
Digital Communications
For more information, check out Areas of Study
Learning through doing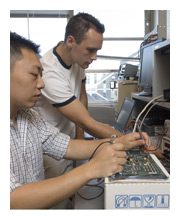 What differentiates BCIT from other post-secondary institutions is the career orientation of the programs, which are aligned to industry trends.
We also emphasize hands-on experience — 40 to 50 percent of your time will be spent working in labs and workshops under the guidance of our experienced instructors. Experiential learning has proven to be an effective way to learn and it provides "job-ready" skills.
To find out more about the unique education you will receive at BCIT, check out the BCIT Fact Sheet.