What's this area about?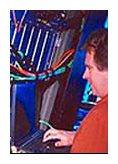 The commercial convergence of telephone, Internet, wireless, cable television, and radio happened… the industrial convergence is also happening. Industrial equipment and most components have electronics technologies embedded, or functionalities integrated within an electronically controlled process.
BCIT industry services training helps companies keep pace with new electronics, and teaching new technologies while respecting the old. We also develop employees to adopt broad perspectives for seeing and working in a multidisciplinary and interdisciplinary real world while simultaneously learning about, adapting to, developing, and deploying new technologies and methodologies.
Why BCIT?
BCIT provides vertical integration of programs ranging from trades and vocational through diplomas and degrees to applied research and technology transfer activities. We can produce graduates with skills and abilities that are well beyond the state of the practice, into the state of the art and the science, with an understanding of the complexities of the modern world.
What can BCIT offer?
We can support your training in these areas:
Computer and Network Systems

Programming
Matlab Programming
TCP/IP
Routers
Microsoft Windows
Network + Technician
I-Net +
Cisco
Nortel
Fluke Networks
3COM
Wireless LAN

Computer Hardware

Set-up
Configuration
Maintenance
A+ Technician

Computer and Digital Systems Design

DC/AC Circuit and Switch Logic
Computer Architecture
CADD and PCB Design

Microprocessor

Microcontroller Systems
Digital Signal Processing
Real-time Multi-tasking

Programmable Logic Controllers Industrial Control

Programmable Logic Controllers
Motor Control
Electrohydraulic Control Systems
Circuit Analysis
Computerized Process Control
Programmable Controllers
DCS Systems
Wonderware HMI
Industrial Boiler Control

Computing and Telecommunications

Fibre Optics
Structured Cabling Systems
Data Communication and Networking
AMP Certified Training
PBX Installation
Telephony Concepts
T1 Fundamentals
Introduction to RF Circuit Design
Transport Protocols
Cellular Systems
Wireless WAN
Many of our clients value our BCIT Flexible Learning (formerly Part-time Studies) courses but need the same content delivered in a comprehensive time frame and on their own schedule. Any of our part-time courses may be delivered in a company-exclusive Industry Services model: you pick the time, the place, and the duration. We can even customize the course to include company and site-specific examples to help make your custom course more applicable and memorable to your employees.
Let us know if there is a course that you would like provided for your group.
Connect with us
Business Development and Industry Training Coordinator
Anna Klonica
Tel: 604-453-4039
Email: Anna_Klonica@bcit.ca