Research facilities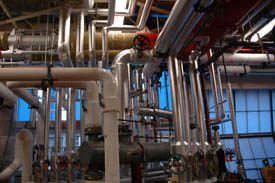 Spartan Controls Centre for Energy Education and Research
The facility forms the basis of the Spartan Controls Centre for Energy Education and Research. Highlights of the new multi-million dollar energy studies centre include:
The cleanest operating boiler in Western Canada, with controls to minimize emissions and maximize energy efficiency aligning us with the BC Government's clean energy mandate.
A 300 kW electrical generator to harness the output from the boiler as part of BCIT's "intelligent microgrid".
The multi-fuel boiler produces enough steam to supply multiple remote labs around campus, including the unit operations lab, the turbine co-generation lab, the pulp and paper lab, and the industrial instrumentation lab.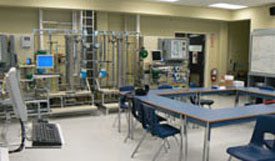 The centre will be the hub for major research and educational activities related to energy, and will have a link to the campus smart grid facility/project as well.

Endress+Hauser Lab: SW1-3080
Six well-instrumented pressure – level – flow stations that allow flexible configuration of systems for control (including open/closed tanks and flow loops). Each station capable of controlling flow, pressure or level using either a control valve with positioner or a variable frequency drive. Different types of flow meters can be evaluated against a reference Coriolis mass flow meter. Provision for easily incorporating other devices into the flow path.
Unit Operations Lab: SW1-1450
Four well-instrumented Vapour / Liquid heat exchangers controlled by an easily configurable DeltaV control system (for PID, Cascade, Feedforward temperature control and PID steam flow control). Provision exists for controlling these processes with external controllers using an OPC server to interface to the DeltaV system.
PLC/DCS Lab: SW1-3050
Twelve DeltaV simulation workstations allowing the configuration and evaluation of control systems that can "control" processes that have been simulated in the DeltaV environment. Twelve GE/Fanuc 90-30 PLCs with discrete and analog I/O and DeviceNet capability.
Other facilities
Machine shops, mechatronics, woodwork, thermal and fluid engineering labs.
Research themes
To identify our research themes and focus we constantly communicate with the relevant industries, perform literature surveys and use the expertise of our faculty and external advisors. Currently our focus is on energy systems and efficient energy processes. The School has expertise and facilities in electrical and mechanical manufacturing, renewable energy, industrial processes and power engineering. These advantages, along with our faculty's expertise in materials technology and chemical processes, have led to research projects in areas such as:
Intelligent microgrid and Vol-Var
Small wind power
Photovoltaic and thermal systems
Energy efficient pulp and paper processes
Advanced sustainable manufacturing
Energy efficiency for industrial processes
Engineering simulation and modeling
Waste heat recovery
Sustainable Design