A graduate and later from the Technology Management BTech program builds a career at E-Comm 911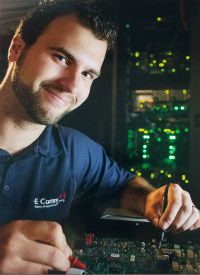 I entered the electronics program in 2006 with the intention of getting into a trade that incorporated both academic and physical skills. After my first year I decided to continue with the Wireless Communications option for my second year as it seemed to lead to a promising career in a world of communications that few truly understand. After graduating in 2007 I took my first radio job up in Fort St. John installing SCADA systems for the oil and gas industry all over northern BC. This gave me a ton of real world experience, but after a year of climbing radio towers in temperatures as low as -50 C, I decided to move back home and thaw out. Later in 2008 I was hired by E-Comm to work in their Wireless department, installing and maintaining one of the largest interoperable public safety systems in North America. During the last 11 years my teammates and I have installed a brand new microwave back-haul system with MPLS overlay, a brand new Motorola P25 simulcast radio system and countless other pieces of technology and public safety communications systems.
Five years into my career at E-Comm I went back to BCIT and entered into the Technology Management BTech program. I made the decision that I wanted to move into the business and management side of technology and this program was the perfect fit for that. The ability to take courses online in the evenings and weekends meant I could continue to work full time and develop my technical skills while completing my degree. Since graduating from that program I have been given the opportunity to take over managing the IT Service Desk at E-Comm, with my future goal being back in a leadership role with our wireless department when the opportunity arises.
"The focus on real world learning, and learning how to be a professional is what really stood out for me at BCIT. The Wireless program was great and gave me all the tools I needed to be successful in a competitive industry, and the BTech program gave me the knowledge and confidence I needed to pursue my goals of being a leader and open to adapting their methods to suit the needs of the class. I have had nothing but positive experiences at BCIT."
Check out the program details and apply now.