Overview
Sustainable business is not a trend.  It is the future of business as individuals, businesses, communities, and governments work to address the interlocking crises of climate, health, and inequality.  The Advanced Certificate in Sustainable Business equips students with the applied sustainable business skills necessary to help build a regenerative economy that works for everyone.  Our courses are offered in the evening and online to enable you to upskill in the rapidly growing field of sustainable business.  Join us and help businesses and organizations build a better world.
In the program, you will study the environmental, social, governance, and operations skills required as businesses and organizations work to improve their social and environmental performance.  Our instructors and guest speakers are sustainability practitioners who translate their real-world experience into your applied skills training so that you leave ready to implement what you've learned.
After completing the Advanced Certificate in Sustainable Business, you can continue to advance your Sustainable Business skills in the part-time option of the Advanced Diploma in Sustainable Business Leadership.
Courses
As an advanced-level credential, the part-time Sustainable Business Advanced Certificate program begins at Level 5. Courses are offered both online and in-person in the following terms:
Fall: September to December (15 weeks)
Winter: January to March (12 weeks)
Spring: April to June (12 weeks)
Summer: July to August (8 weeks)
Labs and tutorials provide students with opportunities to apply theoretical knowledge and practice technical skills required by industry. Students are exposed to real-world sustainability issues throughout their coursework, culminating in a business consulting project. During this capstone project, students work with a faculty advisor and an industry sponsor to apply what they've learned in the program to industry situations.
Part-time course availability
Please note that course registration for part-time students is on a per-term basis. Courses may display as 'unavailable' until course registration opens for each term. Part-time students should refer to key registration dates for when courses become available.
View the part-time course availability.
Program Details
In the Advanced Certificate in Sustainable Business, you will study the most current issues in sustainability and participate in an industry project where you work with a small or medium-sized enterprise to produce a preliminary materiality assessment, stakeholder map, and recommendations for impact measurement and reporting.  By adding this Advanced Certificate to your pre-existing education and/or industry experience (see Entrance Requirements), you'll prepare to advanced sustainable business practices and outcomes in any number of industries.
After completing the Advanced Certificate, you can ladder into the Advanced Diploma in Sustainable Business Leadership to deepen your sustainable business studies by completing six additional courses to achieve this second credential.  Together the Advanced Certificate and Advanced Diploma are the only programs in British Columbia purely focused on sustainable business.
The courses in the Advanced Certificate are also curated to meet the BCIT's Bachelor of Business Administration elective requirements.
BBA and Sustainable Business Joint Program
You can use courses from the Sustainable Business Advanced Certificate to meet your Bachelor of Business Administration elective requirements.  If you are already a student in BCIT's BBA program, you can register for individual sustainable business electives by emailing your registration request to sbl@bcit.ca, or you can apply for and being admitted into the Sustainable Business Advanced Certificate, which allows you to complete all of your BBA elective requirements while earning this second credential.
Registering for the Sustainable Business Advanced Certificate is recommended if you are a BBA student and plan to take more than 1 or 2 sustainable business courses to ensure these courses count towards both your elective requirements and the Sustainable Business Advanced Certificate. After being accepted into the BBA program, email admissions@bcit.ca for permission to also register in the Sustainable Business Advanced Certificate program.
If you have already been accepted into the Sustainable Business Advanced Certificate, email bba@bcit.ca for information on admissions requirements into the BBA.
Program goals
In the program you will learn and practice how to:
Identify and promote sustainability principles in business strategy and operations.
Select and apply sustainable business models and best practices that ensure social equity, respect planetary boundaries, and enable economic viability.
Advocate for social and environmental governance principles in business policies and procedures.
Design sustainable business processes and measure their effectiveness.
Take a systems approach to solving sustainability challenges.
Graduating & Jobs
In the 21st century, successful business generates value for all stakeholders, not only shareholders. BCIT's Advanced Certificate in Sustainable Business prepares graduates to help organizations in any industry create a better world through their strategy and operations.
SB graduates offer potential employers a specialized skillset that few employees have and is increasingly required by all organizations to address growing investor, citizen, and customer demands for social and environmental responsibility.
The "sustainability mindset" is sought after in roles across organizations. No matter the position you end up in, you will be prepared to advocate for and implement sustainable practices. Some specific job titles and opportunities include:
Sustainability Manager
Independent Sustainability Consultant
Climate Energy Strategist
Operations Manager
Project Manager
Production Analyst
Distribution Coordinator
Communications Specialist
Supply Chain Analyst
Researcher
Investor Relations Coordinator
Faculty, Advisors & Staff
In the Sustainable Business program, you will learn from a diverse group of industry experts who introduce you to the world of sustainable business through course content, applied projects, and guest speakers.
Faculty
Brianna Brown
Brianna is the co-founder and managing director of Decade Impact, a strategy consulting firm focused on helping small businesses define, measure, manage, and communicate their impact. An expert in B Corp certification, impact strategy, and embedding purpose across business operations, Brianna supports firms in rising to the social and environmental challenges of this decade. A skilled navigator between the visionary and the pragmatic, she is in her element when creating strategic action plans towards a bolder, brighter future. Brianna holds a Masters of Management from UBC Sauder, and a BA in Political Science (Hons.) and Economics from McGill University.
Rosemary Cooper
Rosemary has over 20 years' experience catalyzing sustainable solutions with a particular emphasis on collaboration across business, government and community. Since 2013, she has been catalyzing the transition to a circular economy with a focus on upstream innovations that design out waste and foster lasting prosperity. Rosemary is the Project Director of the Share Reuse Repair Initiative (SRRI). She brings community, business and government together to identify and advance cultural, policy and market shifts in order to foster a vibrant culture and economy of sharing, reuse and repair. Rosemary is the Senior Associate with Vancouver-based non-profit One Earth. She provides consulting, strategic advice and research concerning business and organizational transition to operating within planetary boundaries including, but not limited to, circular business models.
Tracey Kliesch
Tracey Kliesch is the Director of Strategic Alliances at Concentra Bank for British Columbia. Concentra is a schedule 1, chartered bank owned by credit unions and co-operative organizations across Canada. Before Concentra, Tracey spent many years at Vancity working in change management, community investment and member experience. She holds a Master's degree in Co-operative and Credit Union Management from Saint Mary's University in Halifax. Outside of work, she teaches Sustainable Business Models at BCIT in the Sustainable Business Leadership Advanced Diploma Program. Tracey is co-chair of the Co-operative Management Education Co-operative (CMEC), the umbrella organization overseeing the work of the International Centre of Co-operative Management (ICCM).
Tracey believes in the power of people helping people to advance community & international development which is why she is proud to be involved with the Co-operative Development Foundation of Canada where she has been on the board since 2016. She is one of the co-founders of Canada DE, a credit union development education program that brings credit union professionals worldwide to Canada annually to share strategies to operationalize values and create positive social impact through the day-to-day work of financial co-operatives.
Njeri (Jeri) Kontulahti
Njeri is a Senior Manager Financial Resilience and Inclusion with Vancity, Canada's largest credit union, where she has worked for over 25 years.  She is currently leading Vancity' s focus on Financial Health and Inclusion, including overseeing work serving refugees and newcomers, Vancity's low barrier branch (Pigeon Park in the Downtown Eastside), and inclusive banking for people living with a disability. Njeri has developed and managed granting programs, financial products, services, and policies that support the Financial Inclusion of people in Indigenous, Racialized, and Equity-deserving communities to build assets, including financial literacy, home ownership, and access to credit.
Njeri holds a Master's degree in Co-operative and Credit Union Management from Saint Mary's University in Halifax. Outside of Vancity, Njeri teaches Introduction to Non-Profit Management at the University of the Fraser Valley. She has also volunteered as a facilitator for the Cooperative Development Foundation's Women's Mentorship Program in Ottawa since 2007. She is a founding director of Daughters of Hope, non-profit whose main aim is to support racialized individuals and families at risk of homelessness in British Columbia.
Tobi Oyewole
Tobi is a sustainability expert with a wealth of experience in corporate sustainability strategy, impact strategy & management systems, and reporting in line with global sustainability frameworks. Throughout his career, he has held several positions where he spearheaded the development and integration of sustainability strategies, engagements, and disclosure efforts to improve performance across diverse sustainability concerns. Tobi obtained a master's degree in Sustainability Management from the University of Waterloo and has been recognized with numerous accolades, including the United Nations Global Compact Network Nigeria SDG Pioneer award.  Tobi is interested in sustainability strategy and innovation, market engagement and intelligence, sustainability frameworks and reporting, and impact management.
Adrienne Petersohn
Adrienne has 20 years of experience working in large organizations managing marketing projects, resource operations, and sustainability programs. She has worked in publishing, financial service, and telecommunication sectors.
Prior to becoming a full-time instructor, Adrienne worked on TELUS' sustainability team. While there she helped to navigate their sustainability strategy by creating stakeholder engagement frameworks, coordinating a 15-member leadership working group, and performing greenhouse gas accounting and reporting duties.
Adrienne has a Greenhouse Gas Inventory Qualifier certification (GHG-IQ), has completed Lean Six Sigma Green Belt training, and holds a Project Management Professional certification. She has a bachelor's degree in English Literature from York University and a master's degree in Business Administration, with a specialization in sustainability, from the Schulich School of Business.
Alan Shapiro
Alan Shapiro is an environmental consultant with 10 years of interdisciplinary experience working on complex water challenges and clean technology solutions. Through his consultancy, Shapiro & Company, Alan works with purpose-driven clients, including startups, accelerators, universities, government agencies, and non-profit organizations to drive capacity-building and collective action around water, climate, and sustainability issues. Alan is the director of waterNEXT, Canada's water technology network (an initiative of Foresight Cleantech Accelerator Centre), and serves on the board of sustainability network Leading Change. He draws on a technical background in Earth sciences, environmental engineering, and behavioural insights.
Richard Vurdela
Richard Vurdela is Program Head and Faculty at the BCIT School of Business, Business Operations Management Program and has taught into the Sustainable Business Leadership Program since its inception. Richard has 25 years of experience teaching at both an undergraduate and graduate level. He draws on a 30-year career in operations in a range of market sectors and has diverse experience in quality management, project management and business improvement initiatives across Canada. He holds a Bachelors of Applied Science and an MBA. Richard is a Senior Member of the American Society for Quality (ASQ) and a Past Chair of the Vancouver Section. He is a Certified Project Management Professional (PMP) with the Project Management Institute.
Ivy Wan
Ivy Wan is part of Canfor's Sustainability Team as the Sustainability and ESG Disclosures Manager. She is a Chartered Professional Accountant that brings together her background in business and her passion for sustainability to provide expertise on how to measure and manage ESG performance. She worked at KPMG in the Sustainability Services group advising various companies in Canada and internationally on their sustainability reporting strategy and developing key targets and metrics. Ivy has experience working on a range of sustainability-related services including measurement and reporting, strategy, assurance, ESG and climate risk identification, materiality assessments and greenhouse gas emissions estimates and verifications.  Ivy teaches the Impact Measurement and Reporting class in BCIT's Sustainable Business Leadership program.
Advisory committee
Michelle Bonner, Community Investment Portfolio Manager, VanCity Credit Union


Michelle leads the building retrofits program area in Vancity's Community Investment team, cultivating partnerships and deploying funding to catalyze the decarbonization of existing buildings while increasing their resilience to climate-related risks. Her work in this area is guided by Vancity's commitment to a just climate transition and to achieving net-zero emissions across its loan portfolio by 2040. Prior to joining Vancity in 2020, Michelle served as Vice-President and Director of Training at Climate Smart, an award-winning social enterprise and certified B Corp. For nearly ten years Michelle led the design and delivery of Climate Smart's training and certification program to help small and medium-sized businesses and organizations measure and reduce their greenhouse gas emissions. In her role at Climate Smart she worked with local governments, the Port of Vancouver, Vancouver International Airport, Vancity and other partners to engage their business tenants, members, and communities. Outside of work, Michelle currently sits on the advisory committee to the Grandview Woodland Food Connection, a neighbourhood organization dedicated to promoting an accessible, just and sustainable food system for everyone in the community.
Imran Jiwa, VP Impact & Finance, Active Impact Investments


Imran is a veteran of KPMG in the Technology, Media and Telecommunications group. For six years, he advised clients with revenues ranging from $10 million to $2 billion and financial institutions managing over $20 billion in assets. Working at the nexus of sustainability and business, he advised companies on their ability to respond to climate change, impact and financial reporting, corporate tax and impact investing strategies. He is currently the partner of Lift CPA, a Vancouver based accounting firm specializing in corporate tax, financial statements and consulting for early stage businesses. He's also the VP of Impact and Finance at Active Impact Investments where he maintains the impact and financial reporting environmental for the funds.
Tessa Jordan, PhD, Program Head, Sustainable Business Leadership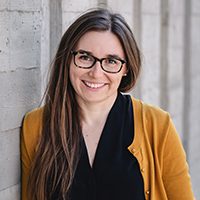 Tessa Jordan, PhD, is the Program Head for Sustainable Business Leadership and Faculty in the Communication Department at the British Columbia Institute of Technology. As an educator, she specializes in business communications and sustainable business, with an emphasis on planetary boundaries and social equity as the foundations for a functioning economy.  She is passionate about growing the community of purpose-driven leaders who are working to limit catastrophic global warming and build thriving and inclusive communities that work for everyone.  In the words of Adrienne Rich, "My heart is moved by all I cannot save: / so much has been destroyed / I have to cast my lot with those / who age after age, perversely, / with no extraordinary power, / reconstitute the world." As a researcher, she studies the role of art and culture in social and political movements. Her book Feminist Acts: Branching Out Magazine and the Making of Canadian Feminism was published by the University of Alberta Press in 2019.
Mumbi Maina, Social Planner, City of Vancouver


Mumbi is a Postdoctoral Fellow in the Department of Educational Studies at the University of British Columbia (UBC) and a Senior Social Planner in the Social Policy Division at the City of Vancouver. Born and raised in Kenya, Mumbi has spent the last decade working on social and environmental justice organizing, research, and governance, including anti-racist education and cross-cultural collaboration with immigrant and other communities across North America. Her doctoral research focused on the uptake of sustainability in higher education policy and practice, examining the roles of various actors, including historically marginalized groups in the enactment of sustainability.
As a fellow, Mumbi is part of an action research team working to imagine how Canadian cities can catalyze transformative innovation towards decolonization, equity and climate action. At the City of Vancouver, Mumbi is leading work on Anti-Racism and Cultural Redress, where she works with various communities to address past and current harms that racialized communities experience in Vancouver. Previously, Mumbi co-led the development of the recently passed Equity Framework, outlining the city's approach towards organizational transformation. Her role at the city has included supporting the development of the emerging Accessibility Strategy. Mumbi currently resides, as a guest, on the ancestral and unceded homelands of the hən̓q̓əmin̓əm̓ and Sḵwx̱wú7mesh speaking Peoples in the Metro Vancouver area.
Jenna McNeil, Product Manager, Avlon Innovation Group


Jenna helps technical teams to dissect complex sustainability challenges and deploy user-centered technology solutions. She is a Product Manager and entrepreneur focused on civic tech, carbon farming/terrestrial sequestration and organizational development. Jenna holds a M.Sc in sustainability science and is a former RADIUS Fellow and C40 Women4Climate Fellow. She is a seasoned non-profit board member and a devoted mentor and mentee within Vancouver's technology and sustainability sectors.
Meg O'Shea, PhD, Senior Manager, Economic Transformation, Vancouver Economic Commission

Meg is the Senior Manager, Economic Transformation at Vancouver Economic Commission (VEC). VEC's mission is to build a prosperous local economy that is inclusive, resilient, and low carbon. As Senior Manager, Economic Transformation, Meg works to facilitate collaboration between the private and public sectors to grow the circular economy, build local economic resilience, and advance business as a force for good in the world. Meg earned a PhD from UBC's Institute for Resources, Environment, and Sustainability studying sustainability at the community scale as a collective embodied practice. With an insatiable curiosity and desire for novel opportunities, she has supported systems change in many arenas including higher education, the commercial sector, textiles and design, the performing arts, and a range of community-based initiatives.
Emily Pearson, Senior Consultant, Climate Strategy & Performance, VanCity Credit Union


Emily Pearson has held numerous roles at Vancity Credit Union and is driven to activate the credit union as an agent of positive change in the communities we serve. In the Climate Strategy & Performance team, Emily supports the development and implementation of a roadmap to achieve Vancity's commitment of reaching net zero emissions across our loans and mortgages by 2040. She has experience in building partnerships and fund management through her time in Community Investment, sustainable finance, impact driven lending, product development, and marketing. Emily completed the BCIT Advanced Certificate in Sustainable Business Leadership in 2015 which led her to the opportunity to join Vancity and learn how to utilize the credit union model and financial tools to address the climate emergency.
Jennifer Sandoval, Eco Supervisor, Earth Angel Sustainable Products


Jennifer is a Vancouver-based Project Supervisor for all Earth Angel film productions in the United States and Canada. Previously she worked as a Sustainability Consultant and was the Project Coordinator for Creative BC's Reel Green program. Jennifer was also an instructor for the Climate and Sustainable Production courses for both Reel Green (BC) and Ontario Green Screen. Her work focuses on helping productions and other film industry stakeholders measure their environmental impacts, strategize ways to reduce these impacts and work with crew members and the supply chain to integrate systems thinking and creative solutions into their work process.
Jennifer has a Juris Doctorate degree from UNLV William S. Boyd School of Law and a Bachelor's degree in Philosophy from the University of San Diego. Jennifer also holds a certificate from BCIT's Sustainable Business Leadership Program, is an active member of the Washington State Bar Association and the Motion Picture Production Industry Association of BC.
Jennifer also serves as the Board Chair for Nestworks Workplace Society, a non-profit organization that promotes professional and personal development solutions for working parents and their families in BC.
Over the past three years, Jennifer has supervised two successful capstone projects made up of student groups from the BCIT Business program. The first project was for CreativeBC's Reel Green Initiative where the students updated and developed an effective tool for vetting green vendors for BC film and television productions that are interested in greening their supply chain. The second project looked at the viability of a marketing incentive program for Green Spark Group (a sustainability consulting company based in Vancouver) and its preferred vendors.
Coro Strandberg, President, Strandberg Consulting

Coro Strandberg is a nationally recognized leader in social purpose and transformational sustainability business practices. She advises governments, associations and businesses on strategies to embed sustainability in the marketplace and mobilize business and industry as a force for good. Coro is a co-founder of the Social Purpose Institute at United Way BC, where she helps business adopt and embed a social purpose in their operations. She is also a faculty member of Governance Professionals of Canada and Directors College where she provides education on purpose and sustainability governance to directors and governance professionals. She advises the Office of the Auditor General of Canada and the Canadian Standards Association on sustainable development and is a board director of BC Lotteries Corporation.
Contact Us
Tessa Jordan
Program Head, Sustainable Business Leadership
604-454-2294 | Tessa_Jordan@bcit.ca
Contact a Program Advisor with the BCIT program name in the subject line if you have a question about:
Program selection and program planning
Applying for transfer credit and advanced placement
Job placement and graduate outcomes
Student life
Questions or comments?
Subscribe
Sign up to receive updates, invitations to events, and information about BCIT and your program.
We promise not to spam you, we won't share your personal information, and you can unsubscribe at any time.
Programs and courses are subject to change without notice.