Overview
The CNC (Computer Numerical Control) Technician program is a two-year cooperative program providing training in manual and CNC machining. Graduates can complete an apprenticeship as a machinist.
Program delivery mode: in person
This program will be delivered in person for the coming semester.
We have put measures in place for your safety and well-being, ensuring that all safety protocols are addressed. Please see the BCIT COVID-19 page for details on the procedures that have been implemented.
Your education is our priority and we will continue to deliver the applied instruction, collaborative experience, and industry connections that you expect from BCIT.
The program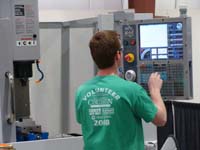 Do you like making things with precision with or without the aid of a computer? Do you consider yourself to be a bit of a techie? Do you take pride in a seeing high-quality manufactured products? Perhaps you should consider a career as a Machinist!
Today's manufacturing utilizes innovative technologies, including sophisticated Computer Numerical Control (CNC), Computer Aided Manufacturing (CAM) software and specialty materials to develop and build the products of tomorrow. CNC Machinist technicians design, manufacture and repair components, parts and tools from a variety of metals and other engineered materials using traditional and state-of-the-art machines. Many machinists of today can be found transferring complex mechanical engineering drawings from the computer screen to computerized machinery.
Why BCIT?
BCIT is the largest provider of CNC machinist education and training in the province of BC. The program uses the latest technologies in education to combine theory and practical lessons in a work like environment. The strengths of the BCIT machinist programs are based on:
Great Faculty – Our faculty are dedicated to teaching. Many have extensive manufacturing, engineering, and industrial experience.
Machine Facilities – The key to success is to be able to make a part that is of the highest quality appearance with the most efficient machine operations. You will learn through theory and hands-on practical assignments in our 30,000 square foot shop with state-of-the-art industrial equipment, computer numerical control machines, and computer aided manufacturing software help you to understand the concepts that you learn in lectures and gives you job-ready, practical skills.
Fascinating Career Paths – The opportunities as a CNC machinist technician can be very challenging and lucrative. Some of the career opportunities include:
Aerospace Industry
Automobile/Motorcycle Industry
Medical Research Industry
Innovative Technologies Industry
Research and Development Industry
Forestry and Mining Industry
Manufacturing Machine Parts Industry
Credentials – After successfully completing the CNC Machinist Technician program, students have then the option to complete an apprenticeship in the Machinist trade. Students will receive a credit of 500 work-based training hours, as well as term 2 co-op work hours.  Additionally, students will receive credit for ITA Machinist Apprenticeship Levels 1 – 3 technical training.  After successful completion of all apprenticeship requirements, you will receive the B.C. Certificate of Apprenticeship, the B.C. Certificate of Qualification, and the Interprovincial Standard Endorsement, also known as the Red Seal.
Entrance Requirements
Find out more about getting started in the program!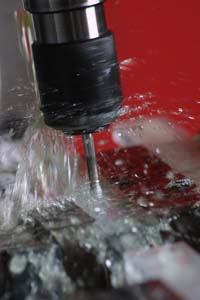 If the CNC Machinist program interests you, review the entrance requirements. If you qualify, you may want to attend an information session or become a student for a day.
Spend-A-Day with us
Want to learn more about our program before you apply? Come Spend-A-Day with us. You'll meet students and instructors, and get a hands-on feel for what the program is about.
If you have questions regarding the entrance requirements or the application process, visit Admission & Registration or if you want to discuss the program in more detail, contact the Department Head, Stefano Pettenon, or call 604-432-8214.
Costs & Supplies
Find out how much you will need to complete your Diploma in CNC Machinist Technician!
The information below will help you determine the cost of taking the program, and will assist you in developing a budget for your two years of study. If you have concerns about being able to afford the program, please visit Financial Aid to learn how you may benefit from financial assistance.
Courses
Explore the courses and classes you will be taking!
The CNC machinist technician program contains a blend of classroom lectures and practical shop sessions using the latest technology. In the first term of the program, emphasis is put on learning the fundamentals of machining in topics such as engineering drawing, trade math, metallurgy, precision measuring instruments, lathe, mill, and grinder machines. In the second Co-op Term, you will practice your knowledge in a real world manufacturer. The third term, you will learn state of the art CNC machine operation and CAD/CAM programming.
Program Details
CNC machinist technician machinists manufacture components, parts and design tools and fixtures from a variety of metals and other engineered materials using traditional and state of the art machines.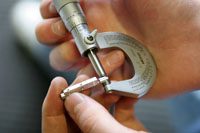 During program study, theory covered includes:
Metallurgy precision measuring tools and instruments
Interpretation of engineered drawings
Hand tools and power tools
Machine operation including lathes, milling machines, and grinders
Computer numerical control (CNC) machines
Computer aided design (CAD)
Computer aided manufacturing (CAM)
Co-ordinate measuring machine (CMM)
Graduating & Jobs
A rewarding career as a CNC machinist technician
A career in the machinist trade can lead to a variety of interesting work in a wide scope of manufacturing industries. Some of the areas of specialization may be CNC programming or Quality Control.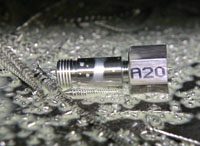 After completing CNC Machinist Technician programs, students can follow the path of an apprentice and earn while they learn.
Graduates from this program can expect credit for the first three levels of technical training for the machinist apprenticeship.
An array of job opportunities as a:
CNC Machinist or Machinist
Interpreting engineered drawings and manufacturing a variety of complex parts using a variety of machinist equipment
Set up and run computerized lathes, mills and grinders to manufacture specific parts
CNC Programmer
applying all the machining skills to efficiently set up and programme automated machinery
Quality Control inspect and verify production of parts to ensure they are within tolerances for size specifications
An edge in the job market
A BCIT trades diploma shows potential employers that you are accomplished, focused, and serious about your chosen career path. BCIT programs and courses provide both theoretical knowledge and hands-on practical skills to help you be job-ready. Graduates say that BCIT was incredibly instrumental in preparing them for employment.
A broad range of employment possibilities
The potential job market for CNC Machine Technician is great. You could either start your own business or work for a small or large company. Graduates can work in research and development, manufacturing, technical sales, quality control, and CNC programming.
Some of the many employers of BCIT's CNC machinist technician graduates include:
Faculty, Advisors & Staff
All of our instructors are qualified experienced Machinists or Tool and Die Makers/Mold Makers. Their passion for the trade is evident in their pursuit for the highest product standard, and they mentor their students to achieve the same success.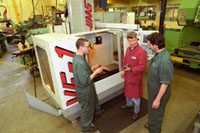 Some of our instructors are BCIT graduates, who have succeeded in industry and now have come back to offer their wisdom and knowledge to the students.
Some of our instructors have bachelor and master degree. If you find the machinist career is not challenging enough, you could continue education at BCIT to study a Bachelor of Manufacturing Technology program to obtain a bachelor degree in manufacturing.
Many of our students have the opportunity to gain a global manufacturing perspective, as some of our instructors have experience working in Europe, Asia, and North America.
Faculty
Stefano Pettenon, RSE
Department Head
Tel: 604-432-8214
Email: spettenon@bcit.ca
Marte Arreola, MEd, RSE
Tel: 604-432-8477
Email: marte_arreola@bcit.ca
Chelsea Barron, RSE
Tel: 604-453-4038
Email: cbarron4@bcit.ca
Ali Daeizadeh, RSE
Tel: 604-453-4028
Email: adaeizadeh@bcit.ca
Thomas Green, MEd, RSE
Tel: 604-453-4027
Email: thomas_green@bcit.ca
Andy Hofmann, RSE
Tel: 604-453-4043
Email: andy_hofmann@bcit.ca
Karl Reichenback, Tool and Die TQ
Tel: 604-453-4029
Email: karl_reichenback@bcit.ca
Mustafa Sajid, RSE, Tool and Die ON
Tel: 604-456-8122
Email: mustafa_sajid@bcit.ca
Greg Wahl, RSE, Tool and Die IP
Tel: 604-451-7064
Email: greg_wahl@bcit.ca
Technical Staff
Richard Smith
Tool Room Attendant
Daniel Szakaly
Tool Room Attendant
Staff
Kacem Habiballah, MA, EdD
Associate Dean
Tel: 604-451-7075
Email: kacem_habiballah@bcit.ca
Stephanie Ly
Administrative Assistant
Tel: 604-456-8052
Email: sly13@bcit.ca
Advisory committee
Claudio Bolognese
Manager, Machining Engineering Group, Seastar Solutions
Ed Bendfeld
President, Canam Tool & Engineering Inc.
Indy Dhaliwal
Shop Foreman, Johnson Industries Ltd.
Al Dickens
Operations Manager, Murray Latta Progressive Machine Inc.
Surinderpal Ghotra
President & CEO, Cimtech Manufacturing Inc.
Bryan Jones
Supervisor, Machining Division, Canada Metal (Pacific) Ltd. (CMP)
John MacKinnon
Business Owner, Sitka CNC Machining Inc.
Subscribe
Sign up to receive updates, invitations to events, and information about BCIT and your program.
We promise not to spam you, we won't share your personal information, and you can unsubscribe at any time.
Programs and courses are subject to change without notice.