Overview
Note: The Aircraft Gas Turbine Technician program is currently being offered tuition free through federal funding for domestic students only. For more details see Funded Gas Turbine Program.
Gas Turbine (Jet) Engine Technicians are responsible for inspecting and repairing engines in accordance with exact aviation standards and regulation. It is a challenging occupation requiring a high degree of responsibility and skill, which includes:
repairing and overhauling gas turbine engines
rebuilding gas turbine engines
balancing gas turbine engine components and assemblies
testing and troubleshooting gas turbine engines
inspecting gas turbine engine components and assemblies.
Qualified technicians have many opportunities for advanced training and continued career satisfaction.
This program was developed by BCIT, the Canadian Council for Aviation and Aerospace (CCAA) and the gas turbine engine overhaul industry. It was designed to meet industry's need for basic training and technician certification. Successful completion of this program, plus work experience recorded and certified in a personal logbook, may qualify the candidates for national certification from CCAA.
The program
This Aircraft Gas Turbine Technician program consists of 38 weeks of full-time studies. Approximately 40 per cent of the day is spent on theory discussions in a classroom setting, followed by hands-on practical training in the shops and hangar located at BCIT's state of the art Aerospace Technology Campus. Access to a wide variety of gas turbine engines, extensive use of specialized engine tooling and highly qualified instructors are provided to you in order to help you succeed at becoming a proficient technician capable of inspecting and repairing today's sophisticated, modern gas turbine engines.
Option One:
This option is a total of 46 weeks and includes the 38-week gas turbine program with the last 12 weeks at MTU Maintenance Canada, plus the added benefit of an 8-week partnership certificate following the program. Students will gain hands-on training at the MTU Maintenance Canada's facility in Delta with the opportunity to gain practical experience in the maintenance, repairs, and overhaul of gas turbine engines. In the practicum you will work with and observe experienced technicians as they perform maintenance, repair, and overhaul tasks on aircraft gas turbine engines.
Applicants must meet the eligibility requirements of MTU to enroll in this stream (and work at MTU for 20 weeks total). Canadian Citizens or Permanent Residents may be eligible for full tuition funding. PPE will be supplied.
Program intakes: September 2023, and March 2024
Option Two:
This full-time 38-week aircraft gas turbine program at the BCIT Aerospace campus includes a two-week work practicum with a local employer. The two week work practicum is offered to eligible students during the programs two week reading break. The training provides you with a combination of applied education and practical experience to equip you with the additional skills and expertise needed to succeed as a gas turbine technician.
Accepting high school, dual credit, and international students. Canadian Citizens or Permanent Residents may be eligible for full tuition funding. PPE will be supplied.
Program intakes: January 2024, and June 2024
Graduating & Jobs
Job opportunities
The men and women who enter this career path find employment in power plant shops of larger airlines, as well as repair and overhaul shops of engine manufacturers and independent owners across Canada.
Funded GT Program
Overview
With funding from the Government of Canada, eligible Canadian Citizens and permanent residents are provided tuition free education for the Gas Turbine Technician program along with an industry partnership certificate and paid practicum. Course materials, meal allowance, and incidentals will also be provided.
Program structure
This 46-week program includes BCIT's Gas Turbine (Jet Engine) Technician Certificate and an industry partnership certificate.
The first 26 weeks will be delivered at the BCIT Aerospace campus, and then 20 weeks will be delivered at our industry partner location; MTU Maintenance Canada, Boundary Bay Airport, 4300 80th St Delta BC. Each training week is Monday to Friday, six hours daily at the Aerospace campus and 40 hours per week when attending MTU Maintenance Canada.
Intakes into the Funded Gas Turbine Program will be April 2023, October 2023, and April 2024
Eligibility
You'll need a Grade 12 English (50%), Grade 11 math (60%) to apply.
Industry partner employment requirements
Canadian citizenship or hold a permanent resident status
Pass a criminal record check via a contractor assigned by the industry partner
Successful completion of a controlled goods eligibility assessment by the industry partner's designated official
Good colour vision
Fully funded tuition
All direct costs are provided, including:
Tuition
Textbooks
Transit pass
Some meals and incidentals
Credentials earned through this program
Gas Turbine Technician Certificate

Including CCAA accreditation

Micro-credential in Gas Turbine Inspection Essentials
Industry Partnership Certificate in Advanced Gas Turbine
Interested in finding out more?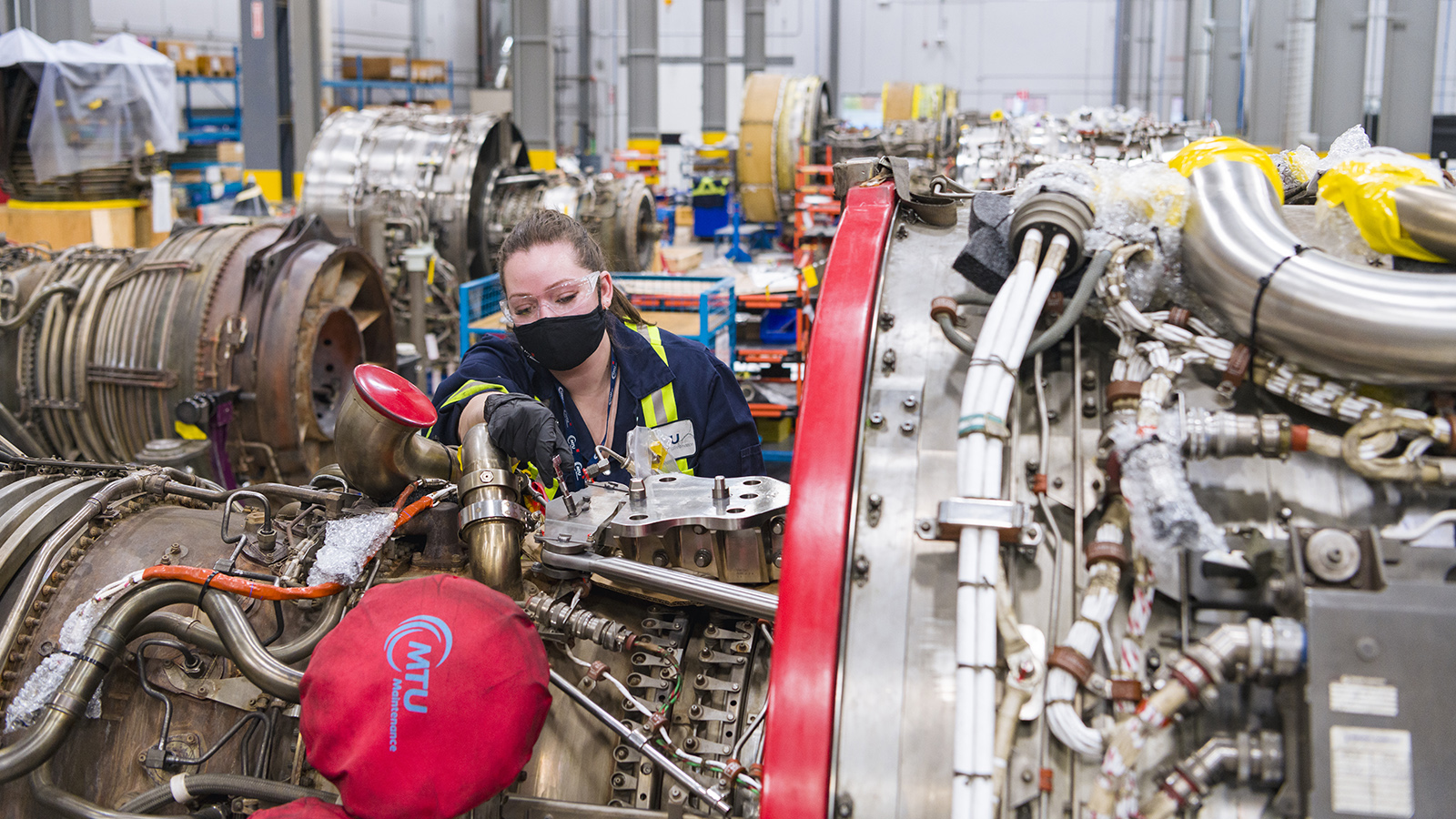 Subscribe
Sign up to receive updates, invitations to events, and information about BCIT and your program.
We promise not to spam you, we won't share your personal information, and you can unsubscribe at any time.
Programs and courses are subject to change without notice.