BCIT provides a competitive extended health and dental plan that includes vision care and a pay direct drug card.
To help ensure that your drug claims are processed promptly, you will need to:
To gain access to electronic claims history and claim submission, you can:
Within a few weeks of your benefit eligibility you will receive a Manulife Financial Benefit Card with your member certificate number and plan contract or policy number. You will need these to fill out a health or dental claim or when purchasing prescriptions.
Manulife Group Policy Number: 0083238
Emergency Travel Assistance Policy Number: 9505
Plan Member ID/Certificate Number: last six (6) or seven (7) digits of your BCIT ID with the A00 or A0 dropped off.
For example, if your BCIT ID is A00123456, your certificate number is 123456. If your BCIT ID is A01234567, your certificate number is 1234567.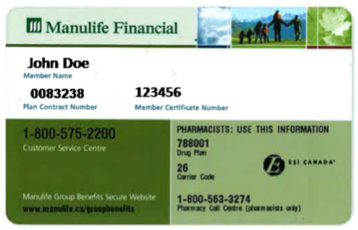 Forms & documents
Benefit booklets
Regular & temporary employees
Please note: All benefit plans amended policy numbers supersede the benefits booklets.
The correct policy number is 0083238 for all benefit plans.

Benefit booklets – auxiliary staff
Please note: The amended changes supersede the waiting period and eligibility in the Auxiliary benefit booklet.
Waiting period: Enrollment may occur 12 months after the commencement of employment.
Eligibility: An auxiliary employee may apply for enrollment for Extended Health benefits after completion of 12 months of employment on a self-pay basis.
Benefit booklets – flexible learning (part-time studies) employees
Please note: The amended changes supersede the waiting period and eligibility in the Flexible learning (PTS) benefit booklet.
Waiting period: Coverage is based on 250 earned instructional or curriculum development contract hours (ICDCH) earned in the previous calendar year (June 1 to May 31). Enrollment takes effect July 1 of the next year. Example, contracts between August 2011 to April 2012 exceed 250 hours, therefore eligible for dental, extended health and MSP July 1, 2012 provided the individual does not have coverage with another employer. Please note: Enrollment is not automatic. The onus is on the employee to contact hr@bcit.ca to confirm eligibility and receive enrollment forms.
Eligibility: Upon the completion of 250 ICDCH in the first year and 150 ICDCH in subsequent year and consecutive years. There must not be a gap of greater than 5 months in between qualifying contracts or benefits will terminate.
Teladoc Medical Experts
"Teladoc Medical Experts" provides you with access to world renowned medical specialists and a unique database of medical information. "Teladoc Medical Experts" consults with you and your treating physician to confirm the right diagnosis and treatment options without your having to leave home. This additional benefit is part of your extended health benefits and available at no additional cost.
Find out more about the services provided by Teladoc Medical Experts on their Canadian website.