Overview
BCIT Radiation Therapy Bachelor of Science is the only program of its kind in BC. We pair cutting edge technology with peer and mentorship support so you are well prepared to look for work once you graduate.
Program delivery mode: blended
This program will be delivered for the coming semester as a combination of online and on-campus learning. While some of your coursework will take place online, there will also be in-person sessions.
Faculty will notify students of when their attendance on campus will be required.
We have put measures in place for your safety and well-being, ensuring that all safety protocols are addressed. Please see the BCIT COVID-19 page for details on the mandatory procedures that have been implemented.
Your education is our priority and we will continue to deliver the applied instruction, collaborative experience, and industry connections that you expect from BCIT.
About the program
Full-time, 33-month Bachelor of Science program
Small class sizes provide you with personalized learning
Lectures and labs deliver a solid theory knowledge
Clinical experiences at two different provincial cancer centres provide diverse learning opportunities
Our faculty is known for its commitment to student learning. Visit Program Details to find out more about studying radiation therapy.
Who it's for
This program is for individuals who:
Enjoy working directly with patients and want to offer a high level of care
Are detail-oriented and express good judgment
Have a blend of strong computer and communication skills
Have one year or more of post-secondary education
Radiation therapy is an integral part of a cancer patient's care team. Visit Entrance Requirements to find out if this program is right for you.
What graduates can do
Students are provided the opportunity to acquire all the skills and behaviors required in the CAMRT national competency profile for Radiation Therapy. Graduates leave the program fully prepared to write the CAMRT national certification exam that qualifies them to work. See Graduating and Jobs for more career information.
Entrance Requirements
Note: In alignment with public health orders, this program requires that students be vaccinated for a number of communicable diseases – including COVID-19.
Casper test
All applicants must complete the Casper Test.
NEW extended test date: June 8
Visit Casper to reserve a test date. Last minute bookings are not recommended, register at least three days prior to your preferred test date. Please go to the Casper test website for any information or questions regarding the test.
Casper results are only valid for a single testing cycle – September to August.
Program Details
The Radiation Therapy Technology degree program is structured to provide the required academic portion of courses delivered at BCIT and also clinical experience scheduled at BC Cancer Agency treatment centres.
A patient with cancer can be treated with three main modalities: surgery, chemotherapy and radiation therapy. Radiation therapy may be used alone or with surgery and chemotherapy. Treatment can often cure the patient or offer palliation by increasing quality of life. The radiation therapist (RTT) is a health-care professional responsible for delivering a therapeutic dose of ionizing radiation in the treatment of cancer. As an RTT you will work within a team of other health-care professionals including radiation oncologists, medical physicists, nurses, nutritionists, and other allied health professionals.
The field of radiation therapy is exciting and challenging, and one that continually evolves to create better ways to treat patients. As an RTT you will be involved in using advanced computer software for treatment planning, CT scanners and MRI for identifying critical structures, and state-of-the-art high energy linear accelerator equipment to deliver treatment.
You should have a strong aptitude for physics and math, and a desire for a challenging and rewarding career.
Learn more about the virtual technology that the Radiation Therapy students use:
Graduating & Jobs
Our graduates are ready
Radiation therapists use innovative computer software and sophisticated equipment to treat cancer patients. Their work makes a meaningful difference for patients and their families. The BCIT Bachelor of Science in radiation therapy program ensures that you graduate as a fully competent radiation therapist, prepared to deliver accurate treatment and a high standard of patient care.
Graduates of the program are eligible to sit the CAMRT national certification exam. Certification through the CAMRT is required to work as a radiation therapist in Canada.
Career opportunities
Graduates work in a team of healthcare professionals including radiation oncologists, nurses, and nutritionists to support cancer patients during their treatment. Entry-level radiation therapist positions start with casual employment in hospitals. Full-time salaries start at approximately $69,000 annually.
Graduates can work in many countries. While some go overseas, many seek work at one of these six BC Cancer Agency radiation therapy departments.
Want to know more about the work we do? Visit the Health Science Association.
Faculty, Advisors & Staff
Lorraine Clarke-Roe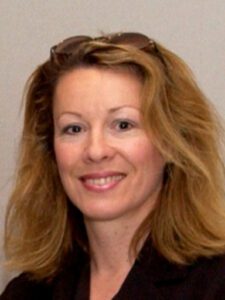 AC(T), Ed.D
Program Head
Tel: 604-451-6923
Email: Lorraine_Clarke-Roe@bcit.ca
More about Lorraine Clarke-Roe
Lorraine trained in radiation therapy at the Princess Margaret Hospital in Toronto. After graduating, she moved to the west coast to start work at the Vancouver Cancer Center. It was during this time that she began to have an interest in becoming a clinical/didactic instructor for the student program which used to be in-house.
Further education and a continued focus on education, led to completing the Advanced Certificate in Radiation Therapy and a Master's degree in Education from SFU. When the training program moved to BCIT in 2001, Lorraine also moved from the clinical department to assume the role of program head.
Over the last 20+ years, the program has undergone many changes in the both the credential and to the inclusion of advanced educational technology to assist students in developing competency in radiation therapy. Lorraine continues in the role of program head but looks forward to spending more time gardening, hiking, and travelling in the future.
Maryna von Aulock
RT(T), B.Ed, MSc
Faculty
Tel: 604-456-1183
Email: Maryna_von_Aulock@bcit.ca
More about Maryna von Aulock
Work experience
Maryna von Aulock has over 12 years' experience as a clinical radiotherapist in Cape Town where she received her qualifications from Groote Schuur Hospital. Maryna is a certified member of CAMRT and has been a faculty member in the Radiation Therapy Program at BCIT since 2009.
Education
Maryna holds degrees from the University of Cape Town, South Africa, for Advanced Teaching, a Bachelor's in Education from the University of South Africa, and a Master's Degree majoring in Brain Compatible Learning from the Cape Peninsula University of Technology.
Other
Her teaching philosophy aspires to create student-centered learning environments in which the student is in the driver's seat of their own learning. She encourages students to walk into the classroom with a positive attitude towards learning, knowing that the best classes occur when students know that they are expected to do their best each and every day.
When not in the classroom, Maryna enjoys ceramic painting and watercolour painting.
Jake Kempt
RT(T), RTMR, B.MRSc.
Faculty
Email: Jake_Kempt@bcit.ca
Student clinical education is supported by preceptors, radiation therapists, medical physicists, physics assistants, radiation oncologists and other healthcare professionals.
Subscribe
Sign up to receive updates, invitations to events, and information about BCIT and your program.
We promise not to spam you, we won't share your personal information, and you can unsubscribe at any time.
Programs and courses are subject to change without notice.