Overview
BCIT's Prosthetics and Orthotics Diploma is one of two programs of its kind offered in Canada. The profession is a unique blend of science, art, technology, and clinical patient care. It offers the unique opportunity to work with your hands and your mind, all while making a difference in someone's life.
Prosthetists and Orthotists design and fabricate custom orthopedic devices and provide lifelong treatment to those in need. Prosthetists work with those who have experienced limb loss and Orthotists work with those who have an injury or pathology requiring bracing or support. It is a rewarding, constantly evolving, and challenging profession.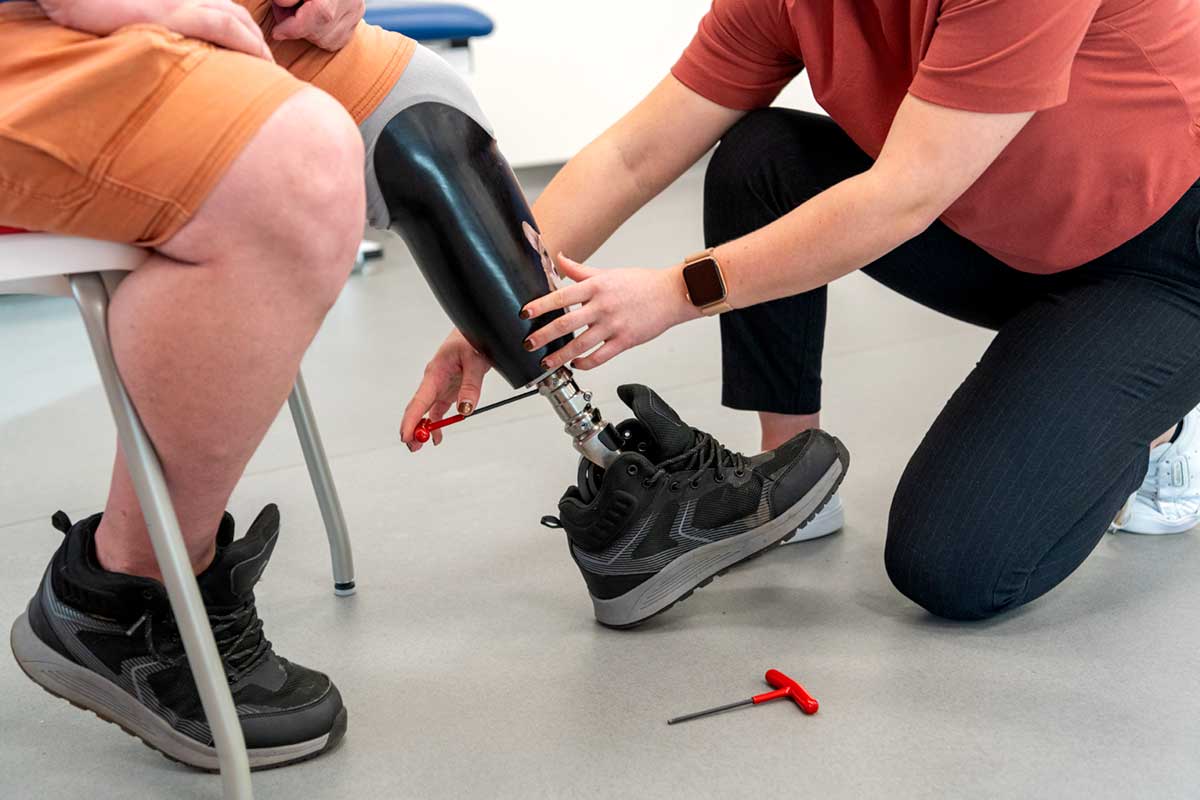 About the program
Using specialized assessment techniques and leading edge technology, prosthetists and orthotists create treatment plans and design devices for the unique needs of each patient. Our program gives students an applied understanding of pathology, biomechanics, material sciences, and anatomy and physiology, enabling them to help patients gain mobility and improve quality of life.
Two-year, full-time post-graduate diploma program followed by a paid, two-year clinical residency program
Instruction takes place at BCIT's specialized prosthetics and orthotics labs
Small, 14-student classes provides individual support and fosters engagement
Two clinical practicum experiences, which can be completed across Canada
Weekly clinical rotations across a variety of P&O clinics and allied healthcare sites
Our program offers the hands-on learning for which BCIT is renown. Visit Program Details to learn more about our Prosthetics and Orthotics program.
Who it's for
This program is for post-undergraduate degree students who:
Have completed a 4-year undergraduate degree
Have strong hand skills and dexterity
Enjoy building relationships with patients and healthcare colleagues
Are residents of Western Canada
Our comprehensive selection process ensures this program is a good fit for you. See Entrance Requirements to find out more.
What grads can do
Our grads can work anywhere in the world. See Graduating and Jobs to learn more about career options.
Vision Statement
Developing professionals to enhance quality of life.
Mission Statement
The mission of the BCIT Prosthetics and Orthotics program is to prepare students for clinical residency in the field of prosthetics and orthotics by providing knowledge and experiential learning that develop clinical competencies, foster innovative patient-centered care and facilitate interprofessional collaboration.
Entrance Requirements
Note: In alignment with public health orders, this program requires that students be vaccinated for a number of communicable diseases – including COVID-19.
Program Details
The two-year course of studies combines lectures, labs and practical experience. The curriculum equips graduates to perform thorough assessments and recognize patient challenges, assess individual needs and set patient goals, design customized treatment plans, fabricate individualized prostheses and orthoses, select appropriate materials, and provide patient-focused care.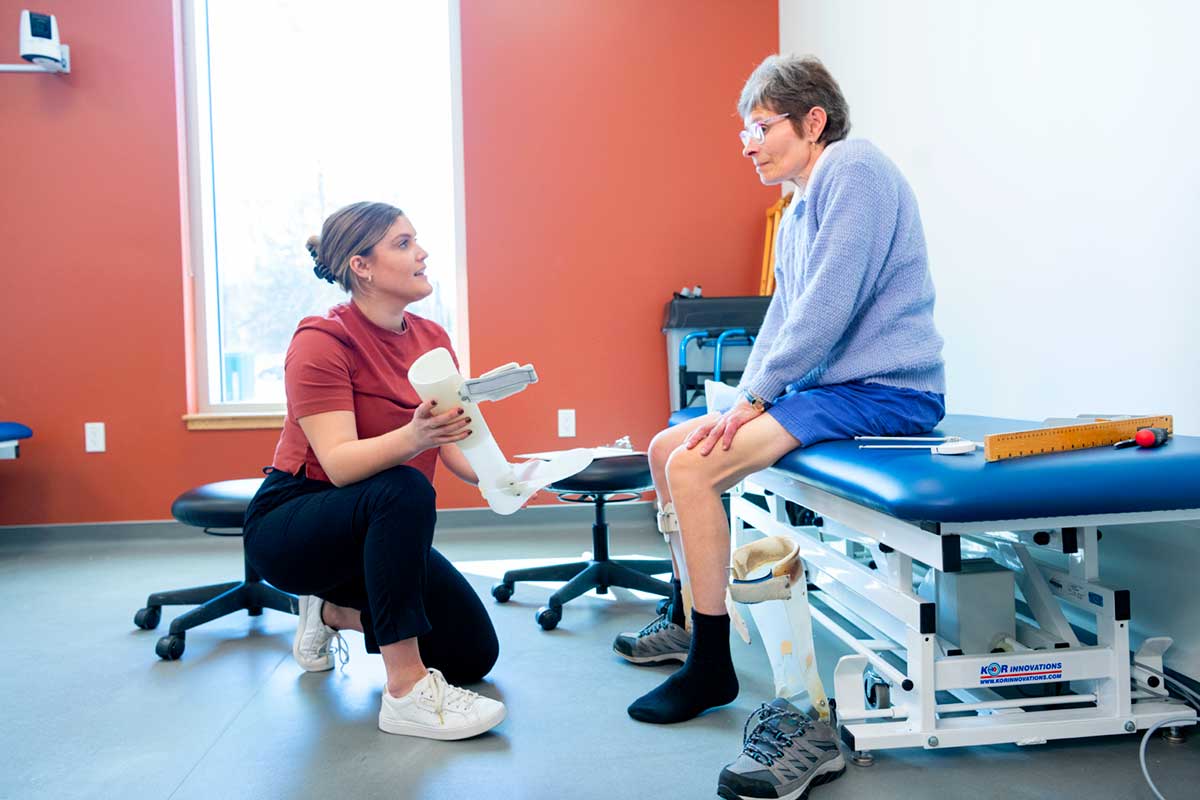 The program relies heavily on volunteer patients, who act as patient simulation models throughout all prosthetics and orthotics courses. Students are supported to directly apply the theory and skills they have learned in the classroom and lab to these patient models, performing assessments, developing treatment plans, and designing, fabricating and evaluating custom devices for them.

The Western Canadian provinces BC, Alberta, Saskatchewan, and Manitoba jointly fund the Prosthetics & Orthotics program. BCIT accepts applications every second year on a pro-rated basis from each of the 4 provinces.
During their time at BCIT students participate in many exciting clinical settings, such as:
Local BC Prosthetics and Orthotics Clinics
BC Childrens Hospital Orthopedic Outpatient Clinic
Lionsgate Hospital Intensive Rehabilitation Outpatient Program
GF Strong Outpatient Prosthetics Clinic
New Westminster Spacticity Clinic
Motion Lab at Sunnyhill Health Centre
Holy Family Hospital Prosthetics Inpatient Clinic
Clinical practicum sites across Canada
Graduating & Jobs
Our graduates are ready
Our grads get work, and most are offered positions before they even finish the program. After a two-year paid residency, students are ready to write the national certification exam and start working immediately.
Career opportunities
Our grads join a closely knit, passionate community of like-minded health professionals dedicated to supporting their patients. Careers offer flexibility and options to work in one of many settings, including:
Working with a team in a hospital or private clinic
Running your own private practice
Specializing in specific areas of physical rehabilitation
Innovating technology and products through research and development
Salaries vary greatly between provinces and private vs public practices. In general, residents can earn $50,000 – $55,000 annually, while certified prosthetist and orthotists can earn $60,000 – $110,000 annually depending on location, years of experience and responsibilities. Many prosthetists and orthotists will also become business owners, which can add to additional income.


Learn more about the work we do. Visit our Lib Guides site for the latest in field research.
Keep learning
Complete a master's degree. We've partnered with McMaster University to offer Master of Science in Rehabilitation Medicine. Qualified students can take our diploma program while concurrently completing online MSc courses through McMaster.
Check out exciting research being done in the profession through the Canadian Prosthetics and Orthotics Journal (CPOJ). This journal is an international, peer-reviewed open-access journal (ISSN 2561-987X) which promotes unrestricted access to articles for prosthetics and orthotics professionals, researchers, and rehabilitation teams. The scope of the journal includes prosthetics, orthotics, rehabilitation sciences, Mobility Assistive Technology (MAT), Internet of Things (IoT), and Artificial Intelligence (AI) in the prosthetics and orthotics field. All accepted articles are permanently publicly available online without restrictions or subscription fees.
Faculty, Advisors & Staff
Frequently Asked Questions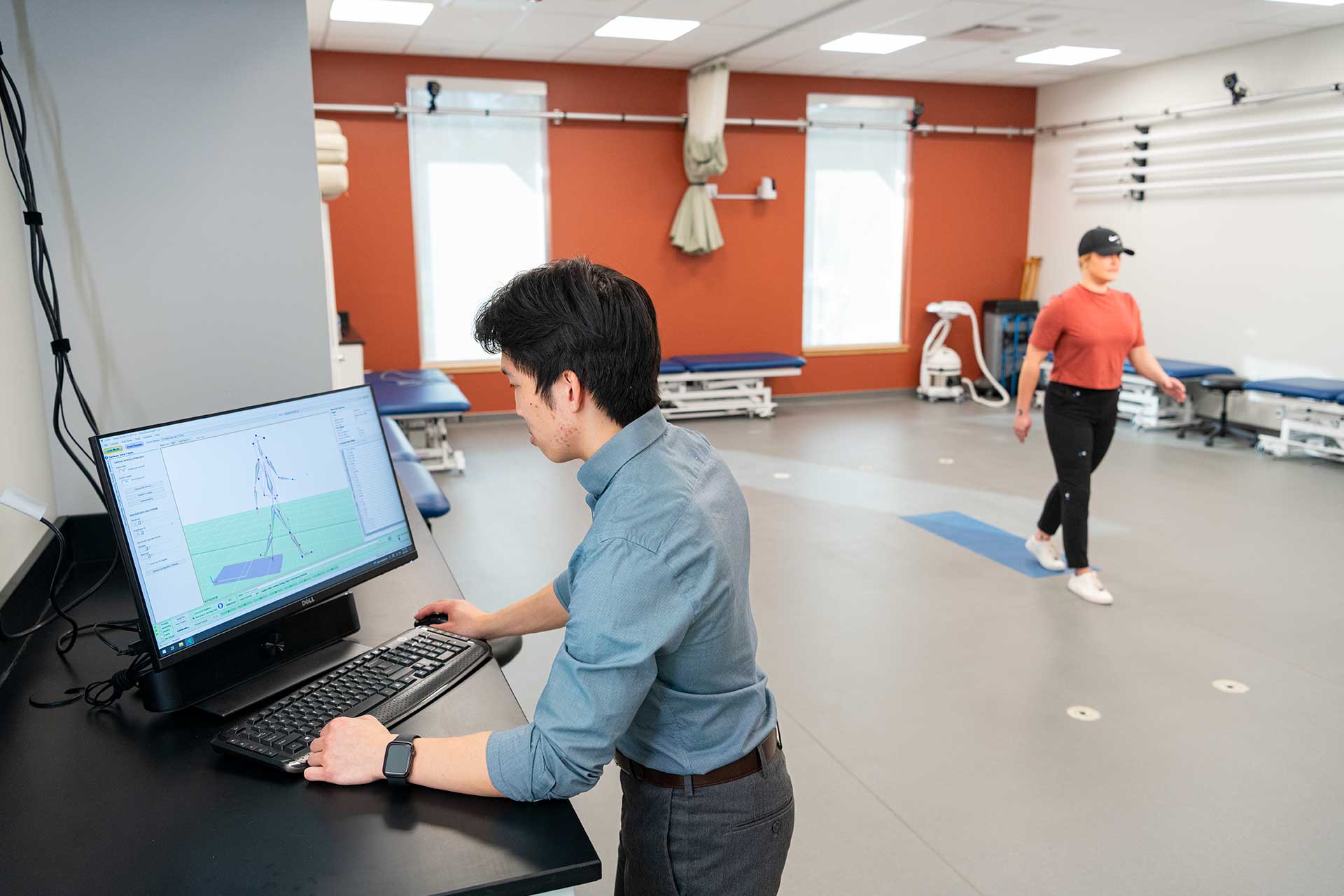 Application process FAQs
Eligibility FAQs
Preferred Courses FAQs
Candidate selection FAQs
About the program FAQs
About the Profession FAQs
What is meant by "related experience"?
Related experience can include working with any type of patients in a rehab setting, but should include at least some related experience to either people who use prosthetic or orthotic devices, or direct experience at a prosthetic or orthotic clinic.
I will be moving provinces. Which province should I indicate on my application?
Please list the province you will be living in for the 6 months prior to the application deadline.
Can I upgrade courses from my undergraduate degree or the preferred courses?
Yes, if you would like to take courses to increase your GPA, we will consider the more recent course instead.
I do not live in BC, AB, SK, or MB. Can I still apply?
Unfortunately, we only accept applications from residents of BC, AB, SK, or MB. Proof of residency for 6 months prior to the application deadline may be requested.
I won't complete my undergraduate degree until after the application deadline. Can I still apply?
Applications are considered as long as your undergraduate degree will be completed by April 30th. If selected, you would be offered conditional acceptance pending the completion and submission of your degree. If your undergraduate degree is not completed by April 30th, your application will not be considered.
Some of my preferred courses are more than 5 years old. Can I still apply?
Yes you can still apply. However, we prefer that the preferred course have been taken relatively recently to ensure success in our program.
I completed my degree more than 5 years ago. Can I still apply?
Yes you can still apply. However, this will be factored this into candidate selection, as it is important that our students will be successful in our program.
I completed my undergraduate degree outside of Canada. Can I still apply?
Yes, if your degree is comparable to a Canadian credential. Connect with BCIT advising to determine if you require a comprehensive international evaluation.
I have an undergraduate degree in an unrelated field. Can I still apply?
The majority of our applicants have an undergraduate degree in Kinesiology or Engineering. However, our applicants come from a variety of backgrounds and with many types of undergraduate degrees and are often just as successful as students and professionals. You are welcome to apply regardless of your undergraduate degree. However, to ensure your application is competitive, please ensure you have completed the preferred courses listed on the program page.
Do you accept applications from people who have not completed all of the preferred courses?
While we encourage all applicants to apply, preference is given to those who have completed most or all of the preferred courses.
I'm not sure if the courses I've taken are appropriate for the preferred courses. How can I find out?
Please contact the Program Head.
I won't complete the preferred courses until after the application deadline. Can I still apply?
Yes, you can still apply. Please indicate that you are currently completing courses, and which courses they are, within your mandatory applicant questionnaire. We recommend preferred courses are completed by April 30th. If the course is not completed by April 30th, it will not be considered towards your application
Top
How many candidates apply to the program each intake?
Approximately 50-60 people apply from all 4 provinces. Approximately half will be contacted to attend the Multiple Mini Interviews. From that, we select 14 students for our program.
Does it make a difference when I send in my application?
As long as applications are send in prior to the deadline, all applicants will be considered equally.
Do you have a minimum GPA? What marks do you consider?
We do not have a minimum cut-off for GPA, however most of our successful applicants have a 3.25 GPA (85%) or higher average. We look at both the last year of studies (or last 30 credits) as well as your marks in the preferred courses (Anatomy and Physiology, Physics, Statistics, Psychology, Chemistry).
What can I do to make sure I have a competitive application?
We look for applicants who are confident about wanting to enter the profession. This means that they have spent the time shadowing, volunteering or working at a prosthetics or orthotics clinic to learn about the role and the profession. This is important to ensuring it is a good fit for you as a candidate, and for us to know that you would be a good fit for our program. Other valuable skills and experience would be related to paid or volunteer positions previously held by the applicant, or could also be related to experience working with tools and working creatively with your hands.
I would like to learn more about the Prosthetics and Orthotics Program. Can I set up a meeting with someone?
Please contact the Program Head.
How much is tuition for the program?
Please see Fees and Financial Aid.
What is the overall process and timeline to become a Canadian Certified Prosthetist or Orthotist?
To become a certified prosthetist or orthotist in Canada, you must complete the following steps in order:
Undergraduate Degree: Complete an undergraduate degree and the required / preferred courses for entry into a prosthetics and orthotics program.
Prosthetics and Orthotics Program: Complete the 2-year clinical methods of prosthetics and orthotics program from an accredited school. There are currently only 2 accredited schools in Canada, BCIT and George Brown College in Toronto, Ontario.
Residency: Following the formal education, you must independently find a clinic and complete a 2-year (3450 hour) paid residency in prosthetics OR orthotics.
Certification Exams: Once reaching the required number of hours, you are eligible to sit the certification exams.
*** Both the residency and certification exam are overseen by Orthotics Prosthetics Canada (OPC). Please visit Orthotics Prosthetics Canada for more information on the residency or exams.
I'd like to find a clinic to shadow or volunteer at. Where should I look?
You can look up clinics near you by searching for "prosthetics clinic" or "orthotics clinic" online. You can also go the Orthotics Prosthetics Canada website and look under "Find a Professional"
I'd like to learn more about the profession. Where can I look?
Orthotics Prosthetics Canada (OPC) is the national organization for prosthetics and orthotics. Their website contains a significant amount of information about the profession, the role of a prosthetist and orthotist and the pathway to become certified.
What is an average salary of a prosthetist or orthotist in Canada?
Salaries vary greatly between provinces and private vs public practices. In general, residents can earn $50,000 – $55,000 annually, while certified prosthetist and orthotists can earn $60,000 – $110,000 annually depending on location, years of experience and responsibilities. Many Prosthetists and orthotists will also become business owners, which can add to additional income.
What should I know about residency?
After graduating from an accredited prosthetics and orthotics program, students must independently find a site to complete their residency. The residency program is overseen by Orthotics Prosthetics Canada (OPC). Residents focus on one discipline for 2 years (3450 hours), and can choose to eventually complete a second residency in their second discipline if they choose to do so. Once finishing their hours, residents can write the OPC certification exam.
While all graduates find residency sites, students should be prepared to be flexible, as a position in the geographical location, in the discipline of choice and in the clinical environment they desire may not be available.
For more information about the residency program, please visit Orthotics Prosthetics Canada's Residence & Interns information page.
Subscribe
Sign up to receive updates, invitations to events, and information about BCIT and your program.
We promise not to spam you, we won't share your personal information, and you can unsubscribe at any time.
Programs and courses are subject to change without notice.