Overview
Digital Communications and Wireless Technologies is a two-year program that prepares students for careers in the data and wireless/radio frequency (RF) telecommunications industries. Digital communications is the transfer and reception of data in the form of a digital bitstream or a digitized analog signal transmitted over a point-to-point or point-to-multipoint communication channel. Examples of such channels are copper wires, optical fibers, wireless communication using radio spectrum, storage media and computer buses. Graduates of the program are employed as technicians and technical specialists in companies that provide the services, infrastructure and technologies that support these different channels of telecommunication.
The program
The Digital Communications and Wireless Technologies program will provide you with the skills and knowledge you need to work in the wide-ranging telecommunications industry. The goal of the program is to touch on all the vital topics needed to produce a well-rounded digital communications professional.
After covering the basic electrical and electronic theory in the first term, the program progresses to Structured Cabling systems, covering various cabling techniques for copper and fiber optic networks, with a particular emphasis on practical skills. Networking concepts are introduced from the basics using modern switches and routers. Advanced networking concepts are taught in the second year, and students are encouraged to take the Cisco Certified Network Associate (CCNA) Exam upon completion.
In year one, students complete an introductory course on the Linux operating system, followed by a course on the fundamentals and design strategies of voice networks. This leads to a second-year course on Voice over Internet Protocol (VoIP) systems, which utilizes Mitel telecommunications hardware and solutions. The program also covers Wide Area Network (WAN) design and maintenance, utilizing Computer Aided Design (CAD) to modify Outside Plant (OSP) drawings. During the second year, students are introduced to wireless communications systems. This starts with courses on radio frequency (RF) communication theory and antenna systems used for wireless voice and data networks.  Concepts involved in location and GPS systems are taught, which are used for wireless systems location and tracking.  The wireless training concludes with a course on practical applications of wireless telecommunication systems in the RF Applications course. The program strongly focuses on digital communications concepts and introduces the Internet of Things (IoT) using Raspberry Pi and the Arduino microcontroller. The program culminates in an IoT project as well as a short industry placement in the form of a practicum.
Skills in the telecommunications industry are in high demand. If you like working with computers and electronic equipment, if you have good analytical skills, and if you want to work in an exciting, dynamic industry, the Digital Communications and Wireless Technologies program can open the door to a variety of exciting careers.
A BCIT diploma shows potential employers that you are accomplished, focused, and serious about your chosen career path. Employers know that you have both theoretical knowledge and practical skills, and that you can start contributing right away. Both graduates and employers say that BCIT was incredibly instrumental in preparing grads for work.
Why BCIT?
Great Faculty – You will learn from experienced instructors with a demonstrated interest in teaching. Our instructors have worked in the industry, and maintain solid local connections through student practicum placements, and through the program advisory committee.
Excellent Labs – Hands-on experience in well equipped electronics labs help you better understand the concepts that you learn, and gives you job-ready, practical skills.
Fantastic Career Choices – You could be working for an end-user of RF equipment doing bench testing, troubleshooting and repair of critical communications equipment. For example, the Department of Fisheries and Oceans and the RCMP have hired our graduates to keep their communication systems running. You might work for a telecommunications service provider, installing, configuring, and maintaining voice and data communication systems, or entertainment systems based on cable and satellite communications.
Degree Completion – With your BCIT diploma and one year of related work experience, you can enter the Bachelor of Technology Management degree program at BCIT. The Bachelor of Technology Management degree is a part-time program, so you can continue working while you further your education.
Entrance Requirements
If you're interested in a career as in the telecommunications industry, please review the program details, carefully check the entrance requirements, and then submit your application.
Spend-A-Day with us
Want to learn more about our program before you apply? Come spend-a-day with us. You'll meet students and instructors, and get a hands-on feel for what the program is about.
If you have questions regarding the entrance requirements or the application process, visit Admission & Registration or if you want to discuss the program in more detail, contact the Department Head at 604.432.8223.
Costs & Supplies
Find out how much you will need to complete your Digital Communications and Wireless Technologies Diploma!
The information below will help you determine the cost of taking the program, and will assist you in developing a budget for your two years of study. If you have concerns about being able to afford the program, please visit Financial Aid to learn how you may benefit from financial assistance.
Courses
Explore the courses and classes you will be taking!
Your studies will combine classroom work and lectures with practical laboratory sessions designed to reinforce the theory. You will work on the latest equipment, studying the theoretical and practical aspects of RF, data, satellite, navigation and cellular communications systems. You will learn as part of a team, working with other students and with your instructors to solve problems.
Your hands on learning will take place in well-equipped labs such as the telephony lab, the data lab, the RF lab and the cabling lab.
In the data lab, you will have your own workstation to study computer operating systems and data transfer. The lab has its own Ethernet local area network (LAN), a representative wide area network (WAN), CISCO routers for internet routing, and Alcatel bandwidth managers for system performance testing. In the cabling lab, all the latest industry tools used for cable terminations, cable installation and testing cabling systems are available. The telephony lab has Nortel and Mitel systems. The RF lab is also well-equipped with a networked computer, communications monitor, frequency counter and digital DMM in addition to standard electronics bench equipment. Two-way mobile and trunk radios, a wireless LAN, a spread spectrum radio network, a microwave repeater site and a basic cell site are all available to give you hands-on experience with all types of wireless communication equipment.
Studying and learning in a class of only 16 students, you will develop close working relationships and lifelong friendships with your classmates.
You will complete a three-week practicum working as a technician for a local company, gaining experience and employment contacts.
Program Details
Students in the Digital Communications and Wireless Technology program learn the theory, standards, measurement instruments, test equipment and standard practices of the telecommunications industry. As a student in the program, you will learn to: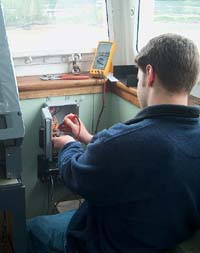 Install, program, configure, maintain and repair telephone switches and systems
Install, administer, maintain and diagnose faults in data transmission systems
Install, test and repair fiber optic and high-speed local area network (LAN) cables
Install, configure, test and document data communication systems and navigation systems
Maintain, evaluate the performance of, and troubleshoot radio frequency (RF) communication systems
Understand digital cellular communication systems
Use, calibrate and maintain industry standard tools and test equipment
Bench test, isolate faults and repair RF equipment
Communicate effectively with customers and co-workers
Graduating & Jobs
Explore the exceptional career opportunities in Telecommunications!
What's in it for you?
A rewarding job as a Technician
Your BCIT diploma opens the door to an exciting career as a technician – a technical expert who works in a team to solve problems, and is relied upon to install, configure, maintain, and repair electronic equipment.
An edge in the job market
A BCIT diploma shows potential employers that you are accomplished, focused, and serious about your chosen career path. Employers know that you have both theoretical knowledge and practical skills, and that you can immediately start contributing. Both graduates and employers say that BCIT was incredibly instrumental in preparing grads for work.
A broad range of employment possibilities
The job market for telecommunications technicians is strong. As a graduate of the program, you will have opportunities with large and small companies in a variety of roles. Most graduates start out in hands-on technical roles and there are many opportunities to move into technical sales or managerial roles if you are interested.
Some of the many employers of BCIT Digital Communications and Wireless Technologies graduates include:
Faculty, Advisors & Staff
Our instructors are committed to keeping their skills current, and regularly attend advanced training courses.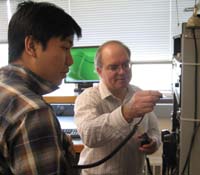 You will also learn from people who are active in local industry. Guest lecturers introduce the latest technology, and are available to answer your questions.
The advisory board of industry experts meets biannually to review the program focus and content, ensuring that our program and your skills are up-to-date.
Faculty
Dave Hogg, DiplT, PID, MA, AScT
Department Head
Tel: 604-432-8223
Email: dave_hogg@bcit.ca
Rick Davidson
Tel: 604-431-4949
Email: rdavidson2@bcit.ca
Mike Lowe
Tel: 604-412-7464
Email: mlowe16@bcit.ca
Blair Thompson-Jendrysek, DipT, PID
Tel: 604-456-8157
Email: blair_thompson@bcit.ca
Gareth Williams
Tel: 604-432-8458
Email: gareth_williams@bcit.ca
Len Worley, DipT, PID, MEd
Tel: 604-412-7528
Email: leonard_worley@bcit.ca
Staff
Paul Morrison, BEng, AScT
Interim Associate Dean
Tel: 604-451-7075
Email: paul_morrison@bcit.ca
Mary-Anne Pangan
Administrative Assistant
Tel: 604-456-8052
Email: maryanne_pangan@bcit.ca
Advisory committee
Jeff Brown
Head of Canadian Operations, Zayo
Darren Hamaoki
Customer Service Technician, Mackay Communications Inc
C/M Jason A. Jaschinsky
A/Director Information Technology, RCMP "E" Division
Jason Krause
General Manager, OSP, OBS, Greenfield Build, Wireless, Ledcor Technical Services
Jeff Lewis
President & General Manager, 4th Utility Inc.
Colin Leyh
Field Services Supervisor, Shaw Communications
Quincy Mittertreiner
Retired, Formerly NEC Canada, Inc
Doug Peterson
Manager, MDT Technical Services, Inc.
Ralph Ryan
Service Manager, BC Communications Inc.
Craig Sexton
Manager, TELUS Wireless Implementation and Operations
Benjamin Staggs
Marine Services Manager BC, Mackay Marine Canada
Contact Us
Spend-A-Day with us
Want to learn more about our program before you apply? Come spend-a-day with us. You'll meet students and instructors, and get a hands-on feel for what the program is about.
If you want to discuss the program in more detail, contact the Department Head at 604.453.4089.
Questions or comments?
Subscribe
Sign up to receive updates, invitations to events, and information about BCIT and your program.
We promise not to spam you, we won't share your personal information, and you can unsubscribe at any time.
Programs and courses are subject to change without notice.