Overview
As cars grow more sophisticated, skilled automotive technicians are an industry must.  As an automotive student in the Toyota foundation program at BCIT, you will learn and enhance the skills that enable you to be job-ready when you graduate.
BCIT works with Toyota dealerships in the British Columbia lower mainland to support students in this program. In addition to receiving the provincial curriculum, you will receive technical training on Toyota vehicles with factory tools and equipment, and learn about new technologies, including hybrid-electric vehicles.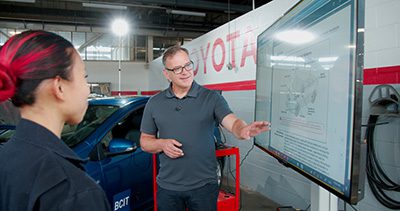 The Toyota automotive technician program provides you with knowledge and hands-on skills needed to begin your career pathway into the automotive industry. As a graduate, you will be able to pursue a career as an automotive technician and continue your training with BCIT through the apprenticeship program. Toyota dealer partnerships also provide a two-week practicum within this program providing you the opportunity to network with the Toyota dealerships.
During the program, you receive 900 hours of technical training toward your first level aligning with SkilledTradesBC learning outcomes and earn 450 hours work based training credit towards your time in the trade and learning journey in the apprenticeship program.  Here are some highlights:
This program is a combination of blended and hands-on learning
An interactive learning platform you can access to learn at your own pace
Opportunity to learn with the latest Toyota information systems and diagnostic tools
Graduating & Jobs
Job opportunities
Throughout British Columbia and Canada, there is a serious shortage of skilled and certified automotive technicians who are specialized in Asian vehicles. As a result, independent Toyota dealers are seeking trained apprentices. Job placement prospects are currently good and there is high probability that you will have a job waiting for you when you graduate.
Salaries
The median salary for our graduates is in the range of $2,000 per month. Graduates who go on to complete their apprenticeship training may earn approximately $50,000 per year. Graduates can aspire to top industry positions with salaries in the $60,000-plus range per year.
Subscribe
Sign up to receive updates, invitations to events, and information about BCIT and your program.
We promise not to spam you, we won't share your personal information, and you can unsubscribe at any time.
Programs and courses are subject to change without notice.