Overview
Diagnostic medical sonography is commonly known as ultrasound. Echocardiography is a branch of diagnostic medical sonography and uses high-frequency sound waves to examine the structure and function of the heart. Each patient comes with unique needs and, as a student, you will learn diagnostic problem-solving and team collaboration skills to give each patient the highest quality of care.
Program delivery mode: blended
This program will be delivered for the coming semester as a combination of online and on-campus learning. While some of your coursework will take place online, there will also be in-person sessions.
Faculty will notify students of when their attendance on campus will be required.
We have put measures in place for your safety and well-being, ensuring that all safety protocols are addressed. Please see the BCIT COVID-19 page for details on the mandatory procedures that have been implemented.
Your education is our priority and we will continue to deliver the applied instruction, collaborative experience, and industry connections that you expect from BCIT.
About the program
The Cardiac Advanced Diploma (CAD) program is an intensive, compressed time frame program in the cardiac ultrasound stream. The program is designed for health care employees looking to grow their careers and learn cardiac ultrasound. The prerequisites for this program are unique from the other BCIT sonography programs. Please ensure you review the Entrance Requirements page carefully.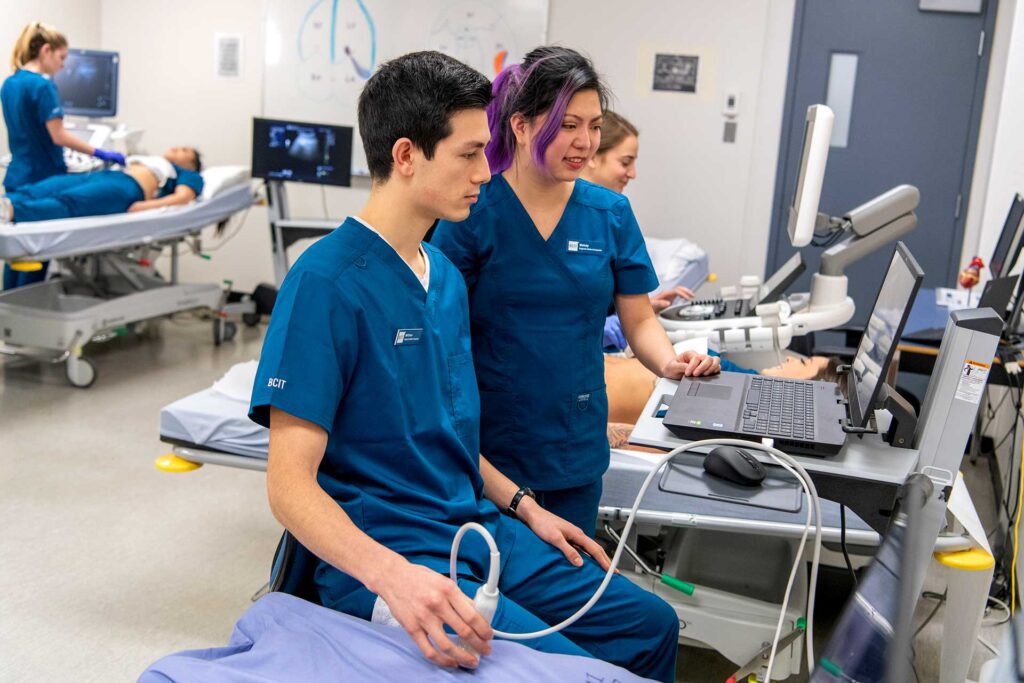 The BCIT Diagnostic Medical Sonography programs draw students from across the province. Our programs provides access to state-of-the-art equipment and the latest in ultrasound technology so that you are ready to start your career the moment you graduate.
Program Details
The Cardiac Advanced Diploma is 12 months in length. The first term of the program includes didactic theory courses and labs.
Students will have the opportunity to attain all of the required skills in the Sonography Canada National Competency Profile (NCP) for the Cardiac Sonographer. Students will complete the Sonography Canada Canadian Clinical Skills Assessment (CCSA) for the Cardiac Sonographer during the program.
Students are advised that travel to clinical placements at their own expense is required. Students are asked to identify site preferences, but it may not be possible to accommodate all requests. Students may be required to complete a clinical rotation outside the Lower Mainland (Vancouver Island, northern or interior BC). Some lower mainland students may be required to attend placements that are lengthy commutes from their homes or difficult to access by bus, yet still considered a local placement. It may be possible for applicants with permanent residences outside of the lower mainland to access some clinical placements in their home area.
Students are expected to have access to a computer with a high-speed internet connection and a printer, and to be proficient in the use of the Windows operating system and Microsoft Office (Word, PowerPoint, Excel).
Graduating & Jobs
Cardiac sonography grads primarily work in hospitals. Careers can be found in casual, part-time, and full-time positions, and many move into full-time employment within a few months of graduating. Salaries start at approximately $30 per hour in careers like:
Echocardiographer or cardiac sonographer
Commercial sales
Research and development
Subscribe
Sign up to receive updates, invitations to events, and information about BCIT and your program.
We promise not to spam you, we won't share your personal information, and you can unsubscribe at any time.
Programs and courses are subject to change without notice.