BCIT provides parking for students driving to campus. We offer parking at all locations except Annacis Island (where there is no charge for parking).
For specialty campus rates and information visit the parking homepage
Burnaby Campus
Students can park in any Public/Student lots, which are all lettered on the campus parking map.
Designated lots: A, B, D, E, F, G, J, K, L, M, N, Q, S, and T.
After Hours Parking
After 4:30 pm Staff lots are open to the Public/Students, except lots 8, 24, 26 & 29
---
Parking Options
Daily Parking
You can buy a daily ticket from:
Pay stations in parking lots with a credit card (see the above map)
Daily E-permit with pay-by-phone
Economy Lot L
Lot L is an economy lot with a $5.50 daily rate. Spaces in this lot will be strictly on a first-come, first-served basis with payment at the local pay station only (no pre-purchase).
Please note: An Economy ticket purchased at this pay station is only to be used for the economy Lot L.
Long Term Parking
E-Permits
E-permits provide students with a flexible web-based parking alternative where they can have a discounted daily rate. The options are fast and easy, require no physical permits and avoid lineups at the pay stations. Go online and purchase weekly, monthly or Flex-Pass with a discounted rate.
PaybyPhone weekly/monthly E-Permits are valid for seven consecutive days (including the weekend), with a daily rate of $6.50 + applicable taxes.
HONK  Flex-Pass is sold in packs of 10 or 20 sessions, offering more flexibility for part-time students.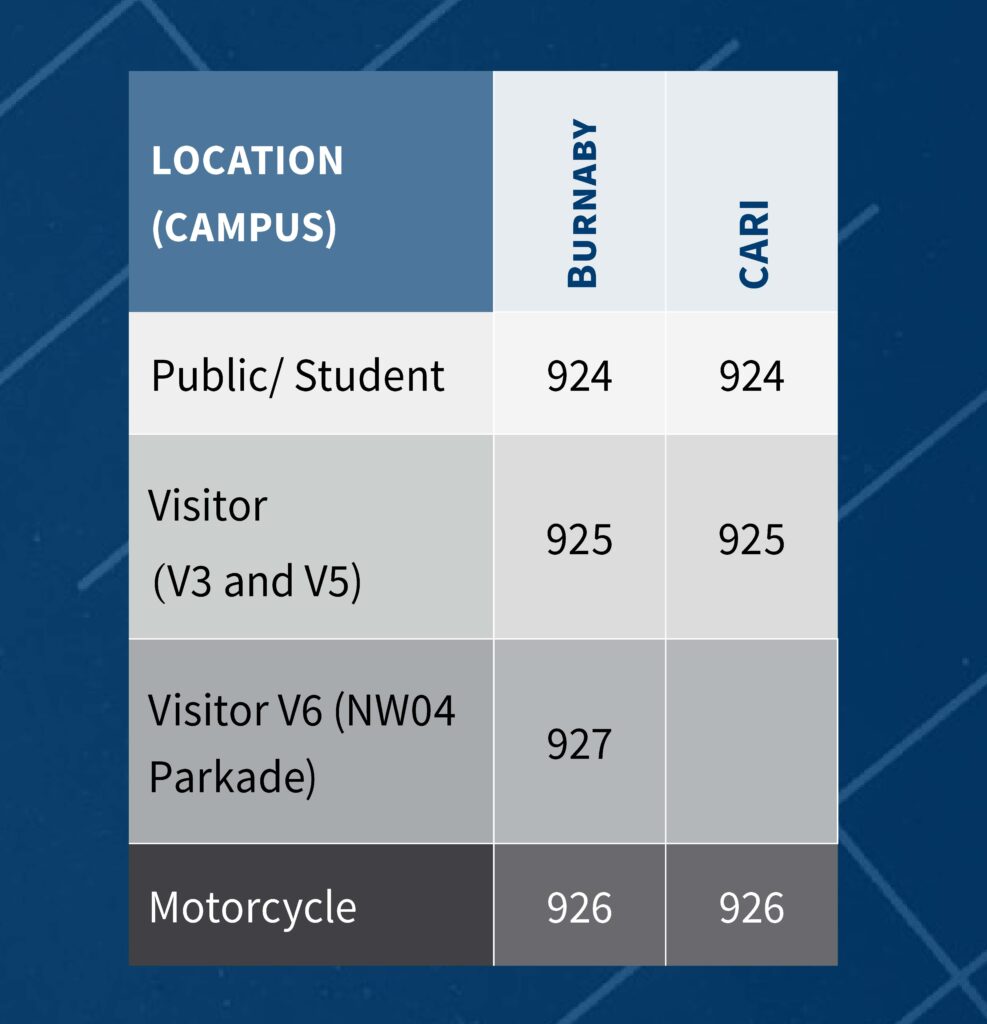 The Burnaby/CARI campus is broken down into four location numbers.