Burnaby Campus
The infrastructure upgrades along White Avenue (Area 6) will connect previously upgraded campus infrastructure to the site of the new Tall Timber Student Housing building. The scope of work includes the replacement of below-ground services, new curbs, paving and landscape upgrades. Temporary street curbs will be provided in some areas where disturbance during the Student Housing construction is expected.
This project will deliver improved access to this part of campus with regraded pathways running south to north and west to east, providing connections to Willingdon Avenue, Building SW9, and existing Student Housing.
Finally, the project will enhance campus stormwater management with rainwater interception gardens and connections to Guichon Creek
Construction Schedule
Estimated Construction End Date – September 2022
Project Impacts
This is a major construction project that will impact services in the area of south White Avenue. Specifically:
Construction Period
White Avenue will be closed from SW02 to SW09 for the duration of the project.

Emergency vehicle access through the area will be maintained
Accessible pedestrian routes will be clearly marked
A vehicle turnaround at the north end of White Avenue (near SW2) has been established for traffic trying to access BCIT via Goard Way

Parking Lots: 4, and 9 will be closed for the duration of the project after December 10th, 2021 (see attached map for reference)
Buildings SW02, SW03, SW05, SW09

Will be impacted by construction noise;
Will experience access changes at various stages throughout the project;

Fire exits will be clearly marked and users will be notified in advance prior to any changes
All changes will be reviewed by SSEM prior to implementation
Pedestrian Access
New temporary accessible paths to SW09 are now open and will be used until the end of the project.
The accessible pedestrian sidewalk south of SW09 on White Avenue is now closed. A pedestrian detour will be east along Fairey Street towards the new temporary paths that can be accessed east of SW09. Existing access to the south doors of SW9 will remain.
Access to SW9 from SW3/SW5/SE12 will be detoured east around the construction zone via the newly establish temporarily accessible paths.
Any changes to the construction schedule or construction impacts will be communicated in advance.
PLANS
Construction Period– Dec 10th, 2021 to September 2022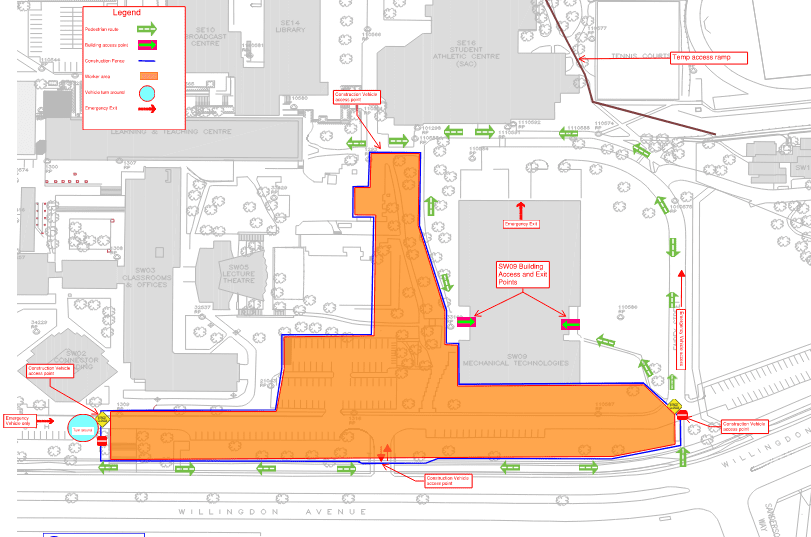 Beginning, September 24th 2021 the plaza area on Burnaby campus will be fully closed due to construction work. This is part of the redevelopment of the space to create an improved entrance to the Burnaby campus and revitalised plaza area. The area closed will be between White Avenue and Lister Avenue to the north side of SW1. Pedestrian access to campus will be maintained via the N side of SW1. SW1 and all services will remain open as normal.
Signage will be placed around the site to help pedestrians navigate the construction containment perimeter.
Facilities Contact: Ryan Jacobs Project Manager, Project Services
Map of the closure
With the addition of new visitor parking at HSC, we are converting the existing visitor lot outside SW1 to create additional 15-minute drop-off, accessible stalls, and contractor stalls, which are needed.
With this change, the pay station outside SW1 has been removed and the 2 EV charging stations will be relocated.
These changes will take effect on August 29. Signage will be provided to direct visitors to the new parkade.