Overview
The Computer Information Systems Administration (CISA) program is a two-year program that focuses on administration and configuration of Information Technology (IT) infrastructure such as wired and wireless local area networks (LANs) and wide area networks (WANs).
About the program
The Computer Information Systems Administration (CISA) program is a full-time program that provides graduates with a comprehensive skill set geared towards administration of computer networks and system. The CISA program emphasizes a hands-on, technical approach to training, where experience gained in labs and classrooms can be applied directly to business and industry.
The program focuses on Information Technology (IT) infrastructure solutions rather than computer engineering or software development. Training comprises of both theory and practical experience, where the goal is to have the students develop a skill set to be able to install, configure, maintain, monitor, and troubleshoot systems and hardware. To support this training, students are exposed to considerable hands-on activities using well equipped labs.
The first year consists of training that introduces students to computer hardware, operating systems, network infrastructure, and cybersecurity. Topics include Microsoft Active Directory services and networking, Cisco routing and switching, Linux administration as well as essentials of databases and programming. While much of the training aligns with industry certifications, students are not required to write any industry exams. Included in first year is a Business Skills for IT course that provides insight into the communication and management skills required in the IT sector.
The second year specializes in deploying and supporting the network infrastructure used in today's enterprise systems. Students leverage industry leading products from Cisco Systems, Microsoft, Fortinet, Juniper, Palo-Alto, Red Hat, SUSE, Oracle, VMWare, and others to create a secure, multiservice business solution. Students work with routing, switching, firewall, server, and client technologies to deploy reliable and redundant campus networks that support remote access and wide area interconnectivity. Topics include security, advanced routing and switching, Voice-over-IP (VoIP), and wireless access. Networked applications are explored and deployed including collaboration and messaging services. Students learn to leverage virtualization technologies, providing the responsiveness needed to support business applications. The integration of "cloud" services to an enterprise along with network management solutions provides insight into the complexities of an enterprise system. Students are encouraged to obtain more advanced industry certifications from Aruba, AWS, Cisco Systems, Microsoft, Oracle, Red Hat, Fortinet, Juniper, Palo-Alto, and VMWare.
Who it's for
Applicants should have a keen interest in computers, exposure to home networking, strong communication, troubleshooting, and problem solving skills.
What grads can do
CISA graduates have skills focused on maintaining network infrastructure and client support. Graduates are capable of working with a wide range of Cisco products, including routers, switches, firewalls, wireless systems, IP phones, and management tools.
Entrance Requirements
Find out more about getting started in the program!
If the Computer Information Systems Administration program interests you, review the entrance requirements. If you qualify, you may want to attend an information session or become a student for a day.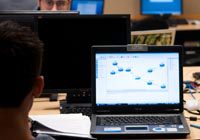 Spend-A-Day with us
Want to learn more about our program before you apply? Come spend-a-day with us. You'll meet students and instructors, and get a hands-on feel for what the program is about.
If you have questions regarding the entrance requirements or the application process, please visit Admission & Registration, or if you want to discuss the program in more detail, contact the Department Head, Patrick_Duffey@bcit.ca or call 604-432-8592.
Costs & Supplies
Find out how much you will need to complete your diploma in Computer Information Systems Administration!
The information below will help you determine the cost of taking the program and assist you in developing a budget for your two years of study. If you have concerns about being able to afford the program, please visit Financial Aid to learn how you may benefit from financial assistance.
Graduating & Jobs
Job opportunities
Manufacturers such as Cisco, HP, and IBM, typically have "partners" who sell their products. It is with these partners that our students find employment. Other sources of employment include Internet Service Providers (ISPs), government, municipalities, hospitals, health authorities, management companies, airports, transportation services, insurance companies, and many small businesses. If a computer network exists within a business and it grows to any size there is a demand for competent administrators to maintain this network and its clients. Graduates have the ability to continue developing their skills in more specialized areas such as wireless, security, storage area services, and voice services providing a path to higher pay and ensured employment.
Graduates also have experience supporting Linux and Microsoft clients and servers. Employment opportunities exist within Internet providers, cablevision, telephone companies, service outsourcing companies, and any IT department.
Ladder your credential

Upon graduation, students may also choose to continue their studies full-time, or to begin working in their chosen field while pursuing a degree part-time. CISA graduates are eligible to apply for the following bachelor's degree programs:
Bachelor of Technology – Digital Forensics and Cybersecurity
Bachelor of Technology – Technology Management
Bachelor of Applied Information Systems Technology – Information Systems – Northern Alberta Institute of Technology (NAIT)
Faculty, Advisors & Staff
Faculty
Patrick Duffey
Department Head
Tel: 604-432-8262
Email: patrick_duffey@bcit.ca
Zulfiqar (John) Ali
Tel: 604-456-1290
Email: zali39@bcit.ca
David Chen
Tel: 604-431-4933
Email: david_chen@bcit.ca
Joutiar Ghaderyan, NSE
Tel: 604-456-1165
Email: joutiar_ghaderyan@bcit.ca
Kirksal Icoz
Tel: 604-456-1164
Email: kirksal_icoz@bcit.ca
Rouzbeh Keshavarz, MSc Computer Engineering, CCNP, MCSE
Tel: 604-431-4975
Email: rkeshavarz@bcit.ca
Jingjing Lount
Tel: 604-412-7524
Email: jlount@bcit.ca
Steven Ng
Tel: 604-432-8317
Email: steven_ng@bcit.ca
Rick Phelan, DipIT
Tel: 604-432-8463
Email: rphelan@bcit.ca
Hamidreza Talebi, MSc Network Security, CCNP
Tel: 604-453-4012
Email: htalebi@bcit.ca
Tracy Willcock, MA, MCNI
Tel: 604-456-1163
Email: tracy_willcock@bcit.ca
Areeb Yasir
Tel: 604-456-1053
Email: ayasir1@bcit.ca
Staff
Paul Morrison, BEng, AScT
Interim Associate Dean
Tel: 604-451-7075
Email: paul_morrison@bcit.ca
Mary-Anne Pangan
Administrative Assistant
Tel: 604-456-8052
Email: maryanne_pangan@bcit.ca
Advisory committee
Carlos Aparicio
General Manager, IT Services, Vision33 SAP Business One
Jeff Celmainis
Director, Park Place Technologies
Tri Chiem
Sales Executive, Google Canada Inc.
Paul Inzani
Senior Manager Network Services Technology, Business Services, CPE & CLEC, Bell
Richard Louie
Consultant
Calvin Martin
Director – Project Services, Charter
Cam Melvin
Consultant
Daryl Montgomery
Account Manager-BC, F5 Networks
Ralph Wright
Systems Engineering Director, Sales / Channels, Cisco Systems Canada Co.
Contact Us
Spend-A-Day with us
Want to learn more about our program before you apply? Come spend-a-day with us. You'll meet students and instructors, and get a hands-on feel for what the program is about.
If you want to discuss the program in more detail, contact the Department Head, patrick_duffey@bcit.ca or 604-432-8262.
Questions or comments?
Subscribe
Sign up to receive updates, invitations to events, and information about BCIT and your program.
We promise not to spam you, we won't share your personal information, and you can unsubscribe at any time.
Programs and courses are subject to change without notice.