A Career in Computer Information Systems Administration Awaits You!
The Computer Information Systems Administration (CISA) program is a full-time program that has an intake each September.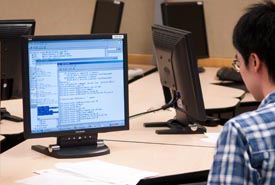 The program prides itself on providing a hands-on approach to learning, where students develop a skill set to be able to install, maintain, customize, configure, and troubleshoot computer systems and networking hardware. To support this training, students are exposed to considerable hands-on activities using well equipped labs.

First year consists of training that introduces students to computer and networking hardware, operating systems, and computer security fundamentals. The training aligns with certain industry certifications but students are not required to write any industry exams. Students completing first year are encouraged to obtain the Cisco CCNA R&S, Microsoft MCSA, Comp TIA Linux+, and Comp TIA A+ industry certifications. The first year also includes a course that provides insight into the business skills required for graduates.
The second year specializes in network infrastructure support using Cisco Systems and Microsoft products to create a secure enterprise network. Students work with routing, switching, firewall, and server technologies to deploy a reliable and redundant campus network that also supports remote access and wide area interconnectivity. Students work with Microsoft directory services to support clients including messaging services and secure remote access. Topics also include advanced IP routing, multilayer switching, network troubleshooting, network management, network security, wireless communications, and IP telephony. Students are encouraged to obtain more advanced industry certifications from Aruba, Microsoft, Oracle, and Cisco Systems.
BCIT Flexible Learning (formerly Part-time Studies):
Flexible Learning programs are offered for working computer systems professionals, and offer opportunities for career enhancement in the following areas:
Check out our programs for a career in Computer Information Systems that is just right for you!