BCIT is committed to strengthening support and services for learners to promote success, well-being, and resilience.
To support this goal, the Student Life Office plays an integral role in connecting students to resources and services that enhance their well-being and enable them to thrive throughout their time at BCIT.
How can we help you?
The Student Life Office offers a variety of services and supports to help you during your time as a BCIT student.
Eight Dimensions of Well-being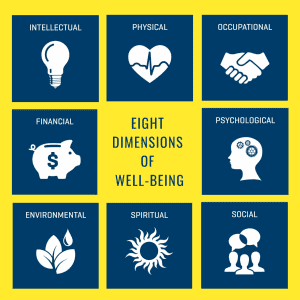 At BCIT, we recognize that there are many different factors that influence student well-being and success. As such, the Student Life Office has adopted the Eight Dimensions of Well-being framework to serve as a basis for health promotion initiatives and student success programming. The Eight Dimensions of Well-being model ensures that the complexity of the whole student is taken into account to meaningfully foster student well-being and resilience.
Case management
The Student Life Office works closely and collaboratively with other Student Success units, as well as with program areas and other units throughout the Institute to provide centralized, comprehensive, and holistic support to students facing complex or serious issues.
Early Assist
A reporting platform that provides a centralized way for BCIT faculty, staff and students to identify students who may be struggling personally or academically, and get them connected with appropriate support and services at an early stage. Learn more about Early Assist.
Kick Start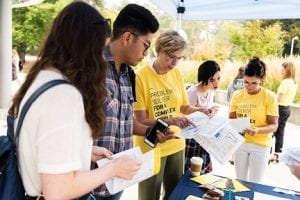 Transitioning students to BCIT is a process that takes time and does not all happen in one day. To highlight the entry process for students, we have opted to call the welcome programming, "Kick Start". When you see this name, it refers to the various events, activities and information that help "kick start" students on their journey at BCIT. For more information, visit Kick Start & Program Orientation.
Student Life Ambassadors
Student Life Ambassadors (SLAs) play an important role representing BCIT, collaboratively designing and implementing Student Life Office programming from a student-centred perspective. Using the Student Life Engagement Calendar to structure programming throughout the year, SLAs work to enhance student well-being and success by connecting students to the range of services and supports available at BCIT.
Upcoming Events
There are no upcoming events at this time.