Embracing remote learning doesn't have to mean losing touch with your BCIT community.
Take advantage of opportunities to connect with your peers and watch for tips on ways to keep in touch, stay motivated, and make the most of the situation we're in.
BCIT Hangouts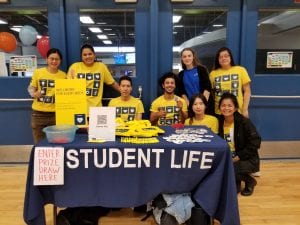 Your Student Life Ambassadors have been busy hosting virtual hangouts via Facebook Live!
Visit our Facebook page to find the recorded BCIT Hangouts sessions, which include study tips, how-to cooking videos for some favourite recipes, guest speakers from BCIT Student Services, and more. Feel free to leave a comment if you have a follow-up question!
Follow the BCIT Student Life Office on Facebook
Additional resources
Looking for new ways to reach out? Take a look at this list of 101 Strength-based Actions to Connect, which provides unique suggestions for for ways to connect with others from a distance, and to form a deeper connection with yourself.
Visit BCIT Counselling & Student Development's Mental Health at Home page for information on mental health supports.
Trying to stay active? Join the BCIT community in play through BCIT Recreation Services Healthy at Home activities.
For more information about virtual services at BCIT and opportunities to connect with others, visit the Student Services page.