Welcome to BCIT!
Kick Start is BCIT's welcome to all new students. Once you're a registered student, Kick Start is here to help you prepare and find your way, then connect and settle in as part of the BCIT community.
Prepare
New student to-do list
Ensure you have a successful first day, week, and month! Start now by visiting BCIT's "Next Steps for New Students" and complete the pre-arrival to-do list before your classes begin.
Student Success Hub
At BCIT, we want to make sure you have the opportunity to succeed, both personally and academically, and we don't expect you to do it alone. BCIT has resources and services in place to help you thrive. The Student Success Hub is a central resource available to help all BCIT students navigate through the free and confidential supports available.
Your schedule
It's important to know where to go and when to be there. Leading up to your first day, be sure to review your myBCIT schedule carefully and regularly.
Find your way
We recommend planning your route, visiting campus and logging into BCIT's Wi-Fi sometime during the three weeks leading up to your program orientation or first class.
Visit Campus Parking to learn about lot locations, rates, and more.
Visit Food Services for dinning location maps, hours and more.
Program orientation
While Kick Start serves as a general welcome for all BCIT students, some specific programs have a more customized orientation. Discover whether your program has an orientation by reviewing your myBCIT schedule or acceptance letter.
Logging in to your myBCIT email and reviewing your account regularly is essential. It's important that you keep up to date with possible changes or urgent messages.
Kick Start events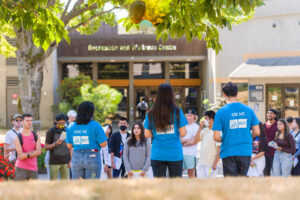 The Kick Start team is excited to welcome and support you through events on all campuses. Events include wayfinding, socials, information sessions, and Burnaby campus tours.
Find all Kick Start events here! Use BCIT's Event Calendar to keep up with all student events.
Stay connected
Don't miss out on opportunities to connect with your peers and take part in the BCIT community.