Welcome to BCIT!
Kick Start is a month-long event full of activities to help you settle into BCIT. Attend your program orientation on the first day, or join us at the Kick Start Services Expo and Clubs Day to learn more about your new community and the various resources you can tap into during your time at the institution.
Program orientation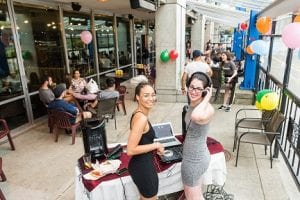 Now that you're at BCIT, the first step is to attend your program orientation. This is where you can meet your classmates and instructors, learn more about your courses and what to expect during your academic pursuits.
Stay tuned for details on Fall 2020 Program Orientations.
International students
Visit International at BCIT for details on the Fall 2020 International Orientation. The International Student Orientation is for all new international students beginning a full-time program at any BCIT campus in September 2020 (including incoming exchange students).
International students who are new to BCIT School of Business Part-Time Studies are also invited to the BCIT Business Part-Time Studies Orientation. The orientation workshops will help participants succeed in BCIT business programs. Topics include communication, study and time management, teamwork dynamics, and much more.
Kick Start wayfinding stations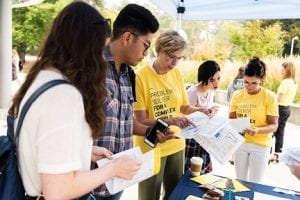 It's your first day, but you don't know where to go? Look for one of our Kick Start Wayfinding Stations situated at the main entrances to the Annacis Island, Aerospace Technology, Marine, and Downtown campuses and at various spots across the Burnaby Campus.
The Wayfinding Stations will be setup on the first day of term. Kick Start volunteers will be available to help guide you on your first day.
The Student Services Wayfinding Guide highlights key services available to you as a new student at BCIT – so be sure to download a copy of the guide before you arrive on campus! It'll be a lot easier to find your way around campus.
Get involved
At BCIT, academics aren't the only factor that contribute to student success.
Clubs Day
Nurture your interests – check back for details on Clubs Day for the Fall 2020 term, where you will be able to sign up for clubs and activities that you can get involved with during your time as a BCIT student.
Kick Start Services and Vendors Expo
Being a student can be challenging, and sometimes we need support from others to help us succeed. Check out the Kick Start Services & Vendors Expo to connect with a range of FREE student services that are available to support you. Stay tuned for details!
Kick Start calendar of events
Kick Start doesn't end on your first day. We have activities planned for you throughout the month of September to help you 'kick start' your BCIT journey.
Keep an eye out for the Fall 2020 Kick Start Calendar of Events to check out the full details of events and activities available to all students on all BCIT campuses. You'll be invited to connect with your peers and learn about the many services in place to help you succeed during your time here.