Overview
Clinical genetics technology trains you to investigate genetic diseases like Down syndrome and cancer. Working in hospitals and private clinics, clinical genetics technologists use sophisticated equipment and techniques to solve complex genetic problems.
About the program
BCIT's Clinical Genetics Technology program is one of two programs of its kind in Canada, and the only one in Western Canada. Our program is taught with the small class sizes and high quality instructors for which BCIT is known.
A 13-month, full-time advanced Diploma program
Lectures and labs give practical experience to advance your existing BSc knowledge
A seven-month clinical experience in clinical sites, working with the latest cytogenetic, FISH, and molecular technologies
Want the hands-on learning you need to start your career? See Program Details for more information.
Watch the Clinical Genetics program video.
Who it's for
This program is for students who:
Enjoy working independently and in teams
Are interested in honing their troubleshooting and problem-solving skills
Have a BSc with a life sciences focus (with high marks in courses in genetics, biochemistry, and molecular genetics)
Does this sound like the right program for you? Visit Entrance Requirements to learn how to apply.
What grads can do
Our grads are in demand. Students are provided the opportunity to acquire all the skills and behaviours required in the Canadian Society for Medical Laboratory Science (CSMLS) national competency profile for Clinical Genetics. Graduates leave the program fully prepared to write the CSMLS (CG) national certification exam that qualifies them to work. See Graduating and Jobs to learn what a future looks like in clinical genetics technology.
Entrance Requirements
Note: In alignment with public health orders, this program requires that students be vaccinated for a number of communicable diseases – including COVID-19.
Program Details
Clinical genetics technology involves the detailed analysis of the human genome by several distinct but similar technologies: chromosome analysis of banded metaphase chromosomes; fluorescence in situ hybridization (FISH) on interphase/metaphase chromosomes; and molecular diagnostic techniques involving DNA itself. The newest technology is called chromosome microarray, for high-resolution analysis of deletion, duplication, and single nucleotide exchanges, and uses sophisticated software and an advanced scanner. All four technologies can be used on a wide variety of human tissues.
Chromosomes are the packaged form of the human genome and are visible under the microscope. Modern clinical cytogenetics was established in the early 1970s with the use of banding techniques that allowed for the identification of individual chromosomes. Any change in the structure or number of chromosomes present may have a deleterious effect on the individual. FISH techniques allow for a more rapid examination of suspected chromosome abnormalities in living, fixed, and frozen specimens.


More recently, diagnostic molecular technology has given physicians and scientists additional tools to look further into the human genome to detect genetic diseases. Diagnosis of single-gene defects associated with diseases such as cystic fibrosis, Duchenne muscular dystrophy and the fragile X syndrome is now routine. The diagnosis and treatment of various cancers and leukemias also use chromosome analysis, FISH, molecular technology, and microarrays to determine the status of abnormal clones after treatment.
The program
The training program spans 13.5 months, and consists of three terms. The first two terms are didactic (instructional), 15 and 10 weeks in length respectively, and involve lectures and laboratory study at BCIT. The third term is a 30-week practicum spent at one or more of the practical sites affiliated with BCIT. The time spent in the practicum is divided into cytogenetics, FISH and molecular technologies. After successful completion of each of the three terms, graduates are eligible to write the Certification Examination of the Canadian Society for Medical Laboratory Science (CSMLS), which leads to the qualification of Registered Technologist (RT) in Clinical Genetics, the nationally recognized qualification for employment in the field.
Clinical site partners:
Provincial Health Services Authority:

BC Cancer Agency – Vancouver
Vancouver BC Children's and Women's Hospital – Vancouver
Vancouver Coastal Health Authority:

Vancouver General Hospital
Fraser Health Authority:

Royal Columbian Hospital – New Westminster
Alberta Precision Laboratories (APL), Genetics & Genomics – North (Edmonton)
Alberta Precision Laboratories (APL), Genetics & Genomics – South (Calgary)
Winnipeg Regional Health Authority:

Diagnostic Services of Manitoba
Children's Hospital of Eastern Ontario – Ottawa
Note: Due to space limitations, some of the practicum assignments are outside the Lower Mainland. These assignments will be made at random and must be accepted by the applicant to be admitted into the program. Student input is sought for placement to the remaining partner sites as listed above, but final selection is made by the program (end of Term 1).
Graduating & Jobs
Our graduates get work
Our Clinical Genetics Technology program students can complete the Certification Examination of the Canadian Society for Medical Laboratory Science (CSMLS) as soon as they graduate. Once complete, they are then qualified as registered technologists in clinical genetics.
Our grads get hired; most are employed within the first two months of graduating.
Career opportunities
Our grads can work as Medical Laboratory Technologists in clinical genetics in major hospitals, private clinics, and research labs across Canada. Salaries start at approximately $64,000 annually (up to $80,000 in six years).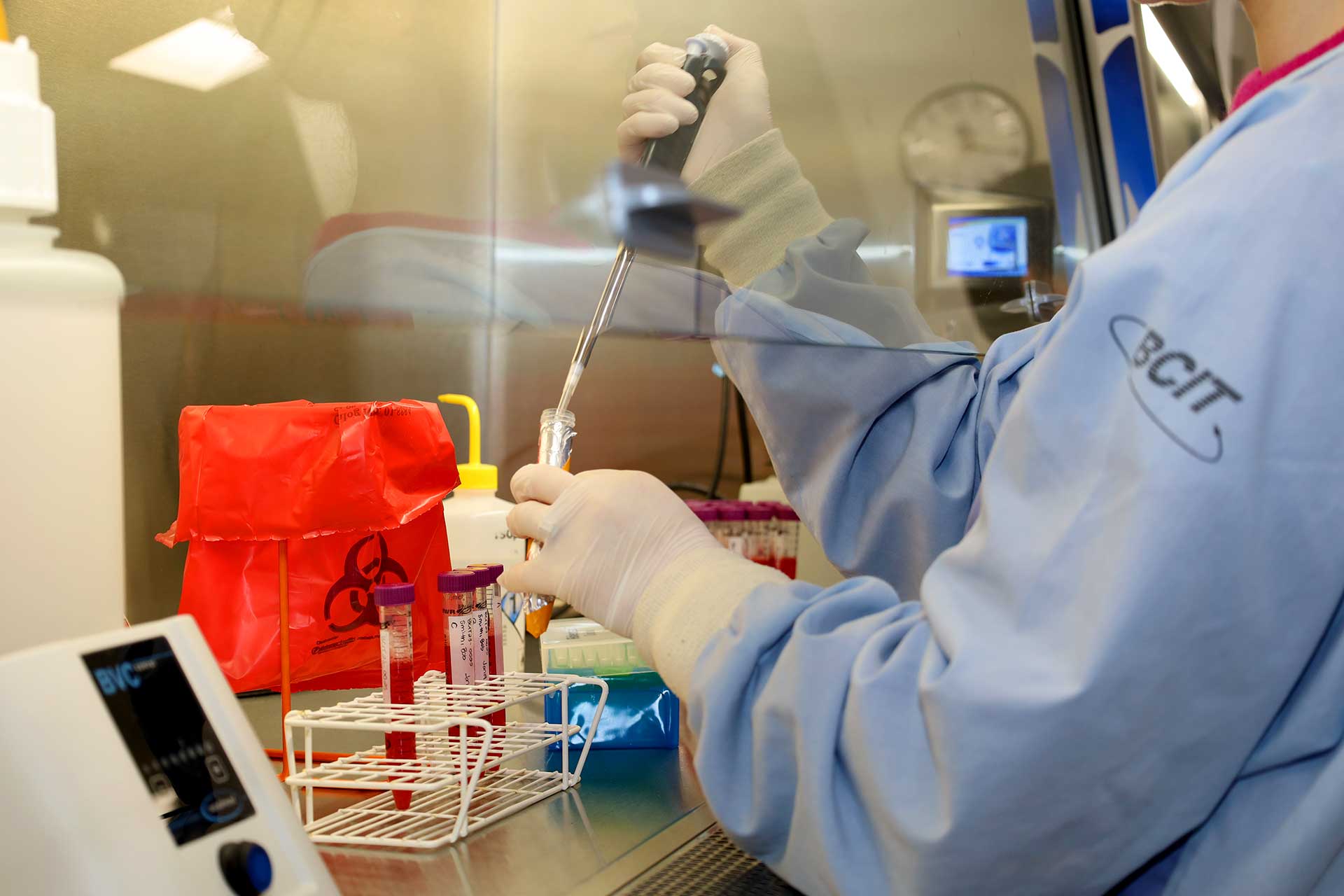 Faculty, Advisors & Staff
Subscribe
Sign up to receive updates, invitations to events, and information about BCIT and your program.
We promise not to spam you, we won't share your personal information, and you can unsubscribe at any time.
Programs and courses are subject to change without notice.