Build a career in the piping trades
The piping trades consist of plumbing, steamfitting, gas fitting and sprinklerfitting. When seeking a career choice it is critical that one looks at employability and diversity of the job and skills. These two factors keep you earning income for your needs and free of repetitive boredom.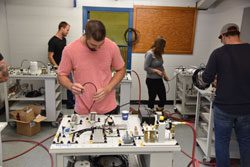 Our programs
The Piping Foundation program prepares students for entry-level employment in the piping trades:
By experiencing all four trade specialties, students will be prepared to make an informed decision about which career path best suits them if they decide to pursue an apprenticeship.
Plumber work with domestic hot and cold water, drainage systems, and hydronic heating systems. Many plumbers hold gas tickets because of the widespread use of natural gas in British Columbia.
Steamfitter/Pipefitter install, alter, maintain, and repair piping systems that convey low and high pressure steam, hot water, air, fuel gases, fuel, and finely divided solids.
Gasfitters – Class A design, install, test, adjust, maintain and repair lines, appliances, burners, equipment and accessories in the Industrial, Commercial and Institutional sectors.
Gasfitters – Class B design, installs, repair and maintain gas fired appliances, equipment and distribution piping systems. Advances in modern appliance controls technology require gas fitters to develop strong electrical, computer and trouble shooting skills.
Sprinkler Fitter install, alter, and repair automatic, deluge, or open sprinklers; foam, fog, and carbon dioxide systems; wet or dry standpipes; inside first aid and hose pipe systems, private fire hydrant systems, fire pumps, and all related equipment.
Virtual Reality Walkthroughs
Take a 360° highlight tour of our Piping Department facilities.
Experience Now
"Plumbing is a diversified and continuously changing field. BCIT's shop is very well equipped with the latest technology, while excellent instructors provide the instruction. I received the skills I needed to open up my own business as a plumber and gas fitter. I recommend BCIT's Plumbing program."

Jeff Small President, Benchmark Mech. Ltd., BCIT Plumbing Graduate
"We hire BCIT grads because they're qualified, skilled and properly trained. BCIT continuously enhances its program to keep ahead of the changing needs of our industry. We're proud to be associated with this program."

Trevor Hildebrand President, Phase Mechanical
"KLM Mechanical Systems Ltd. has been using BCIT to help us hire new plumbing apprentices for approximately ten years. When we are looking to hire new apprentices, we always start at the BCIT Piping Foundation program. They have always been a great partner in staffing for our Company."

Jim MacGregor Field Superintendent, KLM Mechanical Systems Ltd.