How to Apply for Student Housing
Visit the Housing Portal to apply for on-campus housing. You are eligible to log in if you have applied to a full-time, cohort-based BCIT program or apprenticeship. On-campus accommodation is limited and not guaranteed.
Visit the Housing Portal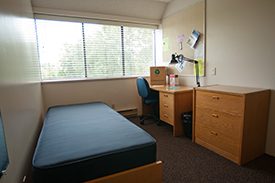 You are eligible to live in short-stay apprentice housing at BCIT if you've been accepted into a full-time BCIT apprenticeship training program that is 12 weeks or shorter. All short-stay apprentice housing is gender-inclusive, meaning all genders are housed on all floors.
Short-stay bookings are always Sunday-Friday. All short-stay residents must check in on the Sunday (or holiday Monday) before their program starts and check out by noon on the Friday that their program ends. The minimum length of stay is 5 nights. Early check-ins, late check-outs, and booking extensions are not permitted.
How are rooms assigned?
Short-stay rooms are assigned on a first-come, first-serve basis subject to best-fit and availability. Short-stay applications are available online via the BCIT Housing Portal up to 365 days in advance of expected arrival date.
Priority considerations are made for the following groups:
Students with disabilities that impact their housing needs (as verified by BCIT Accessibility Services),
Indigenous students, and
Students who were formerly youth-in-care