Winter 2021 Convocation Ceremony
Join our host Kevin Lim, 104.9 KiSS RADiO Morning Show Host and BCIT alumnus, BCIT President Kathy Kinloch, 2021 BCIT Honorary Doctorate of Technology recipient and Keynote Speaker, Dr. Carol Anne Lee, class Valedictorians, BCIT leaders, faculty, and alumni, to celebrate the Graduating Class of 2021.
Winter 2021 Convocation Program
The 2021 Convocation Program highlights messages from key BCIT leaders and guests involved in the winter 2021 convocation ceremony video. It also includes a complete list of graduate names and faculty leaders, organized by BCIT School and program area.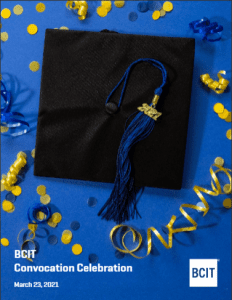 Celebrate
Download official BCIT digital swag including Zoom backgrounds, Facebook frames, and Instagram Giphy stickers. Share your celebrations on social with the hashtag #BCITGrad2021 to be featured in our social feed.
Meet your host Kevin Lim
Convocation Host
As a kid, Kevin Lim was often 'playing radio' with a Fisher-Price toy microphone. Today, this BCIT alum is one half of the award-winning "Mornings with Kevin and Sonia" heard on 104.9 KiSS RADiO in Vancouver, BC, with syndication across Canada.
Read more about Kevin Lim
Dr. Carol Anne Lee
Keynote Speaker
Dr. Lee is Chair and Co-founder of the Vancouver Chinatown Foundation. With long-standing family ties to the history of Chinatown, she is strongly committed to the revitalization of the area.
Read more about Dr. Lee
Share your celebration: #BCITgrad2021