Through the Ecocity Peer Network, the Centre is working with local governments and their partners to help them understand and act on their consumption-based sustainability metrics.
We are supporting action with our tools
Using the ecoCity Footprint Tool, we help cities evaluate the key consumption-based sustainability metrics – the Ecological Footprint (EF) and Consumption-Based Emissions.
We then help these cities explore actions they can take to address these impacts and move towards one-planet living. This includes, helping them create a 'One Planet Scenario'; sharing research on how leading cities are achieving absolute reductions in greenhouse gas emissions; exploring policy options to reduce embodied emissions of buildings; and more.
Ecocity Peer Network communities
The Ecocity Peer Network was launched in 2019 with 10 BC communities, and we recently expanded to include communities across Metro Vancouver. Our initial pilot communities included:
Campbell River
Capital Regional District
City of North Vancouver
District of Saanich
Nelson
Powell River
Quesnel
Surrey
Vancouver
Victoria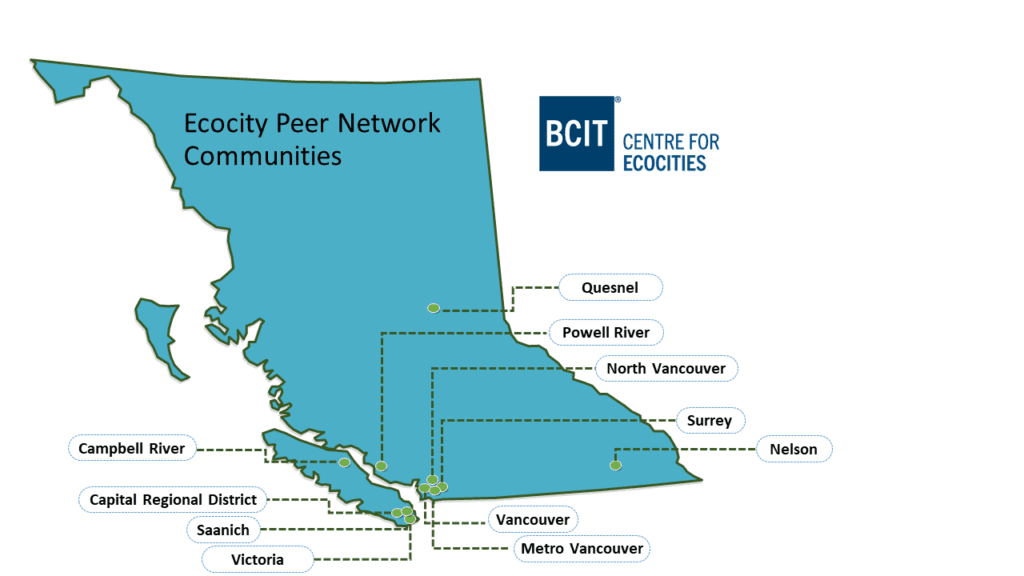 What are Consumption-based Sustainability Metrics?
These are key metrics that we use to help inform the transition to socially just cities that are in balance with nature – the ecological footprint and 'consumption-based' greenhouse gas emissions inventory. The ecological footprint is an estimate of how much land and water area an individual or population needs to produce all the resources it consumes and to absorb the waste it generates. We also work with a new and evolving type of greenhouse gas emissions inventory – the consumption based emissions inventory, which helps communities figure out their fair share of greenhouse gas emission reductions by factoring in the impact of all the products and services imported into the community, no matter where they are produced. We use these metrics to figure out the community's fair share of the planet's resources.