Distinguished Service Awards* are given to recognize outstanding and sustained service to BCIT and/or the educational community that BCIT serves. The recipients are distinguished by one or more of the following:
Significant contributions to BCIT over many years of service
Outstanding accomplishments that have benefited BCIT and/or the community
Important contributions to BCIT's mandate, mission and strategic goals
Nominations are now open for 2024
Nominations are invited from anyone in the BCIT community, including staff, faculty, Tributes Committee members, students, Advisory Committee members, alumni, retirees and the Board of Governors. Submit your online nomination below. Deadline to submit: January 26, 2024
*Please note that this award is not given out yearly and will only be awarded when an individual meets the criteria.
Award Recipient for 2016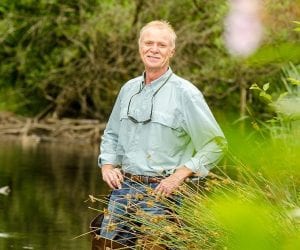 Mark Angelo
With his commitment to local ecosystems, including the restoration of Guichon Creek and countless other waterways across British Columbia, Mark has built a lasting legacy at BCIT.
The inaugural chair of the Rivers Institute at BCIT, Mark was also the Program Head for the BCIT Fish, Wildlife and Recreation program. He retired in 2011 after enjoying a 37-year career at the institute. On top of the countless accolades he received at BCIT such as the Distinguished Alumni Award for Lifetime Achievement, Mark also garnered global recognition for founding BC Rivers Day, World Rivers Day, and the Rivers Institute at BCIT.
*Above profile is as of date award was presented.
Past award recipients
This award has been presented since 1993 and we have been honoured to have such amazing award recipients represent BCIT. Please note that position titles are listed as they were at the time of nomination.
Nominations
Know someone you would like to nominate for the Distinguished Service Award? Discover information on eligibility and selection criteria, the nomination process, and how to nominate someone. Nominations for the 2024 awards are now open. Deadline to submit: January 24, 2024
Start the Nomination Process