Overview
Bio-health is the fastest growing sector of BC's bio-economy and there is a growing shortage of qualified job applicants. Although life sciences students graduate with a theoretical understanding of the biological sciences, many do not obtain the specialized, hands-on laboratory training that is required for jobs in the bio-health sector.
Animal cell culture is an essential process in all life sciences disciplines, including basic and applied research, vaccine development and the biotechnology, biopharmaceutical, and biomanufacturing sectors. However, most undergraduate labs are not able to offer training in animal cell culture, due to large class sizes and the need for specialized labs and equipment.
The BCIT Biotechnology Program is now offering their expert training in animal cell culture as an Animal Cell Culture microcredential. This microcredential consists of two one-week long courses (XBIO 4010 and XBIO 4020). A maximum of 12 trainees will receive about 4.5 hours per day of hands-on skills training led by two instructors (45 hours total), five hours of classroom learning (in-person and/or online) and five hours of independent study. Upon completion of the microcredential, trainees will have acquired the individual practice needed to achieve competency in animal cell culture, which is needed for many types of jobs in the bio-health sector.
Program Details
The Animal Cell Culture microcredential is designed so that you can achieve the practice and repetition needed to improve your animal cell culture skills and develop competency. The low trainee to instructor ratio (6:1 or less) will enable instructors to provide you with ongoing feedback and ensure that you have full access to a biological safety cabinet (or laminar flow hood) within the dedicated cell culture lab in the BCIT Biotechnology Department.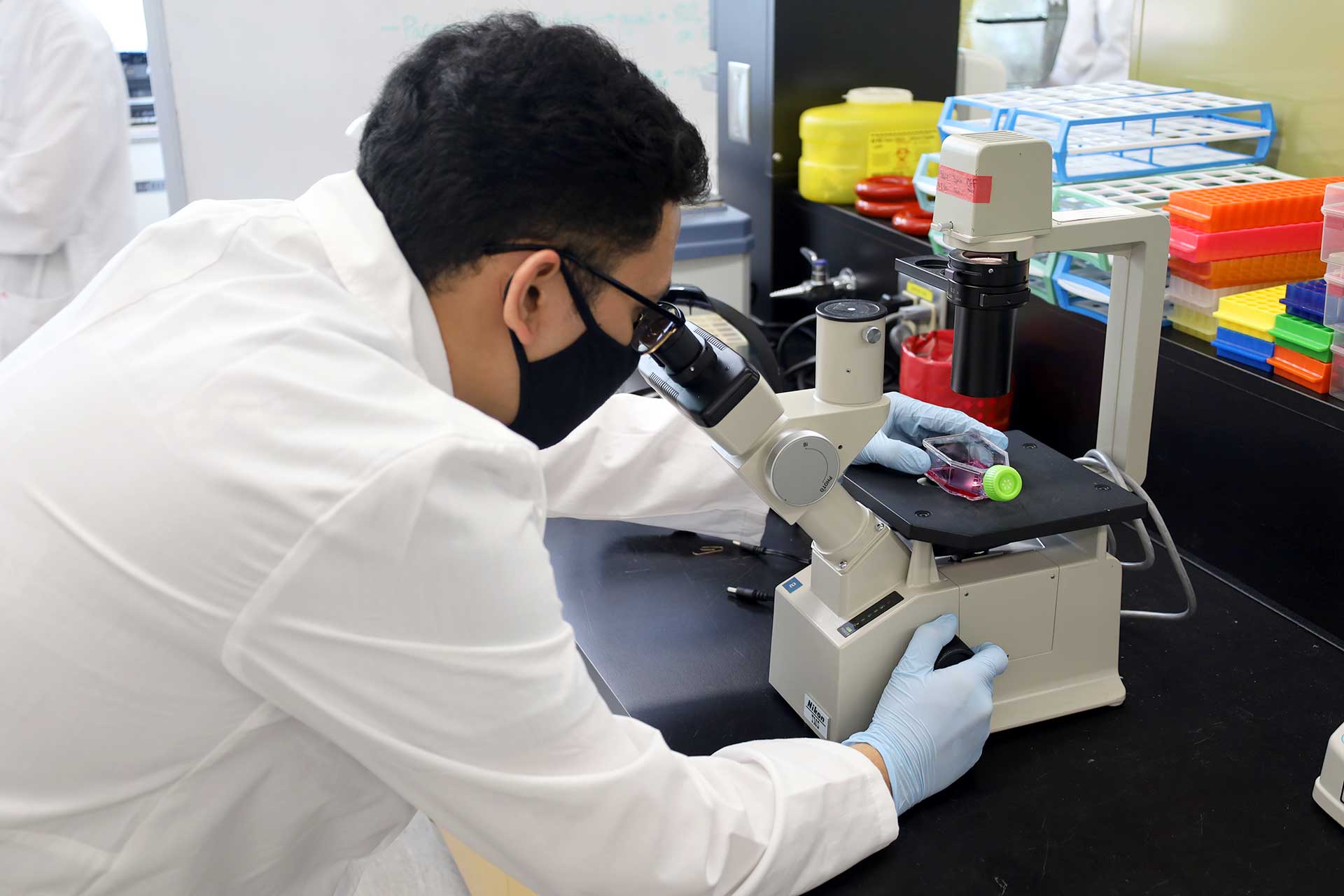 The first week (XBIO 4010) will introduce you to the core foundations of animal cell culture including biosafety, good aseptic technique and the various types of animal cells used in research, biotechnology and biomanufacturing. You will gain competency in performing cell culture and carry out a transfection (gene transfer) experiment. In the second week (XBIO 4020), you will continue to culture cells and practice your aseptic technique, while also learning how to prepare and analyze cells using job-relevant techniques.  Both XBIO 4010 and XBIO 4020 must be completed for you to receive the microcredential.
360° Viewing Instructions:
On desktop PC click & drag the mouse to look around. View full screen (f), or change quality in 'Settings'. On mobile device use a finger to look around, or move the device. Can also use a VR headset. PAUSE the 360° video for more viewing time.
Contact Us
Questions or comments?
Subscribe
Sign up to receive updates, invitations to events, and information about BCIT and your program.
We promise not to spam you, we won't share your personal information, and you can unsubscribe at any time.
Programs and courses are subject to change without notice.