Check out some of our amazing Indigenous role models who attend or have attended BCIT.
Indigenous Alumni Panel
Savannah Erasmus
Nigel Sagalon
Christina Dixon
Growing up in Alberta, BCIT Bachelor of Science in Nursing student Christina Dixon always had a passion for arts and the outdoors. It was natural fit when she decided to move to beautiful British Columbia to enjoy the province's greatest outdoor adventures while completing her Bachelor of Fine Arts in Visual Art.
Read how Christina has helped bring Indigenous representation to the healthcare system.
Orene Askew
"My being at this table is a really big deal," says Orene Askew, BCIT Radio Arts and Entertainment alumna and DJ. "I mean, someone like me—a mixed black and Indigenous two-spirited woman—sitting here."
Read how Orene has been advocating for progress and inclusivity.
Josh Kierce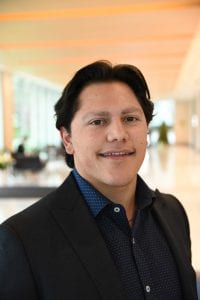 Josh is a Metis from Prince Rupert, BC, and completed the Bachelor of Technology in Accounting program at BCIT.
He is a CPA in the Assurance practice at Pricewaterhouse Coopers, and his experience has been focused on delivering financial and operational value through control advisory and financial statement audits