Bike to Work Week
Bike to Work Week is happening in fall 2020, Sep 28 – Oct 4!
It's not your usual Bike to Work Week however:
Celebration Stations have been rebranded as 'Knowledge HUBs'.
All rides can be logged and count towards Bike to Work Week totals, and the BCIT Team, not just commuting to a workplace.
There will be an online schedule of webinars, scavenger hunts, Q&As, cycling tips and more.
Some things will be the same though:
Lots of prize to win! At Knowledge HUBs, and by logging trips
Mechanics doing quick bike fixes at the Knowledge HUBs
Cycling information and fun vibes at the HUBs
BCIT will not be hosting a Celebration Station due to the COVID situation.
Be part of the change and help make Metro Vancouver a happier, healthier place to live, work and play! Register for Bike to Work Week today. Already taken part before? Simply log a trip to be considered a participant.
Wed Oct 23, 2019, Willingdon & Smith St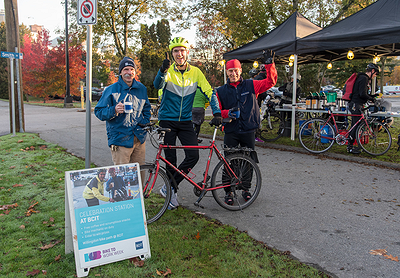 The BCIT Bike Committee and BCIT Green Team, assisted by the HUB Burnaby Committee, hosted a Celebration Station during Bike to Work Week beside the Willingdon bike path at Smith St. We had free snacks, beverages, and bike mechanic services, as well as maps and helpful volunteers and a chance to win the station prize – an MEC gift certificate – and enter the Bike to Work Week contest to win a grand prize.
Sustainable travel
Helping you adopt a more sustainable commute
BCIT is committed to promoting the use of sustainable travel to help faculty, staff and students adopt a more sustainable commute and contribute to BCIT's goal to become greenhouse gas neutral. This initiative supports the Ecocity Standard for Environmentally Friendly Transport, which looks at how non-motorized transportation is supported and encouraged by the city and is used by a significant proportion of people for trips under 5 km.